Video editors require a mix of creativity and high-powered tools to do their jobs effectively. Traditional video editing stations were bulky and expensive machines used to cut and stitch physical film clips together. With advancements in technology, creatives can now edit video from almost anywhere.
As video editors become more mobile they need powerful laptop computers for video editing that enable them to do their job while on the go. There are a number of laptops available today that can provide a smooth video editing experience for amateurs and professional video editors alike.
Let's start by looking at what you'll need to consider when choosing the best computer for you. Then we'll share some of our picks for the best video editing laptop.
Choosing the Best Video Editing Laptop for you
When you first start searching for a video editing laptop you should start by creating a list of the specs you'll need. Start by considering the video editing software you plan to use. Premiere Pro could have different workstation requirements than if you plan to edit using Davinci Resolve or Final Cut Pro.
Another thing to consider is the file types you will be working with. Editing 4K videos will put much more stress on your computer than photo editing.
Once you have laid out your must haves you can highlight reasons to buy a certain computer and reasons to avoid others.
Performance
Working with video files puts a lot of strain on a computer. Ensuring that your laptop can handle heavy workloads is key to a smooth video editing experience. Lag or editing interruptions can be extremely frustrating for video editors and stifle their creative flow while they wait for frames to load.
To evaluate performance you'll need to start with the core components of the laptops you are considering. These components include the CPU, GPU, RAM and drives.
For smooth playback without lag ensure the laptop you choose has a high-quality CPU with a high number of cores or a fast clock speed.

If your work requires rendering graphics or 3D animations you'll need a system with a graphics processing unit (GPU) that can handle heavy rendering tasks.

The more RAM you have will result in faster speed while running multiple programs. You should also consider the

minimum RAM requirements

of any video editing tools you plan to use.

Drives are critical to the speed of your video editing computer; you'll have to decide between built-in

SSDs or HDDs.
For the best performance upgrading your CPU is a great option. The best options available today are the Intel Core i7, Intel Core i9, and the AMD Ryzen
If you know that you will need to produce high-quality renders you'll want to consider upgrading your graphic processors. The Nvidia RTX is a great option that provides some of the most advanced rendering performance available today.
Accessories
Another thing to consider when choosing your laptop is what you will need to connect to it. Knowing this can ensure you find a computer with the optimal number and correct type of connections.
Consider how you'll be uploading media to your computer. If you are using an SD card, you'll need an SD card slot or an SD card reader that connects to your laptop.
Envision what else you will be connecting to your computer when you are editing on it. Take an inventory of these devices and identify what connections they use. Some items you attach may require a USB-A port while others will require a USB-C port. Once you have that laid out, make sure that you have enough of the appropriate ports to work effectively.
Screen Size & Quality
Video editing is a visual job, make sure your computer has a screen that enables you to see even the most minor of changes. Desktop users have the luxury of being able to connect different monitors to their computer, laptop editors aren't as lucky.
One of the first things to consider is the screen size. You don't want to be squinting to see what is on the screen but want a computer that is portable. Most laptop models like Macbook Pros come in varying screen sizes. If you want a smaller screen you can get a 13inch Macbook Pro but there are also 16inch Macbook Pro options as well.
When choosing a screen you will want one that provides a crystal clear image. You'll want to look at options with OLED Screens like the Lenovo Thinkpad x1 Extreme Gen 3 or the ASUS ProArt Studiobook. Models with OLED displays will provide brilliant visuals and the color accuracy required for color correction and finishing your projects.
Reliability
As we have mentioned already, video editing is a very task heavy operation that puts considerable strain on a computer. Desktop computers can be built and upgraded to handle this load. Laptops however, need to be compact and easily able to travel with the editor. This can limit the number of upgrade options for your computer to meet your performance needs.
When choosing your video editing laptop you are going to need a system that is durable and built to last. You'll want to find a laptop that can handle real-time playback of large video files with a long-lasting battery life.
Budget
Obviously your budget is going to be a major factor in choosing the best video editing laptop for you. A computer that can handle intense video editing operations like color grading and correction will require an upgraded graphics card and a high-end display. Those upgrades can add to the price quickly.
While you want to find today's best deals, you can expect to spend $1,000 or more for a high-end video editing laptop. If budget is a concern for you, consider looking at a gaming laptop as a fallback option. These typically provide similar performance but at a reduced price than a high-end editing workstation.
You'll also need to consider storage for your video editing laptop. The amount of built-in storage on these computers is limited due to the size of the chassis. Video files can take up considerable space so you'll need a way to offload those files from your main system. If you keep these files stored locally you risk bogging down your laptop's performance.
There are options such as external hard drives or the cloud. If you work with a team and need to share the projects with other people, there are options available. Solutions like the ProMAX MediaHub can provide a portable storage solution that enables remote file syncing capabilities and make life a whole lot easier.
Going straight to the manufacturer can offer more customization options. If that's not a concern you can always check Amazon to see if they have any laptop deals that can save you money.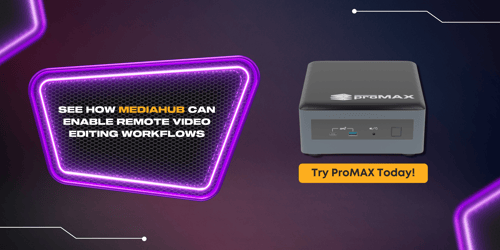 Learn more about our remote editing solutions→
MAC vs PC
There is much debate between video editors over whether MAC vs PC reign supreme.
Both MAC and PC have great options for video editing laptops but there are pros and cons to both. When comparing MAC vs PC one of the first things you'll notice is the variety of options available. You'll notice a windows laptop has many more options available and are more customizable than MAC computers. You'll have options like the Lenovo Thinkpad, HP Envys, Razer Blade, or the ASUS Zenbook. They also offer 2in1 laptops like Microsoft's Surface laptop.
MAC offers computers more designed for the creative user but there are less options available. The Apple Macbook Pro and Apple Macbook Air are great options for video editors to use.
You'll also notice there is a considerable difference in cost so always make sure to check price before deciding to buy.
Conclusion
Now that you know what to consider when choosing the best laptop for video editing it's up to you to decide your best fit.
Make sure to keep budget in mind while hitting all of the performance requirements for the work you are doing. Also keep in mind that you'll want a system that provides consistently smooth playback to prevent dropped frames and slow editing performance.
We've done some of the work for you and suggested our top picks for the best laptop for video editing below. Once you've chosen the best option for you feel free to contact us to address your storage needs!
Our Picks for the Best Video Editing Laptop