ProMAX Platform vs Other Shared Storage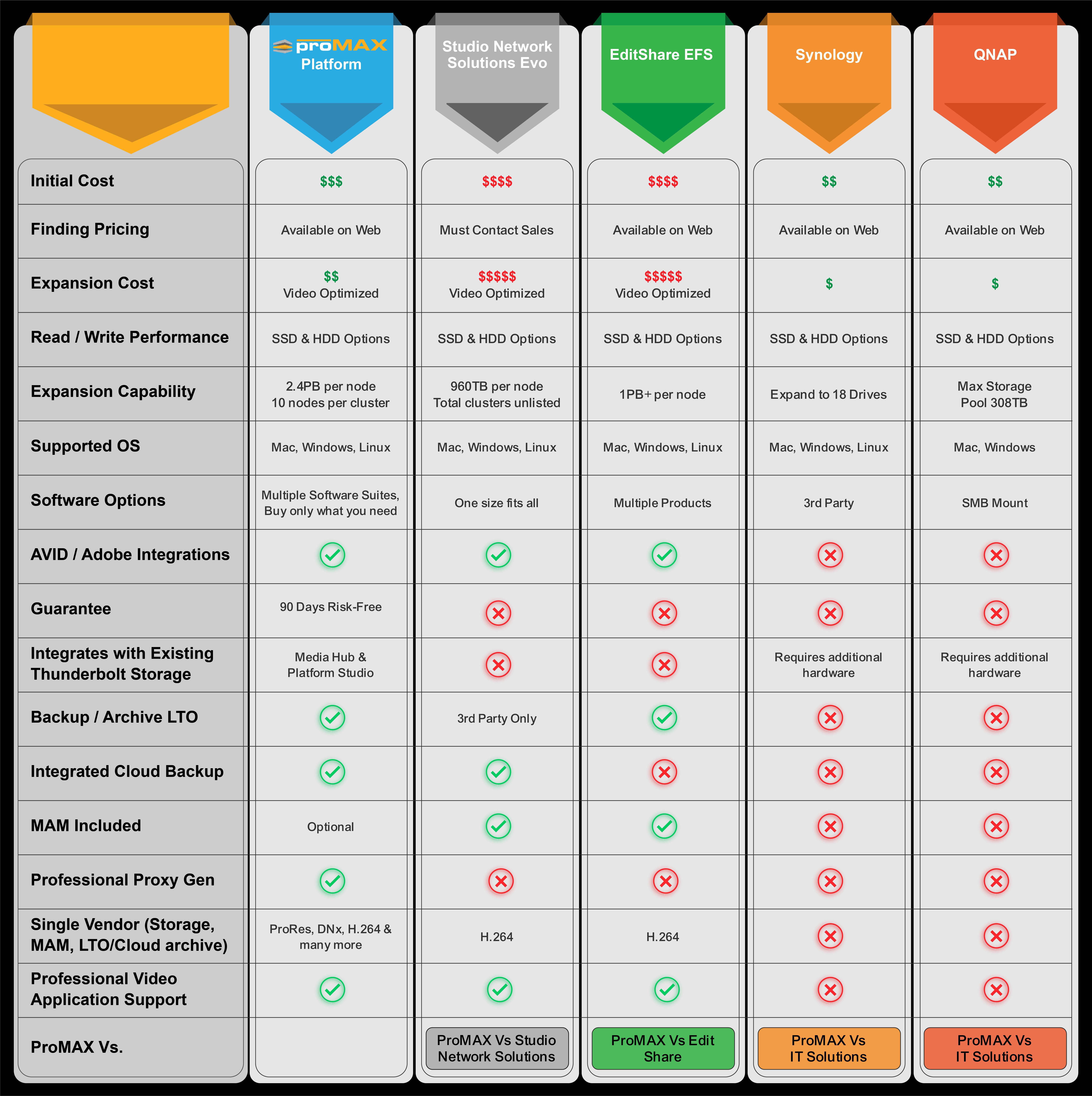 What Makes Platform Different?
Shared Storage for video editing is at the center of any collaborative video team, but few workgroups start and end with just Shared Storage. Products for organizing, protecting & managing media exist because thousands of users worldwide have realized that shared storage alone won't solve their needs.
Platform was designed as an all-in-one system for media asset management, archiving, and securely backing up media for creative teams of all shapes, sizes, and budgets.
ProMAX Platform provides high-performance video storage solutions that do everything you need today. As your business grows, your Platform grows with you, giving you all the features and depth of capability that you need today and tomorrow. You won't sacrifice high-end performance or the scalability offered by enterprise storage vendors.
Don't get caught in the trap of 'adding one more product.' You'll find yourself 18 months from now with a mess of learning & supporting a variety of different software & hardware solutions from multiple vendors.
What to Expect with Platform

Performance
Whether you're a typical workgroup collaborating on projects shot in compressed 4K that will ultimately be viewed online, or color-grading DPX files for a theatrical release, ProMAX has a server that will supercharge your workgroup!

Scale Storage + Scale Your Workflow
As your company grows and takes on more projects you'll need more storage to store your files. You could keep buying external drives but that becomes a mess quickly. With Platform you can easily scale your storage to over a petabyte!

Single Vendor Solution
There is no greater technology frustration than when something doesn't work quite right and a vendor says "We've never seen this, it must be the other product". Good luck coordinating that. Spend time working rather than corralling vendors to take responsibility.
Hear What Our Clients Have To Say