When it comes to video editing – the time is money. Video Editing is among the most popular and hardware intensive jobs for a computer or workstation. No surprise many people are looking for an ideal machine for their video editing environment. A professional and well-optimized computer for video editing can save a lot of time, a lot of anxiety in the long run, and (this goes without saying) - a lot of money.
With today's advanced computer technology anyone can be a video editor, at least from a technological viewpoint. The same goes for video editing software. There are tons of editing applications available for every kind of user be it a professional or a novice just starting.
The Pattern of Hardware Utilization by Video Editing
Learn all you need to know right here on how to to find or build the best professional computer for video editing.
The first thing you'd need to evaluate what hardware resources your video editing essentially uses throughout its processing and in what way.
There are several video editing applications in the market, all of them utilize the underlying hardware is pretty much the same way.
Let us take a deeper dive into how software like Adobe Premiere Pro uses the hardware resources during a workflow. From a core hardware standpoint, editing a video essentially involves the following steps:
The footage is read by the software from the storage medium.

Decoding of the video by software

Effects, trimming, color-grading and any other changes applied

Stored in memory (RAM), primarily for real-time timeline playback

Rendering – encoding to a preferred codec

Writing back – save finished encoded video onto storage media
All these steps preferably are optimized to the extent possible to build the best computer for video editing. Let's see what hardware part plays for speeding up the overall performance.
Loading the Footage
The first step is to read the video from the storage device, pace dependent on the storage device and transfer bus throughput speed. Now there are three popular storage types available nowadays.
Hard Drive (HDD)
Hard Disk Drive – the slowest and cheapest of the three. Maxing out at 150-200MB/s the random read/write is a lot slower. However, these are the best options for backup and archiving large data, that won't be frequently accessed. You can easily find large-sized HDDs up to 14TB and at pretty affordable price tags.
Solid State Drive (SSD)
A SATA SSD is typically 4 times faster than an HDD which will boost the read-write speed of footage. It is recommended to use an SSD as primary storage for a video editing machine. A professional videographer has to deal with quite large video footage files, and you'll need a maximum sequential read and write speeds.
NVMe SSD
Non-Volatile Memory Express SSD drives are even 5 times faster than a normal SATA SSD, generally referred to as SSDs on Steroids. Real-time reading of raw ultra-high-definition 4K resolution footage is a cakewalk with blazing 3GB/s read write speed. With NVMe installed you likely won't need to upgrade your hardware soon for better performance as it does get you the best sequential speeds available.
Decoding the Footage
Almost all the videos are encoded to save space on disk memory, it needs to be decoded before you can view, playback, and edit. Now, this is done by the Processor (CPU) – CPU cores matter. You won't find a CPU that works best for all the "Codecs" or types of video files but Intel i9 9900K or AMD Threadripper 2990WX can just fit the needs overall. When editing 4K or 8K video with professional software like Adobe Premiere Pro, the processor cores provide the needed power to encode, render and export the ultra-high-definition resolution videos more robustly.
Applying Effects, Trimming, Transitions, and Titles
High-clocked CPU's work best in effects-heavy projects. The main idea is when you apply effects on to footage, they are calculated in a hierarchical order and only one core will be applying all the effects on that one frame. Multiple cores can't help here because all the effects are dependent on each other most of the time – once core treading hierarchically through the effects chain. So, the palpable choices are Intel i9 9900K with 5GHz Turbo Boost clock or AMD Ryzen 3900X at 4.6GHz Turbo.
Footage Cached in RAM
Automatically done by the editing software, as soon as you playback your timeline, or press some prerender effects button, the software reads the footage, calculates the effects and stores the result in system memory (RAM) for swift access – known as caching. Done to save the work done in calculating the whole sequence, cached frames are saved in RAM for instant viewing of the frame sequence much faster without recalculations.
The 'buffer' of editing software used for calculating the frames coming ahead or sometimes calculated right away not to interrupt the real-time playback experience. RAM is blazing fast and is enough for virtually any kind of editing needs. Though one thing that matters for efficient video editing is getting enough RAM. However, the more the RAM the better the results.
Rendering out to a Video File
In case your timeline has been cached by the video editing software, it just needs to read the cached frames from RAM and save them to a video file on a disc. Though after encoding the frames into a file format that can be played back on the target system and also reduce to the lowest possible size without losing quality. For example, the popular codecs are H.264, WMV9, Cinepak, etc. Many of the popular codecs try to save only the difference between two frames as it is usually much smaller in file size.
The SSD certainly isn't the one causing a bottleneck in the rendering and encoding process. While the RAM should be always enough, and CPU does play its role in encoding the frames – with higher cores and clock counts. Now let's get ourselves the best video editing beast out there!
Apple iMac Pro
The new Apple iMac Pro is by any definition the most powerful PC that Apple has ever made, and one of the best video editing machine one can have right now. Though speaking of money this machine will cost you a big fortune. But will get you a magnificent build quality with some of the most advanced and high-end components available in the market.
_____________________________
Related: 2019's Hottest Mac for Video Editing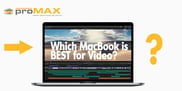 _____________________________
Powered by Intel Xeon W with up to 18 cores and Turbo Boost up to 4.5GHz, an AMD Verga 64 (16GB HBM2 RAM) dedicated graphics card this powerhouse can handle ultra-high-definition preview and edits on the fly without skipping a frame. Apple's sleek software makes it more popular with artists and video editors alike, as it is super-fast and reliable. With loads of RAM – 128GB makes cramming videos more efficient and the massive 27-inch 5K Retina display will serve videographers in all the nitty-gritty aspects of the video in 4K or even 8K, 3D modeling much easier than ever before. It comes with four USB-C ports, four USB-A ports, 10Gb Ethernet that make it a perfect combo for editing.
Pros
Most powerful Mac ever

Sleek and attractive design

High quality 27-inch 5K Retina display
Cons
Expensive

Non-user-upgradable
Microsoft Surface Studio 2
The Microsoft Surface Studio 2 is equipped with 7th generation Intel Core i7 processor and powerful Nvidia GeForce GTX 1060 (6GB GDDR5) graphics and has come a long way from the predecessor – a powerhouse exceptionally capable to be called a video editing computer. Featuring an impressive 28-inch PixelSense display with Surface Pen support, that can serve the artists and a way to interact and edit videos on the go. Running Windows 10, the system software support is excellent, while the super-fast 2TB SSD gives you the freedom to store plenty of video footage on the system.
An ultimate digital designing studio, the crisp display with powerful Nvidia GPU the machine can turn into one huge drawing tablet with a flip of the screen. The 32GB DDR4 RAM with one USB-C and four USB 3.0 and Gigabit Ethernet the machine could have been shifted to all ports being Thunderbolt 3. Just don't expect the power to encode 4K video as fast as other new entrants, although rendering 3D graphics and processor-intensive editing are a go for this amazing sleek designer heaven.
Pros
High-resolution bright Touch display

Surface pen and radial input support

Fitting for artists and designers

PCIe SSDs
Cons
Pretty expensive

No Thunderbolt 3/USB-C
Corsair One Pro i180
This Corsair is among the most powerful computer systems in the market you can buy in 2019 and without a doubt one of the best video editing PCs of today's world. Powered by the new Intel Core i9-9920X at 3.5GHz and Nvidia GeForce RTX 2080 Ti (11GB GDDR6 VRAM) graphics into an amazingly slimline and quiet aluminum tower is an absolute beast.
The impressive and cutting-edge hardware makes it the most enthralling video editing machine. With 32GB of DDR4 RAM, 920GB NVMe M.2 SSD, 2TB hard drive and lots of port options from USB 3.1, HDMI 2.0, to USB-C and Type-A. The Corsair One Pro i180 is user-upgradable making it better than the Apple iMac Pro or Surface Studio 2 mentioned above – a future proof PC.
Pros
Extremely powerful

Attractive design

Quiet

Fairly Upgradable
Cons
Expensive

Not all components are upgradable



Apple iMac Mini
Apple's iMac mini 2019 has been reinvigorated with cutting-edge hardware, making the Apple's tiniest Mac fitting for this list. Powered with a quad-core 3.6GHz Intel Core i3-8100 and integrated Intel UHD graphics 360 but making it more ideal with the option to add an external graphics card to the Mac mini for improved graphical prowess. The 8th generation Intel Coffee Lake processor with up to hexacore models performs much better than its predecessor.
With eGPU plugged in editing raw 4K video and adding multiple effects on the fly with Apple's Final Cut Pro is strikingly smooth and swift for such a small machine. The tiny machine comes with 8GB GGR4 RAM, 128GB PCIe SSD, and 4 Thunderbolt 3/USB-C ports, 2 USB 3, HDMI 2.0 and Gigabit Ethernet port. You can also chain multiple Mac minis together and discharge tasks onto each machine. This small machine is amazingly versatile and good value as well.
Pros
Incredibly improved specs

Tiny, elegant design

Four USB-C Thunderbolt 3 ports
Cons
Expensive

Integrated graphics
All of these are great options for your video editing environment. And can be supercharged in a professional environment with the ProMAX shared storage solutions. Contact us and we'll get you setup with everything you need to maximize your workspace!
Nathaniel Cooper
As Chief Operating Officer of ProMAX Systems, Nathaniel Cooper, runs ProMAX Systems day to day operations. Cooper has been working with Storage, Backup and Media Management for video and creative professionals since 2001. Cooper has lead the design and deployment of some of the largest media systems in the world including a range of customers from NFL, MLB & NBA teams, US Military operations, and many of the worlds largest PR agencies and consumer brands. Cooper has spent the last 9 years as part of the ProMAX team and specializes in translating complex technical issues and options into easily understandable concepts.