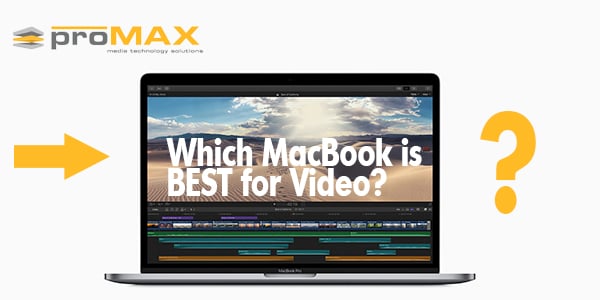 Video editing is no small feat. Whether you are just starting or are a veteran in the editing world, you'll need a laptop that can keep up with the hefty loads and processes. Video editing requires great attention to detail and is often a tedious and intricate process, several hours spent in front of editing software, and the skill to line up a set of different factors i.e. graphics, sound, film, and combining everything to achieve a final chef-d'oeuvre.
Likewise, finding the best MacBook laptop for video editing and producing the genius masterpiece also requires a lot of different components merging into one amazing video editing machine. The fact is, a laptop perfectly fit for video editing is going to need some serious specs.
There's no real comparison between an Apple MacBook and any other laptop at large. An outstanding video editing machine will have a powerful processor (CPU), a magnificent display with a strong graphics card (GPU), and a hell lot of storage and memory. All these features combined for editing the usual full high-definition and 4K, 8K or even 3D. Ideally, the laptop would be comparatively lightweight and also offer several input/output options and lastly in this ideal realm, would be cheap. However, that isn't the case in the real world we live in and they can pretty expensive to digest. However, some are certainly much more reasonable than others – but for all the aforementioned requirements of a video editing environment one will have to loosen the pockets.
Things to Consider Before Buying A Video Editing Laptop
You can easily get started with a typical laptop and accomplish basic video editing and light effects, but the real problem comes when you move along in the future and face unavoidable issues.
Therefore, you need to analyze diverse specifications which may utterly disrupt your video editing performance. The most frequent encounter people tend to face is lack of storage – high-quality videos cram a lot of space on disk, another is the horsepower required by video editing software, together with high-grade graphics, top-notch processor and whatnot.
Here we'll discuss the best core hardware for ultra-high-definition aka 4K video rendering and creative features like multi-camera and 360° video editing laptop. So, let's dive in...
Powerful Processor
A powerful processor serves as a foundation for hardcore video editing softwares like Final Cut Pro, Adobe Premiere and will occupy most of your CPU's multiple cores and also needs hyperthreading. The AMD CPUs are a good choice for budgetary options, they provide good value for the money but are not as powerful as Intel. Presently, you will not find a better option than a laptop running Intel's i9 processor for video rendering and it can-do wonders with 4K video editing. Though the Intel i7 range with hyperthreaded 4-core, 6-core, and 8-core processors do serve a solid powerhouse.
Discrete Graphics Card
For high-quality pixel rendering a powerful discrete graphics card is the best choice. For a novice, the integrated graphics on newer generation processors are adequate to get the work at hand done through hardware acceleration. The performance and reliability of Nvidia are without parallel, the latest Nvidia GeForce GTX series provides far better and enhanced performance both for video editing and gaming. Alternatively, there are AMD GPUs, especially the Radeon series, that do match up to the list with the efficiency and performance of good competition and are catching up.
Storage Space
Most obvious and the commonly faced issue for video editing environments is the storage. Needless to say, you'll need to store the edited videos. Storage speed and performance as well plays a crucial role in video editing as the rendering and editing process of large files comprises constant reading and writing of data. So, a Solid-State Drive (SSD) is recommended for your video editing machine. For larger storage, though you can use external drives or even internal hard drives for saving your edited videos.
RAM – The more the better
Video editing software copiously guzzles down RAM to fill their thirst. Continuous playback and an occasional backup force RAM to serve a long way in professional video editing. Finding an appropriate amount of RAM varies on your needs, if working on full HD videos the built-in 8-12 GB RAM would be plenty, though if working on ultra-high-resolution i.e. 4K and 8K you'll need to increase your RAM.
High-Resolution Display
For video editing, a color-accurate display with high resolution is needed to play and edit videos appropriately. Editing a 4K video will be best done on ultra-high-definition display. Though with a standard high-definition display you'll be able to edit most of the videos with higher resolutions it won't be able to fit the extra pixels. Therefore, having a high-resolution display on a laptop will certainly have an advantage while editing videos.
Software Employed
Apple's own Final Cut Pro only works on Apple machines, and is a powerhouse editing software exclusively available on macOS. Since it only runs on one operating system, it is well optimized and apt for incredibly well performance. Several videographers especially switch to macOS to be able to use it. All processes from importing to rendering footage, cutting to scrubbing on the timeline of a high-resolution video file are smooth and robust. Adobe Premiere Pro another popular and outstanding video editing program is also well optimized for macOS and works wonderfully comparable to on a Windows machine. Both Final Cut Pro and Adobe Premiere are two of the best video editing softwares out there.
Apple MacBook Pro 15-Inch 9th Generation Intel Core i9
Apple MacBook Pro i9 is the best choice out there – portable and powerful enough to handle complex video processing smoothly. The 9th generation 8-Core i9 processor with a base frequency of 2.3GHz and turbo boost up to 4.8GHz, ultra-fast 512GB SSD storage, four Thunderbolt (USB-C) ports, and 4GB AMD Radeon Pro 560x graphics card for speedy rendering. All these specs make the 15-inch MacBook Pro best MacBook laptop ever designed for editors.
On the outside, Apple's signature unibody aluminum build is once again stunning and sleek. At just 4lbs, it packs the most powerful MacBook ever to fulfill your editing needs. An amazing Force Touch trackpad, Touch Bar with shortcuts depending on the software you are using. And the outstanding Retina display with True Tone sharp, bright and accurate panel that serves as the best MacBook configuration for video editing.
Pros
Strong Processor

Retina display with crisp sharpness

Discrete graphics

Long battery life

Four Thunderbolt 3 ports (USB-C)
Cons
No standard ports

Non-4K screen
Apple MacBook Pro 13-Inch
In the MacBook Pro series, the smaller model also packs strong features and is very competent when it comes to video editing.
The powerful quad-core Intel Core i7 at 1.4GHz is quite powerful and within the thermal limits as per the sleek design. You won't find any discrete graphics here, though the integrated Intel's Iris Plus 645, which is rather good at performing adequate editing. With super-fast 256GB SSD, 8GB RAM, you get a complete video editing small and sleek MacBook.
The unibody design of the 13-inch model has a Retina display, with crisp sharp and bright colors. The display also includes Apple's True Tone technology, that utilizes sensors to render perfect white balance and results in a much superior viewing experience. Add it up with the color accuracy of Apple's display and you get yourself the best 13-inch MacBook Pro for video editing. Below the screen, you'll get Touch ID sensor for secure biometric login and a Touch Bar. Touch Bar is perfect for a video editing environment where you can tweak the colors and combinations with shortcuts and hues selection.
Pros
Retina screen with True Tone

Ability to connect a separate eGPU

Compact design

4 USB-C ports

Extremely fast SSD
Cons
Integrated video card

Non-4K screen
Apple MacBook Air 13-Inch
Though not the fastest and most powerful MacBook, the redesigned MacBook Air does get the sturdiness of a Mac and a less hefty price tag.
The newly designed Air feels much updated and stands in line with the Pro models. You get Touch ID, Retina display with True Tone and the huge and accurate Force Touch trackpad. Everything combined in an incredibly lightweight body of mere 2.75lbs for a 13-inch model. And yeah – you also get two Thunderbolt 3 ports as well.
With this sleek Mac, you get dual-core 8th generation Intel Core i5, that runs at 1.6GHz and with an integrated graphics card – UHD Graphics 617. Pretty fast 256GB SSD and an 8GB of RAM you'll get a round-up good build and power. Though this won't be such a powerhouse as a Pro model with software optimization and within a tight budget and lighter weight it does serve as best budget MacBook for basic video editing on the go.
Pros
Retina display

Processor Turbo-overclocking up to 3.6 GHz

Sleek and lightweight design

Amazing battery life
Cons
Conclusion
Which MacBook is best for video editing? That entirely depends on your needs and whether you're a professional or just an enthusiastic novice.
If you are being paid to render high-resolution and quality videos, go for the higher-end 15-inch MacBook Pro with crisp Retina display offering the best combination of speed, storage, dedicated graphics GPU and value for the money.
Which serves best as a machine to get if you need to edit video on the move?
While the smaller variants are not comparable in terms of power and efficiency, they pack lightweight portable and more budgetary options for you within the Mac ecosystem. All in all, whichever MacBook you chose depends entirely on your needs and budget, but one thing is for sure you will get a sleek and efficiently designed laptop that can perform fit your video editing needs easily.
Nathaniel Cooper
As Chief Operating Officer of ProMAX Systems, Nathaniel Cooper, runs ProMAX Systems day to day operations. Cooper has been working with Storage, Backup and Media Management for video and creative professionals since 2001. Cooper has lead the design and deployment of some of the largest media systems in the world including a range of customers from NFL, MLB & NBA teams, US Military operations, and many of the worlds largest PR agencies and consumer brands. Cooper has spent the last 9 years as part of the ProMAX team and specializes in translating complex technical issues and options into easily understandable concepts.