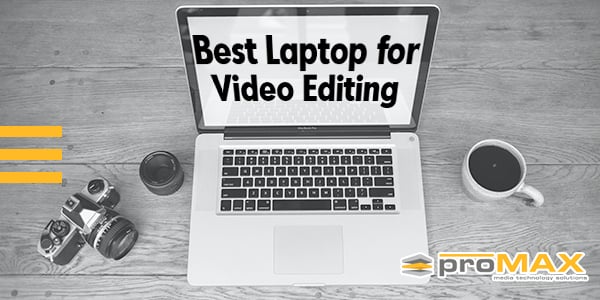 The finest editing video laptop eliminates the need to twiddle your fingers while waiting for a project to complete processing. But, with so many laptop options available, a video editing laptop is the one that features powerful processors, lots of RAM, high-quality, high-resolution displays, USBA ports, and an SD card reader.
These attributes are critical for selecting the best laptop for video editing, but be aware that the maximum performance you want will not be inexpensive. While an inexpensive laptop can cut little clips, it lacks a fast CPU, powerful discrete graphics cards, and a high-resolution display. The greatest video editing laptop should have a dedicated graphics card, an SD card slot, and card readers.
If you're wondering if a gaming laptop can edit video, the answer is yes, but a specialized media production computer is more likely to produce flawless renderings every time.
However, you're at the right spot if you don't know how to choose the best laptop for video editing. In this article, you'll discover the finest video editing laptops and what things you should look for while buying a video editing loop. Let's get started!
Factors You Should Consider in a Laptop for Video Editing
Since buying a laptop is already difficult, buying one with video editing specs makes the task more challenging. Although the things you should consider while buying a laptop for video editing vary with the user requirements, some common and essential factors you should consider are:
Software
Different video editing softwares give different aspects of your machine priority. Before buying a laptop, it is essential to think about the applications you want or already use. If you're using Windows, open Task Manager and go to the Performance tab to see if any components of your system are becoming swamped. This is likely the reason why you're considering upgrading to a new system in the first place. If your current system struggles to keep up with whatever you're doing, you may want to consider upgrading.
Contrary to popular belief, Adobe Premiere Pro places most of its demands on your CPU and RAM rather than your GPU. Certain effects, like scaling, make use of your GPU, but your CPU handles most of the actual work of playing and rendering.
Making matters more confusing, certain effects, such as Warp Stabilizer, depend on your clock speed and aren't assisted by extra cores, although rendering is. If you want to utilize Final Cut Pro and be mobile, you're stuck with the Apple MacBook Pro. If you wish to utilize Avid, you should need a desktop computer. PCs like Microsofts surface book allow you to use MSI creator for your vdeo editing projects to make it easier and more efficient.
Your Content
Maybe you're an indie filmmaker who makes stuff for OTTs. Your laptop needs for video editing may vary greatly depending on your designer and the type of material you make.
If you're making independent films, odds are you already have a desktop-based editing system and need a laptop to augment it or to use when you're not near your primary setup.
In this situation, you want something that can handle big video, supports better encoding, and has a sophisticated CPU. It isn't essential lightweight since you won't be carrying it about as much. If you're wondering how to buy the finest laptop for video editing, you should first decide if you'll be creating more on the road or not.
Resolution
It is important to know the kind of material you will be working with before you begin shopping for a laptop specifically for video editing. Let's say you want to use video with a resolution of 4K or greater. You will want to ensure that you have a display with a high resolution, or potentially even an external monitor, so the picture is as clear as possible.
On the other hand, if you anticipate that the vast majority of your work will be completed at 1080p, you may save some of your cash for other components by purchasing a laptop with a display closer to the industry norm.
Specifications Necessary for Video Editing Laptops
After understanding the factor, you must know what specifications to edit the video on laptops. You need to look into the following specifications for getting the best video editing laptop:
Storage
Storage is the most critical feature when purchasing a video editing laptop. Laptops often use modest quantities of local storage to minimize the sleek design or lower the total cost of the computer. This is plenty for most basic computer usage, but you will want as much storage space as possible regarding video editing.
While you have many external storage choices for your video files, recordings, and output, as a video producer, you will need enough SSD (solid-state drive) memory on your laptop. A solid-state drive (SSD) is a newer, quicker version of a hard disc drive (HDD).
It is advised that you have at least 512GB SSD, 1TB SSD, or NVME SSD to have gateway data and rendering files on your device. This enables video editing to be considerably more fluid and quick.
RAM
RAM, or Random Access Memory, is analogous to your video editing workspace. Every current piece of data that you are dealing with is saved in RAM. More RAM implies quicker video import and processing. Working with several clips, effects, noises, and animations may rapidly use all available RAM. Thus a computer with at least 16GB RAM is advised for video editing.
As a result, more RAM is required while editing a movie, particularly a 4K video. When editing 4K, it is advised that you use a laptop with at least 32 to 64 GB of RAM. The most recent RAM configuration is DDR4, which provides substantially better bandwidth.
GPU
Laptops have two kinds of graphics cards: integrated graphics and discrete graphics. Integrated graphics cards share resources such as memory and space with the laptop's CPU. This device processes captured video into edited video files. Therefore, handling visual effects and higher resolutions requires a lot of power.
For sophisticated image processing, most strong laptops used mostly for gaming or video production have a discrete GPU with their storage. Aim for a machine with 4 to 8 gigabytes of devoted VRAM as a laptop needed for video editing if possible.
You've undoubtedly aware of the NVidias Geforce GTX, NVidia Quadro, and NVidia Geforce RTX, which can be found in various gaming laptops. Another excellent GPU to consider is AMD Radeon GPU. The business also develops sophisticated graphics pre-installed in various computers from Asus, Dell, and Microsoft.
CPU
CPU is analogous to the brain of your computer and is essential to the operation of your editing laptop, particularly when dealing with bigger or higher-resolution video files. Regarding editing, this is among the most critical qualities to look for, right up there with storage.
Before beginning the editing process, verify the minimal requirements of the editing program you want to use to see whether your CPU can satisfy them. It is important to keep in mind that a laptop's processor cannot be updated later; hence, spending more money on a CPU is recommended to maximize your new machine's lifetime. The Intel i7 and the Gen Intel Core i9 CPUs are the best in business.
Top 3 Best Laptops for Video Editing
To simplify the task, we have compiled the finest laptop for video editing list. The following are the laptops you can use for video editing and can easily get on laptop deals at Amazon, eBay, etc.:
The bigger Apple's edition laptop has nearly as much power as you can in a notebook, thanks to the Powerful 10-core M1 Pro or M1 Max SoC (system on an M1 chip), making it a proper upgrade on MacBook Air and previous Apple MacBooks. Not only do you receive eight-speed cores and two efficiency cores of computing power with this MacBook pro 16inch, but because it's a microchip, you also go for 16 or 32 graphics cores. The Retina XDR Display makes this MacBook pro 16inch better than the Apple MacBook Pro 14inch and MacBook Pro 13inch.
This 16inch MacBook pro with up to 64GB of RAM (32 if you remain with the Apple M1 Pro); this beast can tear through any project you put at it. You can avoid bringing an external disc for storage since the SSD can be upgraded to up to 8TB capacity. One of the many reasons to buy this machine is its 120Hz refresh rate.
Pros
Liquid Retina XDR Display

Long-lasting battery life
Cons
4K video editing is not supported

Quite expensive
While it is known as a gaming laptop and is regarded as amongst the best 2in1 laptops for video processing, it can be used on the road for power-consuming work thanks to its 14-inch screen size and excellent battery life. The ASUS ROG Zephyrus features an Intel Core i7 Gen processor. On this list, that's also the best budget laptop for video editing. This laptop offers a remarkable 11-hour battery life, making it a reliable update on Asus Zenbook pro duo.
Pros
Super portable design

Great display
Cons
Backlighting issue with keyboard

No webcam
Engaging in 4K video production on a notebook with the same processing capacity as a desktop computer and a UHD monitor was not previously a viable option, but it is today. Dell XPS comes with an Intel Core i9-11900H CPU, a beefed-up NVidia RTX3060 video card, 32 GB of RAM, and a substantial and speedy 1TB SSD packed into its elegant, slim form. The NVidia RTX graphics card and Intel i9 processor make it better than the Lenovo ThinkPad X1 extreme Gen.
A silver metal lid protects the laptop and bottom, a black soft-touch deck inside, and carbon fiber palm rests. Dell's characteristic illuminated keyboard is included with the laptop. Expansion is supplied by four Thunderbolt 4 (USB-C) connectors that also provide power. One of the many reasons to avoid this laptop is that it doesn't have USB ports.
Pros
4K OLED display

Image credit future
Cons
Only thunderbolt ports

Quite expensive
[Bonus] Tips for Buying the Best Laptop for Video Editing
External hard drives might help you save money in the beginning. You may archive completed projects and raw footage files from your smartphone's main storage using one or more external hard discs. This will make your laptop function more effectively and is less expensive than updating its internal storage.

Peripherals and hardware attachments are only helpful if they can communicate with your computer. Try to learn how your studio equipment will interface with your computer.

Inadequate ports or connections may drastically impair your effectiveness and competitiveness. USB hubs can enable you to connect numerous devices to your laptop at the same time.

Resolution is more significant than you would believe. Your computer's hardware requirements may vary greatly depending on the video resolution you want to use. To conclude, a laptop built to function with 1080P video is far less expensive than one intended to function with 4K OLED or greater images.

Longer machine lifespans are associated with higher starting costs, such as Mobile workstation like HP zbook firefly and surface laptops like Microsofts surface book. The more money you pay upfront on a Windows laptop, the longer it will last.
The Bottom Line
Video editing without a high-end laptop is nearly impossible. You need a laptop with proper specs to edit your videos. Since video editing is a key for many YouTubers and content creators, manufacturers keep that in mind while creating a laptop. Moreover, we hope you know how to choose the best laptop for video editing after reading this article.
Nathaniel Cooper
As Chief Operating Officer of ProMAX Systems, Nathaniel Cooper, runs ProMAX Systems day to day operations. Cooper has been working with Storage, Backup and Media Management for video and creative professionals since 2001. Cooper has lead the design and deployment of some of the largest media systems in the world including a range of customers from NFL, MLB & NBA teams, US Military operations, and many of the worlds largest PR agencies and consumer brands. Cooper has spent the last 9 years as part of the ProMAX team and specializes in translating complex technical issues and options into easily understandable concepts.