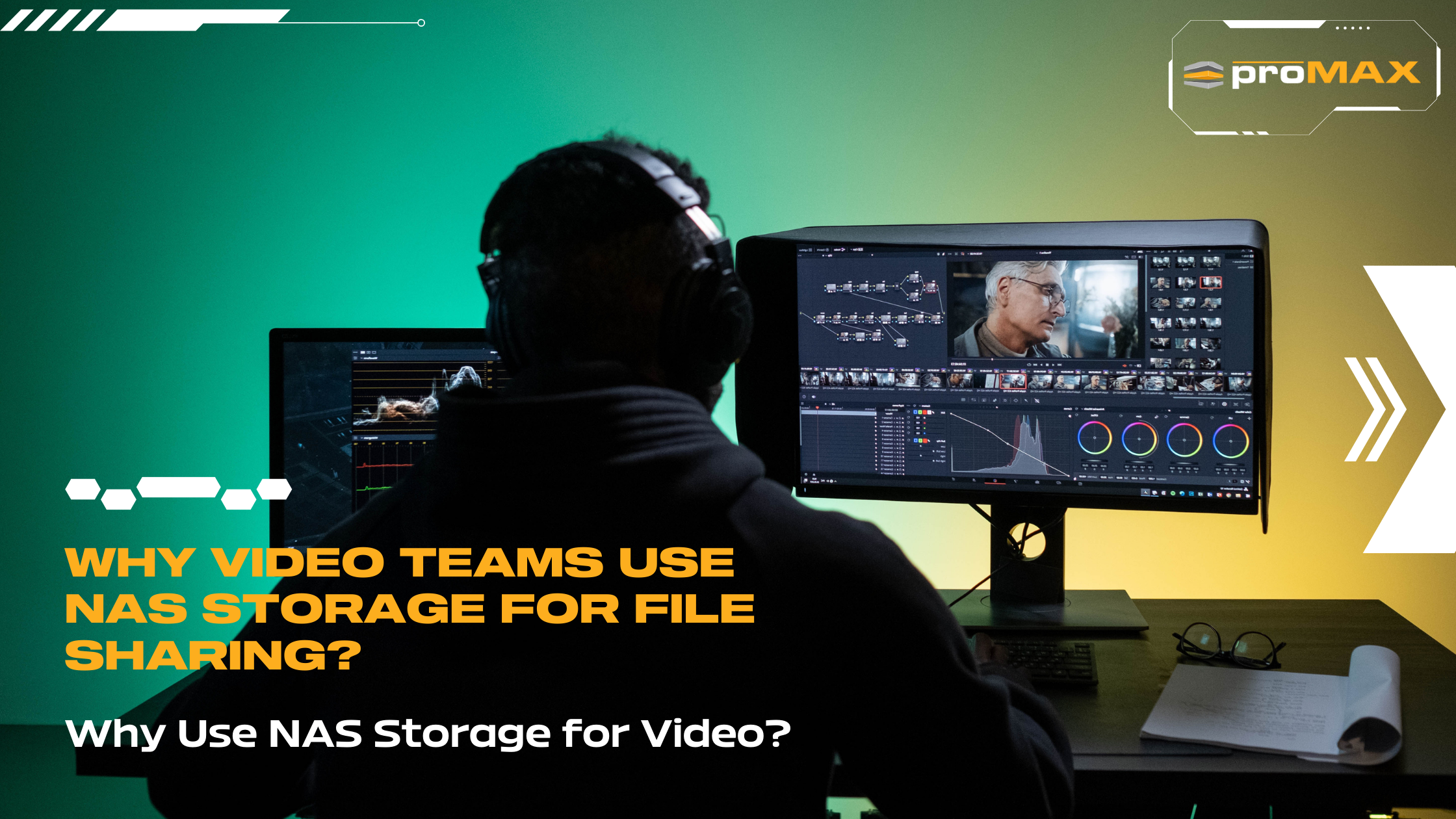 For years, video professionals relied on their computers' internal storage and external hard drives to save their media files. While cost efficient these drives are not efficient when working in a team setting. Video teams needed a way of serving files quickly to every editor. This is where NAS storage comes to the rescue.
In recent years, new storage technology like personal cloud storage have become more mainstream. However, many professional video teams still rely on network storage to power their businesses and keep their teams working effectively.
Let's talk more about NAS Storage and why it is a great storage solution for video professionals. We'll also discuss some of the different NAS units available and reasons to buy and reasons to avoid certain options.
Why Use NAS Storage for Video?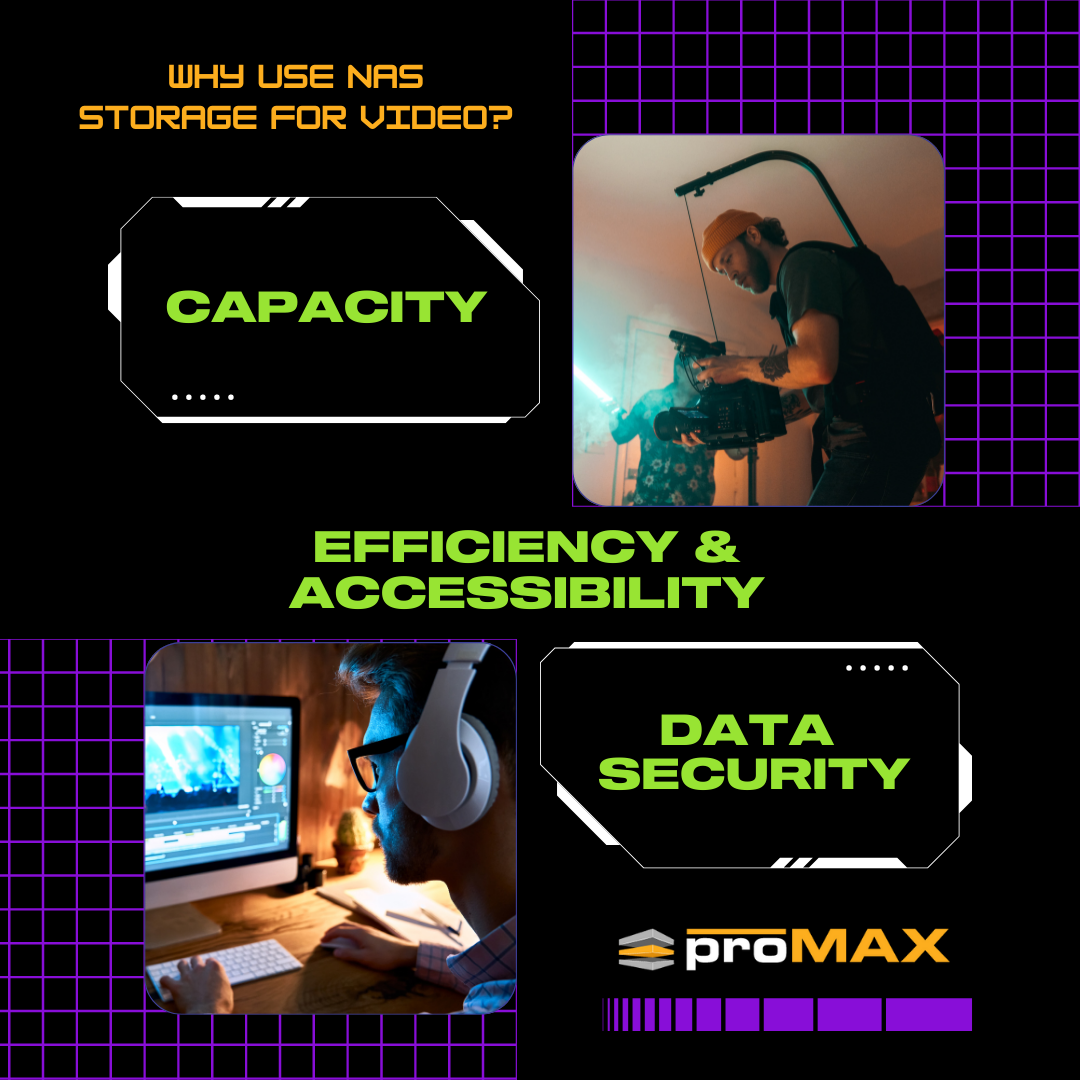 NAS stands for Network Attached Storage. These storage devices create a shared network that users can connect to and access files from a central source. NAS systems work great for media servers by creating storage networking that make collaboration much more efficient than passing around a single drive to work on a project.
Performance
Video editors connect directly to a network attached storage device or through a link aggregation switch giving them access to multiple storage drives. You can use commercially available hard drives or SSDs like ones made by Western Digital or Seagate. By itself a single NAS hard drive will provide around 80-160mb/s write speed resulting in lengthy file transfers. The combined performance of multiple drives provides faster read and write speed and data transfer speeds.
NAS network attached storage devices connect to the local network through an ethernet port. If your office has a high speed connection you can upgrade your system to match your bandwidth using a 25gbe port or higher. You can also upgrade the internal nas drive to a m2 ssd for more performance.
Capacity
If your video team is taking on a large amount of work you know how much storage those video files can take up. The types of video files you work with also impact how quickly your available storage space is used. Higher resolution footage like 4K video will take up more space than something shot in 1080p. While external drives and internal computer storage have improved to hold large amounts of data, that amount is still finite.
NAS Storage devices provide more storage capacity than using external hard drives. NAS enclosures come in varying form factors from desktop NAS for home users to rackmount NAS units. Depending on the size of your system it will have multiple drive bays that support HDD or SSD drives like the Ironwolf Pro.
Efficiency
Consider a situation where storage limitations cause major setbacks. Storing media on individual drives can create a nightmare scenario where you have no idea which drive certain files are on. Difficulty finding a file can throw off production timelines and result in missed deadlines. By utilizing NAS file servers all of your media is in a central storage pool that can be quickly searched using asset management software. This software can be accessed by individual editors or run by a storage manager. Media servers that match do what they're expected to, when they're expected to do so can mean the difference between profitability and loss.

Network attached storage also enables your editors to access files from the same file system leading to improved collaboration. Since your team is working from the same storage system there is no need to relink media when a new editor accesses a project. Working on the same project files means you don't have to worry about versioning issues.
These efficiency gains can save countless hours and headaches spent reconciling media and searching for files. A more efficient team gets projects done on time and opens space to take on more work.
Data Security & Accessibility
NAS storage provides a convenient way of data backup and recovery as well as remote access to files. While many companies are transitioning to private cloud backups like Google Drive, Dropbox or Amazon S3, NAS storage is still a great option.
When you backup files to the cloud you have to consider two big factors:
Cost

Download/Upload Speeds
Cloud storage is more costly per GB than hard drive space. Most cloud storage models charge monthly based on the amount of storage you own. Additionally cloud storage providers charge egress fees when you download your files which can add up over time. The NAS box in your office has no recurring monthly fees and when it's time to recover your data there's no added cost.
When you access the cloud your internet connection has an impact on media streaming speeds. On the flip side, your storage NAS device can be connected directly to gigabit ethernet providing faster access to your media when you need it.
How can we help your creative team?
Learn how to improve your media management practices, Click below to speak with an expert today
Talk to an Expert Now!
Choosing a NAS Storage System for Video File Sharing
When it's time to start looking for a Network Attached Storage (NAS) device you'll notice there are a number of options available. Some of these systems are great to use as a home NAS system while others are designed for larger teams.
We like to think of NAS devices in different tiers. There are entry level NAS systems that you can find on sites like BH Photo. You can also find today's best deals if you check Amazon. These options include budget NAS models like the QNAP TS253D, Seagate Personal Cloud 2-bay, Asustor Drivestor, or the Synology DiskStation ds220. Most of these systems come in 2bay NAS and four bay NAS configurations. While these are budget friendly options they are not optimized for video production and serve as a general purpose storage NAS.
There are also video specific NAS storage devices available. These are manufactured with video production in mind. When buying this type of NAS network attached storage you have the option of upgrading your internal hardware such as an Intel Celeron processor. Video specific NAS options provide features such as hardware transcoding and can support larger teams with higher storage capacity needs. These systems also provide better performance than entry level units.
When choosing a NAS storage device for your team, make sure you find one that fits your specific needs and budget. Make sure it has adequate HDMI ports and USB ports for any accessories you may attach. Pricing for NAS storage can vary considerably but a big thing to watch out for is buying features you'll never use. You'll also want to get a NAS system that is easy to set up and manage for your editors.
Conclusion
We hope this helps you understand how NAS works, why video professionals choose it for their video storage.
Searching for the best NAS storage system will take some time and research. Consider checking out ProMax Systems which offers fast shared storage for video editing workflows. From installation, workflow training, to continued support - ProMAX takes care of all of your needs, enabling you to create mesmerizing videos without any hassle.
Get in touch with a ProMax expert to learn how your video team can simplify the way they access, edit, and store their files.
Nathaniel Cooper
As Chief Operating Officer of ProMAX Systems, Nathaniel Cooper, runs ProMAX Systems day to day operations. Cooper has been working with Storage, Backup and Media Management for video and creative professionals since 2001. Cooper has lead the design and deployment of some of the largest media systems in the world including a range of customers from NFL, MLB & NBA teams, US Military operations, and many of the worlds largest PR agencies and consumer brands. Cooper has spent the last 9 years as part of the ProMAX team and specializes in translating complex technical issues and options into easily understandable concepts.