The upgrade over the traditional hard disks with the SATA SSDs would have been the wisest choice until a few years back, but not anymore. The general SSDs have begun to wear out in the current demands for a faster host controller interface. As a result, more and more businesses and individuals are opting for state-of-the-art storage solutions like NVMe.

The need to have a standard for end-to-end connectivity and efficient flash storage is rising every passing day. NVMe connects to your device's PCIe (Peripheral Component Interconnect Express), offering you way faster speeds than SATA SSDs.
But what is PCIe and how does it impact data read/write speed?

This blog will help you understand about NVME's of PCIe 4.0 and how it is a wiser pick over others flash storages in the market.

What It Can Offer To The User
Unlike the traditional SSD drives, PCIe 4.0 NVME SSD drives are power-packed with the latest technology to ensure the fastest reading, writing, transferring of data, and operating speed amongst other flash storage devices.

Running at almost six times the speed of a SATA III SSD, these SSD drives are built on high-speed PCIe lanes and are the ultimate upgrade over SATA and SAS SSDs. You don't have to worry about the compatibility of your storage devices anymore, as the NVMe SSD drives are compatible with different form factors such as PCIe card slot, M.2, and U.2.

NVMe drives work on high-end parallel data paths to offer better performance and faster operations over SAS/SATA drives. SAS/SATA SSD Protocols are based on CPU cycles and are not designed to handle severe data loads, unlike NVMe drives. NVMe drives' minimal infrastructure enables users to reduce costs and accelerate growth.

When it comes to NVMe SSDs, the most significant advantage of PCIe 4.0 is performance. The PCIe 4.0 specification is intended to increase data transfer rates from 8 GT/s (PCIe 3.0) to 16 GT/s (2 GB/s per lane), allowing SSDs, GPUs, NICs, and other devices to provide better I/O output than previous PCIe revisions. Because of its capability of reading thousands of parallel command queues, NVMe drives ensure lower power consumption and improved performance.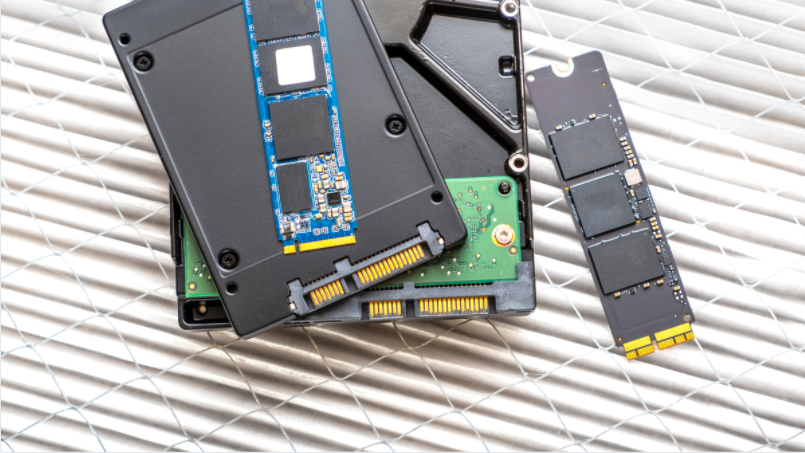 The relationship between the PCIe 4.0 interface and the NVMe protocol is another essential feature of these SSDs. SSDs communicate with a host in the data center through the PCIe interface, which follows a series of instructions known as the NVMe protocol. The physical pin definitions and power specifications associated with the hardware transportation layer describe the interface. At the same time, the protocol defines the commands, instructions, and drivers that SSDs and operating systems must obey.

Nobody wants to stress over losing data in the Internet age, but sadly it still is a present reality. NVMe SSDs, unlike HDDs, do not store data in mechanical parts but flash memory, almost eliminating the risk of data disaster. Additionally, NVMe SSD drives produce less heat and no sound, giving them the ultimate edge over other storage devices in terms of reliability.
NVMe vs SSD
When we speak about standard SSD, we mean an SSD with a SATA interface, which is a logical interface that connects an SSD to the motherboard through a SATA cable or PCIe (M.2 comes under PCIe Interface). NVMe SSD refers to an SSD with an NVMe Logical Interface and an M.2 physical interface or form factor. NVMe is a logical architectural algorithm that operates within SSDs and uses the M.2 interface to provide the fastest data transfer rate possible.

Notable differences between NVMe and SSD include:

The difference in speed between the two drives is extremely evident because of several affecting factors. The PCI Express standard current generation has several parallel data paths, each with a maximum transfer speed of 985 megabytes per second (Mbps).

Prices for SSDs vary greatly depending on size and capacity. Usually, SSD capacities range between 120 GB to 2 TB and cost almost 4x times the price of a regular SATA drive of the same configuration. NVMe may be the better enterprise choice for extremely high-performance needs, but it is costly compared to SSDs.

NVMe is placed right atop PCI Express, linked directly to the CPU and is thus not affected by the contractions of the ATA interface. This arrangement enables NVMe to offer almost four times the I/O and ten times the seek time.

NVMe drives are so much faster than SATA drives. PCIe 3.0 — the PCI Express standard current generation — has a maximum speed transfer of 985 megabytes per second (Mbps) on each path. NVMe Drives can use 4 PCIe lanes, which means a theoretical maximum speed of 3.9 Gbps (3,940 Mbps).

Irrespective of the form factor, NVMe directly communicates with the CPU and works with all major operating systems. SSDs, on the other hand, are designed for individual devices and aren't compatible across multiple devices or operating systems
NVMe of PCIe 4.0 RAID Controllers
An NVMe SSD controller supports multiple form factors such as U.2, M.2, and add-in cards. Let's help you better understand what each means and how each works with PCIe 4.0.
M.2 SERIES
When it comes to SSDs, the form factor is a crucial consideration as the sole motive has always been to make it close to being invisible. Thus, M2 is nothing but the upgraded form factor of SSDs or NGFF (Next Generation Form Factor), which has brought about a significant boost in performance by using PCI-Express instead of SATA.
M.2 drives, unlike regular HDDs and SSDs, are not attached to a motherboard via a cable; instead, they are inserted directly into the motherboard via a dedicated M.2 connector port. The M.2 series of the NVMe SSD drives look like gum-stick with a NAND module studded at one end.

The M2 series of NVMe SSD drives are extremely powerful and faster than the fastest SATA-based drive in the market. Although the SATA interface is limited to 6Gb/s, PCIe 3.0 has a much higher bandwidth throughput of 32GB/s. It's even faster with subsequent PCIe generations, such as PCIe 4.0, PCIe 5.0, and PCIe 6.0, which have bandwidth throughputs of 64GB/s, 128GB/s, and 256GB/s, respectively.

It's important to remember that M.2 SSDs with SATA interfaces aren't necessarily faster than normal 2.5" drives; they just take up less room and look nicer. If you want faster speeds, make sure your M.2 drive supports the NVMe interface protocol.
U.2 SERIES
U.2 is another SSD form factor that was previously limited to high-end workstations and server motherboards, but has recently become more popular, thanks to newly launched chipsets. U.2 drives, like M.2, use a similar but distinct motherboard attachment, but are available in 2.5" form factors, as are most SATA SSD drives. They share many of M.2's performance characteristics.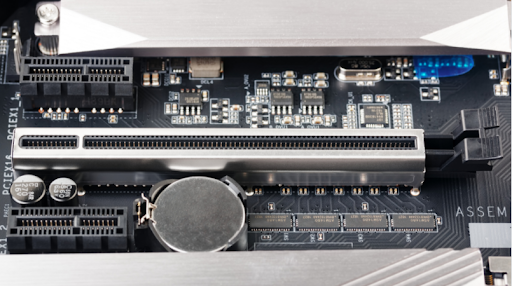 Although M.2 drives are directly mounted on the board, U.2 is connected via a cable that resembles a double-decker SATA. The drive itself is housed in the hard drive cage alongside its other 2.5" siblings. Since U.2 ports take up less physical space than M.2 ports, motherboard manufacturers typically add U.2 ports rather than M.2 ports.

As compared to M2, U.2, by utilizing four PCI Express lanes and two SATA lanes, delivers a staggering speed of 32,000 MB/s. Because U.2 can use both the 3.3 V similar to that of M2, as well as the 12 V - the room for power in the case of U.2 is tremendous.
Conclusion
The world is peeking at the future of storage devices, and the limitations in the interface of the SATA SSDs are not allowing them to keep up in the race. The upgrades in technologies will require higher than ever power and complimenting speeds to work out tasks, and thus the design of the SATA drives does not stand a chance.
Depending on how much speed you need and how large files you'll be copying, choose the form factor that fits your needs. But remember to upgrade to an NVMe raid storage. Compared to that of an AHCI controller, the NVMe controller offers lower latency and can process two thousand additional commands to or from the drive. To achieve optimum performance, make sure it uses PCIe 4.0 NVME as a bus instead of using SATA.
If you need more information on NVMe drives and other storage solutions for your business, make sure to check out ProMAX Systems. We offer an array of centralized storage hardware and software for video professionals, teams, and agencies, including NVMe drives, SSDs, asset management, cloud storage, backups, archives, and more.
Nathaniel Cooper
As Chief Operating Officer of ProMAX Systems, Nathaniel Cooper, runs ProMAX Systems day to day operations. Cooper has been working with Storage, Backup and Media Management for video and creative professionals since 2001. Cooper has lead the design and deployment of some of the largest media systems in the world including a range of customers from NFL, MLB & NBA teams, US Military operations, and many of the worlds largest PR agencies and consumer brands. Cooper has spent the last 9 years as part of the ProMAX team and specializes in translating complex technical issues and options into easily understandable concepts.