Although cloud-based video storage has been around for quite some time now, security remains one of the significant concerns when storing files in the cloud. As more and more businesses migrate their data to the cloud, features like syncing and sharing services will play a massive role.

Storage solutions have gradually moved away from physical drives to remote, server-based setups. By uploading your data to the cloud, you can easily share and access large files online. However, there's always a concern about running out of space.

Usually, with cloud-based solutions, you pay for the space you use. You can always add more space by paying an additional amount. This works to an extent. But when you have way too much data to handle, you need to consider alternative solutions.

In this blog, we discuss what cloud-based storage and NAS are and how they can help your business when it comes to secure and affordable storage solutions.

Cloud-based Video Storage

Cloud storage is a service model for the transmission and storage of data in distributed storage facilities. It is maintained, controlled, backed up, and accessible to users via the network – usually through the internet. Users typically pay a monthly fee for using the storage services.
Simply put, a cloud storage is a secured virtual space that authorized users can access via a browser or an application. Your data is stored in a third-party server somewhere, in a hard-drive or a solid-state drive.
Although cloud-based video storage removes the need to purchase, operate, and maintain in-house storage resources, and dramatically reduces storage costs per gigabyte, service providers introduced operating costs that can make technology significantly costlier depending on how it is used.

Cloud storage has many benefits over conventional storage solutions, and we don't see many reasons why your company shouldn't use it! However, like any other platform, you need to consider the pros and cons before determining if cloud storage is right for your business.

Listed below are the benefits of cloud-based storage:
Cloud-based files are accessible from any location with an internet connection. It helps you to get around problems like time zones and geographic location.

Since all data is stored and backed up on an external device, often thousands of miles away from your site, cloud storage reduces the possibility of system failure. Additionally, most cloud providers offer an automated data backup plan.

Small and medium-sized businesses will be able to use cloud storage at little to no expense. This will lower your annual running costs and save you even more money because remote data storage does not require internal power. The solution's overall cost is one of the primary deciding factors when deciding between on-premise vs. cloud storage.

You just pay for the storage space that you actually use. If your company expands, the cloud provider will be able to meet the increased data storage requirements. Simply by changing the price you pay, you can increase the amount of storage available.

Tests have shown that when the right business technology backs up the cloud, the speeds achieved can be on par with those gained from on-site storage solutions. For example, a company can backup data to several servers simultaneously, which is much faster than backing up to disk.
That said, here are some notable downsides of cloud storage:

There are questions about storing sensitive and essential data remotely. It would help if you were mindful that you are entrusting confidential business information to a third-party cloud service provider when you use cloud services, which may place your company at risk.

Since your data is stored offsite by a business you don't manage, you don't have complete control over the customization of your data storage setup. This is likely to be a problem for larger companies with diverse storage requirements.

Your access to remotely stored data will be lost if your internet connection goes down. If your company relies heavily on cloud storage, internet failure will result in expensive downtime. Furthermore, if your internet connection is weak, accessing your remotely stored data can take a long time.
Most Secure Cloud-based Storage For Video editing

There are three cloud-based storage options based on varied access models - public, private, and hybrid. Each of these solutions works differently and have their pros and cons. However, there is one common thing between all of these options. Cloud-based video storage offers businesses more flexibility, data deployment options, and cost savings.

Although there are a lot of such solutions, including Microsoft OneDrive Secure, Google Drive, Box, Dropbox, and more, you won't get many add-on features, especially if you're planning to edit video files in the cloud.
However, with ProMax Systems , you can enjoy powerful features, multi-layered security, and integration with the best video editing tools without sacrificing ease of use. For instance, ProMax MediaHub allows you to connect and share large files with your team using a peer-to-peer network. Synced storage spaces ensure that all authorized users can work on shared projects even if they're not in their workstations.
Video teams of all shapes and sizes use ProMAX to manage their media. Not only this, you'll also be able to choose from a plethora of storage options that best fit your business needs. Get in touch with a ProMax expert to learn more about cloud-based shared storage solutions.

Learn why ProMax is better than other shared storage solutions.
The Most Secure NAS In the Market
Network Attached Storage (NAS) is a revolutionary storage solution that makes it extremely easy to centrally manage, edit, and share large video files.

To put it another way, it's a compact unit with a lot of storage space. Within your local area network, it can be accessed by other machines. You may also use an external network to access the storage if required.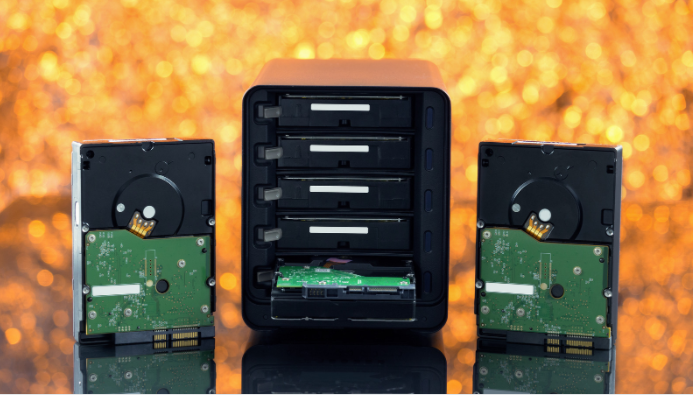 One of the best features of NAS storage systems is that they can be accessed by multiple users and devices from a shared network or remotely. You can connect several hard drives to create shared storage in a NAS setup. More power, redundancy, and faster transfer speeds are all advantages of having multiple hard drives.

Listed below are some of the notable benefits and downsides of choosing a NAS for secure and encrypted cloud storage:
Pros:
Simple and easy to use

Highly scalable

Central management

Consistent data transfer speed

Auto backups

Built-in data recovery features

Multi-layered data security

Cross-platform compatibility

Extremely cost-effective
Cons:
You'll require professional assistance in recovering data in case of a technical glitch

You'll need to install additional software to manually backup your data

Transfer speeds are highly dependent on network speed

It may slow down the network and impact productivity when multiple users are accessing the NAS via the same network
If you're looking for a state-of-the-art NAS solution for video storage, check out ProMax System. Learning to build a NAS setup on your own is fun, but you'll need to invest time and effort. However, you can get it all done by subscribing to a pay-as-you-use model such as ProMax Systems that offers fast shared storage for video editing workflows.
Conclusion
When dealing with large files daily, businesses need a flexible, scalable, and affordable solution. Storing data on hard drives, flash drives, and other physical solutions is no longer a feasible solution. Hence, it is in your best interest to upgrade to a cloud-based storage model.
Not only will you be able to get rid of unnecessary expenses, but you'll also be able to manage better and streamline all of your data. You'll find it easier to share, edit, and multiple backup files - at the same time, without geographical restrictions.
Upgrading to a cloud-based storage solution or a NAS system will allow you to explore (and benefit from) new and creative ways. It'll help increase productivity and collaboration while cutting down costs. Once you've decided to implement cloud storage, make sure to compare the service providers and choose one that offers value-added features.
Are you willing to streamline your business? Do you need more storage space and features within a limited budget? If yes, get in touch with a ProMax System expert to learn more about shared storage solutions designed to streamline your team's video editing workflows.
Nathaniel Cooper
As Chief Operating Officer of ProMAX Systems, Nathaniel Cooper, runs ProMAX Systems day to day operations. Cooper has been working with Storage, Backup and Media Management for video and creative professionals since 2001. Cooper has lead the design and deployment of some of the largest media systems in the world including a range of customers from NFL, MLB & NBA teams, US Military operations, and many of the worlds largest PR agencies and consumer brands. Cooper has spent the last 9 years as part of the ProMAX team and specializes in translating complex technical issues and options into easily understandable concepts.