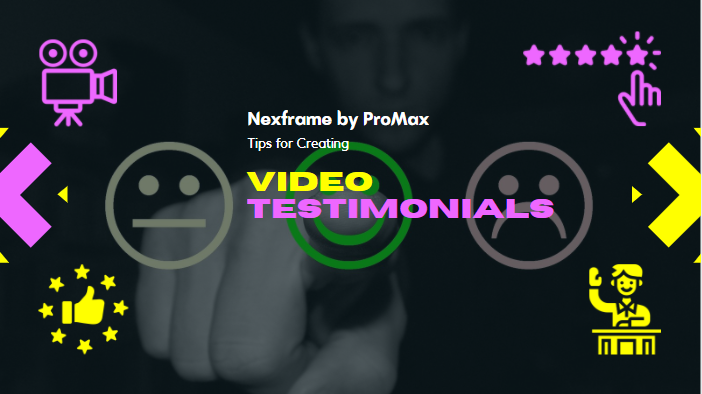 Customer testimonials are one of the most effective sales and marketing tools for businesses. Although there are several types of testimonials, nothing beats customer video testimonials.

Why?

Because people love videos. When it comes to products and services, 88% of consumers say reviews influence their buying decisions (Vendasta). While text-based testimonials get the job done, video testimonials are proven to be more impactful for increasing brand awareness and engagement, alongside a host of other benefits.

But collecting video testimonials for customers isn't an easy task. From building a definitive strategy, gathering the right set-up, recording the video to post-production, there are many hurdles in the process. That said, most businesses don't have a clear idea of how to create these testimonials. They're either confused or unsure about how to move forward and ask customers for a video review. Honestly, it is easily doable if you have a pre-defined strategy.

Read on to learn about the tried-and-tested best practices to create mesmerizing video testimonials without spending thousands of dollars on equipment and resources.
Why Are Customer Video Testimonials Important?

To fully understand the importance of video testimonials, you must look at the two words' values: video and testimonial. Videos are the most effective content type in digital marketing. Be it a product video or a live stream- videos engage your audience, unlike any other content type.

On the other hand, testimonials hold great value to your customers. Before buying a product or service, your customers want to look at unbiased social proofs. When you combine satisfied customer testimonials with videos, you can generate higher returns from your investments. A testimonial reassures your potential buyers about the fact that your product provides value for money.

Do video testimonials help you? Of course, they do. Here are four primary reasons you should start gathering as many video testimonials immediately:
Build Credibility and Trust - One of the primary reasons you should start adding more testimonial videos to your website and socials is to boost credibility. A recent study pointed out that almost 63% of customers are more likely to purchase from a website with many reviews. Adding videos will allow new customers to see (and feel) other customers giving an honest, unscripted, and unbiased opinion.
Good Emotional Connection to the audience - Unlike written testimonials, videos capture all subtle expressions and tone changes, thus adding resonance to the message. It adds authenticity to the video and helps you to connect with your target audience emotionally. Adding video testimonials creates a sense of trust and forges a three-way connection between the target audience, the customer in the video, and the brand.
Personify the brand - Each video testimonial allows you to associate real people with your products. When a customer speaks of your brand, they aren't just talking about the product or service. They are adding their face, voice, and name to the product. All of this personifies your brand, allows customers to connect on personal levels, and reassures your target audience that your brand is the answer to their needs.
Increase exposure - According to a recent study by HubSpot, almost 78% of online users prefer to watch videos than reading. Likewise, videos are shared the most. It gets more comfortable for your brand with a video testimonial to attract a broader range of potential buyers. If your video is engaging, viewers will share it, which will increase your brand's exposure.
7 Nextframe Tips on How to Produce Good Video Testimonials
Good customer testimonial videos will highlight problems your target audience can relate to and how your brand has a solution. It aims to create demand through necessity.

But creating video testimonials isn't an easy task. You need to realize that potential buyers watching these testimonials learn about existing customer experiences and not your product or service features. You'll need to find the right balance to be able to influence buying decisions successfully.
From choosing the right equipment, writing a rough script, recording, to editing the video - you'll need to consider every aspect. Keeping this in mind, here are seven practical tips for creating high-quality video testimonials:
Use High-Quality Device - Make sure that you record videos using a high-quality device. With the rise in consumption of 4k and 8k videos, it is in your best interest to ensure your video testimonials are visually engaging. Use high-end cameras to record crystal clear videos.
Prepare and make it natural - Customers don't prefer scripted reviews. Hence, it is a good idea to avoid sticking to a fixed script. You'll still need to build a strategy and plan on what you want your customers to discuss. But in the meantime, you'll also need to give your customer enough space to be able to speak naturally. Don't impose a pre-written script. Words and gestures should be natural; hence let your customer do the talking.
Center the content on the Why - Customer reviews should add value to the products and services you offer. Hence, focus on creating videos that underline how an existing customer has benefitted from your offering and not what your product does. Don't pile an information overload of what your product is about on your viewers before you show them how it has helped existing customers derive value from it.
Create an Emotional Connection to viewers - It is essential to throw in a few powerful words to help create the right image in your potential customer's minds. Please make a list of the terms that best fit your brand's persona and include them strategically in the video.
Make it short and concise - As per studies, videos shorter than two minutes drive the most engagement. Hence, see to it that your customer testimonial videos are short and snappy. Break down the testimonial into three sections: introduction (where the reviewer talks a bit about themselves), the middle part (where they talk about how they found your brand), and the ending part (where they shed light on how your product/service helped them).
Add some text or images - It is also a good idea to add texts and images within the video. For instance, adding captions to the testimonial and strategically displaying your product images will help you engage the viewer and influence their decision-making process.
Use some filming technique

- Choose the right settings, ambiance, and lighting for the videos. Please speak to the customer first and understand what makes them comfortable. You don't want to record a testimonial that looks awkward and abrupt. Learn the basic techniques of filming and post-production to create the perfect video testimonials.
Why Create Video Testimonials With Nextframe?
Generally speaking, recording and editing videos isn't everyone's cup of tea. Hence, most businesses shell out considerable amounts to record video testimonials. They outsource the work to marketing agencies, hire in-house teams, or start buying costly equipment.

All of these only lead to expenses, impacting the overall return on investments. But what if we tell you that there's a solution to these problems? That, too, at no cost.

Yes, that's right! With Nextframe by ProMax, you'll be able to streamline the process of collecting video footage from your customers for editing purposes without even stepping out of your office. It works seamlessly on mobiles and computers and makes the process of gathering customer testimonials easier, quicker, and extremely manageable.
Unlike other apps, Nextframe is an all-in-one video testimonial software for all of your video marketing needs. You can use it to record high-quality customer testimonials from your phone and directly upload the footage through the cloud to a desktop interface where the editor can manage the content and download the full resolution video to edit. Significant features of the desktop app include features like:
Managing contributors

Scheduling and assigning projects and deadlines

Gathering customer testimonials via direct video submissions

Responding to open projects

Recording on mobile devices

Scheduling shoots

Collaborating with teams
Take your video marketing to the next level. Sign up for the Nextframe Beta Program.
Conclusion

Video testimonials are here to stay. Hence, it is high time for your business to leverage this marketing tactic to drive more revenue. And with Nextframe by your side, things just got a lot more streamlined and easier.

Keep in mind that a good testimonial video is one that's short and authentic. Don't go for paid video testimonials or pre-written scripts, as most customers will doubt it. Instead, schedule a meeting with your customer, discuss what they like about your product or service, and let it be as natural as possible.

Use the tips listed in this blog to create effective testimonials for your brand. If you would like to learn more about utilizing video testimonials for your business, we can help! Get in touch with ProMAXSystems to see our testimonial video examples and unlock higher engagement, brand awareness, and revenue.

Nathaniel Cooper
As Chief Operating Officer of ProMAX Systems, Nathaniel Cooper, runs ProMAX Systems day to day operations. Cooper has been working with Storage, Backup and Media Management for video and creative professionals since 2001. Cooper has lead the design and deployment of some of the largest media systems in the world including a range of customers from NFL, MLB & NBA teams, US Military operations, and many of the worlds largest PR agencies and consumer brands. Cooper has spent the last 9 years as part of the ProMAX team and specializes in translating complex technical issues and options into easily understandable concepts.