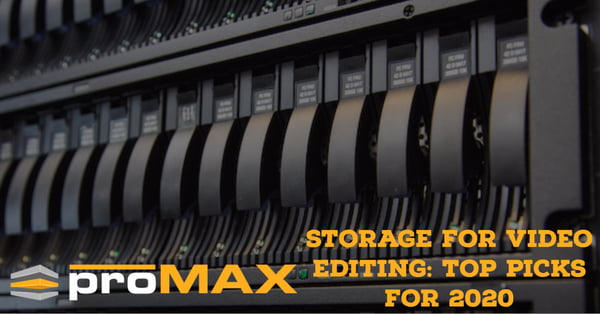 There are a number of shared storage vendors in the market today. There are three levels of shared storage solutions available if you're a video editor:
Entry

Mid-Tier

Enterprise Class
Storage for Video Editing Teams: Best External Drives & Storage Solutions
There are a few legacy solutions for video teams that are still pretty common - working the heck out of internal drives, then bolting on external hard disk drives (HDD) to video editing software workflows that have been around for years. But a drive solution that supports larger storage capacity and allows you to quickly transfer data without disrupting editing workflow, especially with today's file size (4K videos and beyond), SSD (solid state drive) drives and RAID solutions for NAS (network attached storage) are quickly becoming the industry standard, bringing virtually unlimited amounts of storage for video editing.
While shared storage is basically the same, the way each vendor configures and packages their solution for video editing is considerably different whether that means pricing, performance specs or features sets. Here are the top 5 shared storage vendors as well as two "honorable mentions".
______________________
Related: SSD vs HDD

QNAP:
An entry level shared storage system for both home or professional use, QNAP provides affordable yet effective video storage drives. These systems are great for small editing groups working with HD and in some cases even editing 4k video.
Once you grow beyond 3 or 4 editors is when concurrent video editing performance tends to suffer. If you plan on scaling your storage beyond a single QNAP NAS server, management of the units is not unified in a single interface and can become cumbersome. Support from QNAP is good for basic server support, but nonexistent for video specific workflows. Users will need to rely on forums and paid service providers for video production support.
Level:

Entry

Where they rock:

Great system for small work groups, affordable storage option

Where they fall short: Video specific features, scaling storage or users, lack of video editing workflow support
LumaForge:
LumaForge falls into the mid-tier shared storage category and have been around since 2017. They build "Jellyfish" desktop and rack mountable shared storage systems for video teams.
LumaForge created the first shared storage system built around the needs of professional video teams using Final Cut Pro X. Most competitors have added FCP X workflow support since, but die hard FCPX users can thank LumaForge for getting vendors to focus on that part of the market.
They have earned their spot as a top shared storage option because of their user friendly interface and a reputation of support that deeply understands video production.
Level:

Mid-Tier

Where they rock: Great user interface, simple, FCPX support, they are a company that understands the professional video production process
Where they fall short: Their systems are overpriced and lack a robust feature set
Studio Network Solutions (SNS):
SNS is another mid-tier storage solution focused on professional video. They have an excellent media management interface, ShareBrowser, that is loaded into their EVO storage servers.
In many ways SNS is LumaForge "grown up", they have been around for close to 20 years and in that time have built a robust ecosystem of tools in EVO. Similar to LumaForge, SNS has a knowledgeable staff of professional video workflow experts.
SNS tends to be more conservative in how they market their performance numbers and have an excellent Media Asset Management interface which is paired with the best integration of AI in a storage-provided-MAM. Their MAM system is on par with an axle ai MAM.
Level:

Mid-Tier

Where they rock: Great product and support staff, solid MAM interface with AI integration
Where they fall short: Expensive, boarding on overpriced. Expansion storage is way overpriced. LTO integration is 3rd party only
EditShare®:
EditShare® creates a robust shared storage system aimed at media teams. Their system is incredible due to their depth of tools and the complexity of the ecosystem. EditShare® is extremely powerful and can be used in broadcast and other high-end video workflows where other mid-tier solutions can't play.
While the power of their system is impressive, as is often the case, it comes at the price of complexity. To leverage their tools, you will need a dedicated internal support staff to manage the system and handle internal change management. Even with that, many of the complex feature sets are never seen past the demo.
Level:

Mid-Tier to Enterprise

Where they rock: Asides from ProMAX they are the only singe vendor solution for storage, MAM and archive. They have local offices in Europe and Asia giving them the best worldwide footprint in the industry.
Where they fall short: Overly complex tools that don't always integrate within their own ecosystem
ProMAX Systems:
ProMAX introduced Platform in 2012 around the idea of a scalable and affordable mid-tier storage system that you can add software packages, as needed. Using the Platform interface, ProMAX users can access Shared Storage, Asset Management and Backup / Archive tasks all within a single piece of software.
ProMAX has both desktop and rack mountable storage units built with video professionals in mind to provide a seamless editing experience. Support is provided from a team of video workflow experts who understand video production. Platform has a rich feature set which can be purchased in bundles or à la carte to fit your video team's specific needs.
While the MAM interface is a good all in one tool it is starting to look a little old and needs a refresh.
Level:

Mid-Tier

Where they rock: SSD drive for video based systems are common = more performance. Software packages to fit your needs,

All-in-one interface, video production support, 90 Day Risk Free.

Where they fall short: MAM interface starting to look outdated. Based on Windows Server OS, which scares some Mac users.
AVID:
AVID is a widely recognized name in the video production space and practically owns Hollywood. They have a variety of products that cover a wide range of video production functions for audio ediing, sound effects etc... Their systems are designed for an enterprise level workflow and offer project sharing features.
For smaller video teams their top tier product may be overwhelming with features that they offer. However, they do offer a basic storage solution.
Their system works very well if you play within their ecosystem, once you try to bring other vendors into the mix is when it becomes a bit restrictive. It is the least 'buggy' of the systems on the market.
Avid has produced two widely used products for creatives: Avid Media Composer and ProTools.
Level:

Mid-Tier to Enterprise

Where they rock: Least buggy of the systems on the market, most formal and restrictive quality control process
Where they fall short: Unless you are using the rest of the AVID ecosystem their storage option becomes pointless, to really get what you want out of AVID the cost skyrockets
Quantum:
Quantum is on the bleeding edge of technology for shared storage for video teams as well as other industries such as surveillance and autonomous vehicles.
Their solutions are enterprise level storage for large teams to manage their data on. They offer a true enterprise SLA where getting a replacement RAID controller at 2am when it crashes is realistic. This is a big reason why many professional sports and 24 hour news corporations use their products.
Quantum is the only SAN on this list and is the default upgrade from an Xsan system.
Their F-series servers include NVMe flash storage which provides high speed data performance for the entire video team.
Storing 4k footage or beyond, while being able to quickly access video files through ultra fast transfer rates (both read and write speeds) is a non-negotiable for production workflows in 2020 and beyond. If you want to spend more time editing video than waiting for your file transfer, get in touch with one of the pros here at ProMAX and we'll help you get setup with the right storage solution for video files.
Level:

Enterprise

Where they rock: Enterprise SLA, can stick with Fibre Channel, politically the safest option for large companies (no one ever got fired for buying IBM)
Where they fall short: Fibre channel design is expensive and restrictive, Massive support renewal costs, old school technology design
Cloud Video File Storage for Redundancy and Remote Teams
And don't forget about redundancy. Cloud storage has become not only super affordable, but the data transfer speeds have become lightning fast with today's internet access. Massive storage capacity both on-premise and in the cloud are a no-brainer given the price tag if you select the right solution.
For teams that need remote access? There's nothing better than having access and an interface that can support the entire team – such as the ProMAX Platform, which works seamlessly with Final Cut Pro and Adobe Premier Pro, making post production a breeze.

If you're looking for the fastest external storage or network storage, with read and write speeds that won't bottleneck your workflow, without paying the Storage Tax, then let's talk about upping your film making gear!

Stay on top of industry news, subscribe today!
Call or get in touch here or give us a ring today at 800-944-6629 to solve your video storage pains !!! 🔥🔥🔥

Here are some links to comparison pages:
Nathaniel Cooper
As Chief Operating Officer of ProMAX Systems, Nathaniel Cooper, runs ProMAX Systems day to day operations. Cooper has been working with Storage, Backup and Media Management for video and creative professionals since 2001. Cooper has lead the design and deployment of some of the largest media systems in the world including a range of customers from NFL, MLB & NBA teams, US Military operations, and many of the worlds largest PR agencies and consumer brands. Cooper has spent the last 9 years as part of the ProMAX team and specializes in translating complex technical issues and options into easily understandable concepts.