Video editing requires both skills and machine power, as it is no small endeavor. Whether you are a novice or a veteran in video editing, you will need to have a laptop that can chip through the cumbersome loads and processes. Video editing is an intricate and tedious task requiring particular attention to detail, with skills required to tweak several things such as graphics, sound effects, pictures, after effects, and combining them all to create a masterpiece.
Macs are considered to be ideal for creatives, photographers, favored by designers and opted for by videographers and editing gurus for their powerful profile both in the hardware and software realms optimized fully to work wonders. Does the cheapest Mac fit all the needs for the needs of being expeditious and powerful enough to handle the hefty loads and processes? It's a question we're here to find an answer to. Let us dive right in without wasting another minute.
Things required for a better Video Editing experience
You can certainly get going with a typical laptop doing basic video editing and effects. Still, as here we are talking about the MacBook Air, we need to understand where we will face unavoidable bottlenecks and issues – analyzing the specifications which might entirely disrupt your video editing performance.
The most often faced issues are lack of storage because high-quality videos cram a ton of storage space on disk, and the horsepower or in specific terms the processor's robustness needed by editing tools, superior graphics drivers etc... We'll discuss all the internal hardware required by a machine to handle high definition, 4K video rendering, and whether the MacBook Air can maneuver its way through more creative features like multi-camera and 360° video editing. So, let us dive right in.
Processor
A powerful processor is a foundational need for high profile video editing software like Adobe Premiere & Final Cut Pro. It will use up most of the CPU cores available and also require hyperthreading. The MacBook Air is powered by a modest Intel processor from the Y-series of processors. Though it is customized by Apple to serve better with its OS X and utilize the maximum of its capacity, it is still a reasonably low powered for a video editing powerhouse machine. The dual-core is also not enough for the editing tools that enervate all the more processor cores available to feed their cumbersome processes. The Air can go skimpy with ultra-high-definition video rendering but can go swiftly with regular high-definition video editing on the go.
Graphics Card
Pixel rendering requires a potent discrete graphics card. No one can beat the reliability and performance of Nvidia or AMD GPUs, such as the Nvidia GeForce GTX series or AMD Radeon series. But the integrated graphics on newer generation processors, as is the case with MacBook Air, are somewhat adequate to get going with video editing by utilizing the hardware acceleration technology.
Storage Space
Conspicuously the most faced problem within the video editing environ is the storage shortage. Videos include a lot of stuff, from sound files to pictures, and aftereffects that make them bulky and require more storage space. Storage performance and speed also play a crucial role in video editing because the editing of large files requires continual reading and writing of data. The MacBook Air is powered with a speedy Solid-State Drive (SSD) that fits the needs for a video editing setting and is upgradable to 1.5TB of SSD storage, which makes it more pragmatic. You can opt for external or internal drives as per your needs for saving edited videos.
RAM
The Apple MacBook Air is powered with a basic 8GB of RAM and can take up to 16GB of RAM. The more the RAM, the better the video editing experience as the editing software profusely consume RAM. It facilitates the large-sized files by storing them in RAM for rapid access and changes – continuous playback and rendering. The 16GB profile can adequately work with full HD videos and lackluster with ultra-high resolutions - 4K and 8K.
Display
The color accuracy and high-resolution display are very much needed to view the details and edit videos properly. The higher the video quality, the more pixels it has, and if the display is lacking, it won't be able to fit the extra pixels. For example, editing a 4K video will be nicely done on an ultra-high-definition display and can undoubtedly be an advantage for video editing. The MacBook Air has Apple's Retina Display with 2560 x 1600 resolution at 227 pixels per inch (PPI) and can serve well for editing even 4K and 8K videos.
Software Employed
Apple has created its ecosystem not just in the realm of hardware but in the software industry as well, with its Final Cut Pro is a powerhouse editing software exclusive for macOS users. The software is highly optimized for the macOS giving extraordinary high-performance as it only runs on one operating system. The flow of processes from cutting to scrubbing on the timeline to rendering footage even with high-resolution video files are robust and uninterrupted. Adobe Premiere Pro is also optimized for macOS and works outstandingly well compared to a Windows machine.
Apple MacBook Air
The MacBook Air comes loaded with a 13-inch Retina Display, a 2560 x 1600 resolution at 227 pixels per inch (PPI). Under a glossy pane of glass, it's sharp and elegant with smaller bezels, though it doesn't get very bright with max of 300 nits (updated to 400) and the Apple's T2 chip supports video encoding and audio processing, while the Air screen supports Apple's True Tone technology that adjusts the color temperature according to the lighting around the machine.
The processor inside the MacBook Air is a 1.6GHz 8th generation dual-core Intel Core i5 and is a "Y-series" processor, which is a bit of low-power chip but customized by Apple to 7 watts, in other words, it's somewhat upgraded version of a Y-series. The processor supports Turbo Boost up to 3.6GHz and with internal Intel UHD Graphics 617 and a base of 8GB of RAM, upgradable to 16GB of RAM, and 128GB SSD baseline, supporting up to 1.5TB SSD storage.
If you are hoping to get away with faster video editing and process RAW photos swiftly – this isn't the machine built for those tasks and will bring the Air to chug and spin up those fans. It is built to last with everything in a regular daily workflow and performs pretty well in there, cruising its way through everyday tasks such as multi-browsing and multi-applications, social media, and of course, Netflix binging. Just don't expect it to be a champ at heavy processing tasks or heavy video editing.
Apple's newest MacBook Air has a high-resolution display, the robust eighth-generation Intel dual-core processor and is capable of handling more memory, which makes it a rather adequate profile for video editing that can edit and render high-resolution and ultra-high-resolution or 4K videos but this won't be flawless, as you might expect from higher-end machines like MacBook Pro versions with superior internals.
We tried a hands-on experience with the Retina MacBook Air with its base configuration, testing its horsepower in editing a 4K video using Final Cut Pro. We were able to edit the video pretty smoothly, scrubbing through the timeline and tweaking the effects with no lagging at all. Though we noticed a sharp lag in export times compared to a MacBook Pro – accentuating the power difference between the two MacBooks. The conclusion from this experience; the Air is quite capable of serving as a primary edit machine if you are willing to sacrifice on time lagging in export times.
If you need a sleek, lightweight, and within a low budget for modest video editing, then this is the only option for you. With Apple's software tools optimized for video editing, the work becomes more comfortable and swifter, though not the fastest or most powerhouse MacBook, the redesigned Air does get the sturdiness of a Mac at a less hefty price tag and does serve as best budget MacBook for basic video editing on the go.
_____________________________
Related: Hottest Mac for Video Editing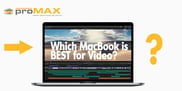 _____________________________
Pros
Retina screen

Processor Turbo-boost up to 3.6 GHz

Elegant body and lightweight design

Superb battery life
Cons
Built-in graphics processor

RAM could be bigger
Worried about your video storage space?
Thinking about using a MacBook Air for your video editing? You might want to expand your storage. To work with the large data sets of video files starting with raw, you'll of course need ample storage. Better yet, you'll probably be better off not worrying about storage AT ALL. That's where ProMAX Platform comes in for the heroic rescue. Stop paying the unfair "storage tax" ( a phrase that we've lovingly coined in the industry). We all know that purchasing additional storage should not gouge customers, but unfortunately, those who are in the wrong so-called "golden handcuffs" attached to a proprietary shared storage platform are obliged to pay.
Not the case with ProMAX. Let's hop on a call or email to rip the lid off your mind – and your storage capacity.
Call 800-977-6629 or drop your info here 🔥🔥🔥
Nathaniel Cooper
As Chief Operating Officer of ProMAX Systems, Nathaniel Cooper, runs ProMAX Systems day to day operations. Cooper has been working with Storage, Backup and Media Management for video and creative professionals since 2001. Cooper has lead the design and deployment of some of the largest media systems in the world including a range of customers from NFL, MLB & NBA teams, US Military operations, and many of the worlds largest PR agencies and consumer brands. Cooper has spent the last 9 years as part of the ProMAX team and specializes in translating complex technical issues and options into easily understandable concepts.