When it comes to driving engagement - there's nothing better than videos.

Studies show that even a 10-second video can appeal to a larger audience than any other form of content.

Although video content is arguably the best medium for marketing your products and services, the massive shift from desktops to mobile devices has emerged as a new challenge for video marketers, significantly when investing in a good marketing video creator app.

Finding the right tool that fits your budget is challenging. It gets even more complicated when you don't have much technical knowledge on creating videos that grab your target audience's attention.

But before we tell you about how to choose the right videography app for your phone, let us shed some light on how mobile videography can help promote your business.

How Can Videography Promote Your Business?

According to the latest Wyzowl survey, almost 89% marketers accept that video marketing generates a better return on investment compared to any other form of content.

With 75% of all videos being played on mobile devices, it is high time for your business to target a massive chunk of mobile-centric audience. Likewise, as more social networks start following Facebook's path and prioritize mobile video content, there doesn't seem to be any other sustainable alternative than showcasing your brand using videos.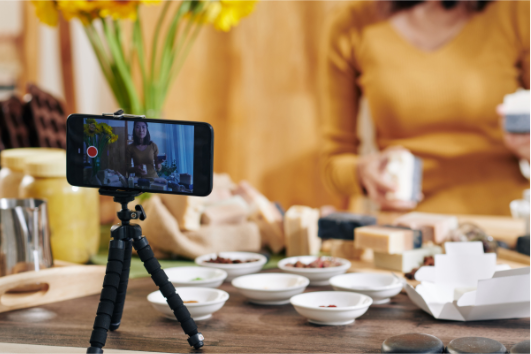 Here are five major reasons why every business should invest in mobile video marketing:

Increased conversion rates - Short and engaging videos help move your customers down the sales funnel quickly.
Better organic rankings - YouTube is the second largest search platform after Google. Adding the right keywords on your video can help your web pages receive better rankings.
Foster trust and connections with customers - Videos allow you to build trust and connect emotionally with your customers, thus increasing brand loyalty.
Increased brand awareness - Videos evoke emotions more than any other content type and allows you to tell engaging stories that resonate with your target audience. Simply put, if a picture is worth a thousand words, a video is at least twice as much.
Higher returns - Visual cues impact our brains faster than text. It offers a more passive experience to your customers, which in turn impacts your brand's conversion rates. With videos shared across platforms, you'll be able to better optimize your marketing campaigns.
But how do you start making amazing mobile-centric videos for your brand?
Unfortunately, there isn't a definitive guide on how your brand should be implementing mobile video marketing as marketing strategies are subjective. Still, there are some tried-and-tested tips you must consider before shelling out hundreds of dollars on any marketing video maker app. For instance, Hubspot's detailed guide on video marketing is a great place to get acquainted with the basics.
So how do you put your efforts in the right direction? Well, keep reading this blog to learn about six critical factors to consider when choosing a videography app for your business.

6 Things to Consider When Choosing a Mobile Phone Videography App

Smartphones with unique cameras and the ability to record HD videos are everywhere. Perhaps this is one of the primary reasons that small and medium businesses find it easy to get into mobile videography affordably.

Over the years, many marketing video apps have made their way into the mainstream market for Android and iOS devices. Some of these apps can even extend the phone's camera's functionality, allowing you to add sophisticated editing and effects and options to directly upload the final content across platforms.

But an app can only help you to an extent. To get the most out of your finished videos, you need to find an app that best fits your brand's unique requirements. For instance, an animated marketing video maker won't have many of the advanced features you'll generally find in any full-fledged video editing app.

Keeping this in mind, here are six factors to consider before choosing an online marketing video maker app:

Users always want utility - Mobile users are always on the move. They use their phones to continuously search and view content. If you wish to captivate users with engaging content, consider an app that offers you unlimited utility. For instance, you need an app that doesn't beat around the bush. It should work the way it is supposed to. You need an app that is easy to use, has simplified controls and helps you get the job done quickly.
Mobile and user-friendly - The app you choose must be highly compatible with your mobile phone. Check the app's version, features, and user interface before investing in it. Since you'll be recording and editing several videos on your mobile phone, the app shouldn't affect your approach. It should allow you to register and edit each frame as and when you need it.
Consider adding captions - Captions are a must when it comes to engaging your audience. According to studies, 85% of Facebook and 40% of Instagram videos are viewed without sound. Consider a video marketing creator app that allows you to add captions or descriptive text to your videos to adapt to this trend.
Can handle large file video clips - Storage space is one of every video marketer's significant concerns. Since you'll be recording, editing, and storing most of your videos on your mobile device, see that the app you choose can handle extensive video files. It should work seamlessly without taking a toll on your mobile's memory. An optimized video editing app will ensure that you don't face problems related to lagging, overheating, or frame drops on your mobile device.
User Friendly - Short and crisp videos, preferably under two minutes, sell like hotcakes. Take into consideration that most of your mobile audience will be viewing your content in real-world scenarios. From a marketing perspective, you might want to invest in an app that offers a simple and intuitive user interface, easy editing and sharing options, and includes many editable templates to help you save time and effort.
Cost-Efficient - Finally, consider the overall cost of the app. Take into account your brand's short and long-term goals, video marketing strategy, and set financially justifiable targets. It is critical to consider the pricing plans as each app offers varied options. However, don't compromise on the app's usability and features just because of the price tag.
Take Your Mobile Videography to the Next Level with Nextframe
If you're looking to start creating video content on your mobile device, take a moment to read about a revolutionary app called NextFrame by ProMax that takes your marketing content to the next level.
It is a marketing video creator app that works seamlessly on Android and iOS. You'll be able to collect high-resolution videos without stepping outside your office. With this app on your phone, all you need to do is create a project or a template you need to discuss.
Once you have entered the details and are ready to collect video footage, just hit Send, and the NextFrame app will guide the recipients through the recording process. It is effortless and has a straightforward interface that was designed keeping the best videography practices in mind.
After a video is recorded, a single-click Upload button handles the rest of the job. Record as many videos as you want without worrying about having to store and share large files. There is no need for you to invest in any additional equipment or tools as NextFrame collaborates with ProMax.
While ProMax covers all aspects of video storage, editing, and collaboration, NextFrame covers your video marketing strategy's directorial aspects. You'll be able to collect hundreds of high-resolution customer testimonials, expert reviews, how-to guides, and other forms of user-generated content from your mobile device.
Here are some standout features of NextFrame by ProMax:
Cross-platform compatibility

Gather high-resolution footage without using the device's memory

Record on a mobile device

Respond to assigned projects

Submit videos directly

No need to schedule shoots

No additional equipment

Cost-effective and scalable
Sign up for the NextFrame Beta Program.
Conclusion
Video is quickly becoming the most crucial tool in every brand's marketing strategy. It is the right blend of emotional cues and storytelling that engages customers. Demand Gen Report's recent marketing study pointed out that 97% of customers consider cited testimonials as the most reliable type of content.
If you want to see a rise in conversions, gathering customer testimonials and expert reviews and sharing them across your brand's online marketing channels is the definitive way to go.

But how do you do it? That too within a limited budget?

Start by installing the NextFrame app on your phone. Create projects, add notes for your customers, and gather videos without even leaving your office. There is no need to buy any additional equipment as your customers can record and upload high-resolution videos with just a couple of clicks.

Worried about running out of storage space?

Contact ProMax Systems to learn more about simple, fast shared storage for video editing workflows. The platform integrates many tools such as Adobe Premiere, and offers on-premises and remote editing servers for easy collaboration. Other prominent services include shared storage, asset management, LTO, cloud backup/archive, NVMe drives, and more.
Nathaniel Cooper
As Chief Operating Officer of ProMAX Systems, Nathaniel Cooper, runs ProMAX Systems day to day operations. Cooper has been working with Storage, Backup and Media Management for video and creative professionals since 2001. Cooper has lead the design and deployment of some of the largest media systems in the world including a range of customers from NFL, MLB & NBA teams, US Military operations, and many of the worlds largest PR agencies and consumer brands. Cooper has spent the last 9 years as part of the ProMAX team and specializes in translating complex technical issues and options into easily understandable concepts.