If you need to share, there are several options. For instance, you can send files up to 25 MB using Gmail. This specification varies by email service providers, and if you intend to share a file beyond the specified limit, you'll most certainly receive an error message.

The hurdles associated with sharing large video files can be frustrating. For instance, you wish to send an uncompressed raw file to your editor. Firstly, your email client won't accept such a large file. By any chance it does, it'll compress the file. This may lead to data loss as every byte of raw footage contains critical data that's needed for post-production.

So how do you seamlessly share large video files for editing?

If you have a large file and can't find a way of sharing it with your editing team, here are some efficient ways to send large files anywhere, anytime, within minutes.

Sharing Large Video Files In Cloud
One of the easiest and cost-effective ways of sharing large files is using cloud-based storage and file-sharing platforms. Cloud file sharing is the method of using cloud-based technology to transfer files between users. It uses cloud storage and collaborative services to enable online file sharing between multiple users without any geographical restrictions.
There are several cloud storage and sharing platforms, and each offers different features and subscription plans. For instance, with a Dropbox account, you can create a link or use Dropbox Transfer to send files up to 100 GB without consuming storage space. Recipients can view and download the files via the link, even if they don't have a Microsoft account.
Other cloud-based storage and sharing platforms include Google Drive, Box, One Drive, and more. These platforms are designed to seamlessly migrate large datasets to the cloud, making them available for others to view and download. Besides, these platforms also offer you control over other critical features such as user rights management, centralized file library, easy sharing options, and real-time collaboration.
That said, there is one common problem with these cloud-based services. When it comes to larger files (20 GB and more), things can get a bit slow. Most of these platforms are built to cater to essential file sharing, including documents, images, and compressed videos. On the other hand, uncompressed raw footage takes up a lot of space. A recent article by 4K Shooters pointed out that an hour of 4k video footage is around 320 GB. Such large files will take way too much time and consume many resources each time someone tries uploading or downloading them.
Listed below are the notable benefits and drawbacks of cloud storage:

Benefits:

Scalability: It allows you to increase storage as your requirement grows. Each platform offers several subscription plans, and you can easily upgrade or downgrade as per your business needs.
Disaster recovery: Cloud storage offers the best service for disaster recovery. It allows you to back up manually and automates backups, so you always have retrievable copies in case of a problem. Your data is saved across redundant servers to ensure backup copies are always available.
Real-time synchronization: You can sync multiple devices with the cloud storage platform. With the proper credentials, you can access all shared files synchronized in real-time from anywhere in the world.
Mobility: It allows you to easily upload files from a central dashboard, available for PCs and smartphones. You can upload, download, and edit files on the fly. There is no need to set up a dedicated device for accessing files on the cloud.
Usability and convenience: Almost every cloud service provider offers a straightforward drag and drop interface that anyone can use. You'll also be able to easily share files with individual or multiple users in just a few clicks.
Cost-efficiency: You don't need to invest in any hardware or software to access cloud storage. Besides, the Pay-As-You-Use model helps you choose the best subscription plan based on your budget and needs.
Drawbacks:

Entirely dependent on the internet: To access cloud storage and perform any task, you'll need to be connected to stable internet. Without it, you won't be able to access the dashboard. If there's an internet problem when downloading a file, it may corrupt the data.
Problems with data security: Cloud storage servers are prone to cyberattacks. Although service providers use high-grade security measures, there have been several instances of data leaks.
Limited customization: Since your data is stored offsite by a business you don't manage, you don't have complete control over the customization of your data storage setup. This is likely to be a problem for larger companies with diverse storage requirements.
7 Things To Remember When Sharing Large Video Files For Video Editing
Irrespective of the video-sharing platform you use, there are certain things that you need to consider when sharing large video files for post-production.
Always keep a copy of the raw files before uploading them to your storage solution. Making a copy ensures that your original files stay unedited as the first copy.

Name your raw files in an easy-to-understand order, preferably with a recognizable name and date of recording. This will help you keep a better track of all files while allowing you to organize the relevant files as and when needed quickly.

When adding large files to the cloud, create dedicated folders and subfolders for each file. If you have several files, it is good to add tags and keywords before organizing the files in folders. This is very helpful if you have a lot of raw footage and frequently access clips during editing.

While sharing the videos with multiple users, double-check the access rights you're providing. Make sure to verify that you're sharing the files with the right recipient.

Educate your video editing team to backup and create copies of edited clips, organized by folder. This not only helps boost collaboration but also helps increase efficiency.

If possible, try zipping large files before adding them to the cloud. But make sure to zip raw video files in RAR format and not in ZIP format, as lesser data loss and file corruption is using RAR.

Archive edited videos and unused footage elsewhere. This will help clear space, and you'll also have a backup in case of anomalies.
Ways To Share Large Videos

While cloud storage and sharing are some of the best options, it has limitations in sharing huge files (4K, 8K, etc.). It works great for businesses that are just starting to scale their operations.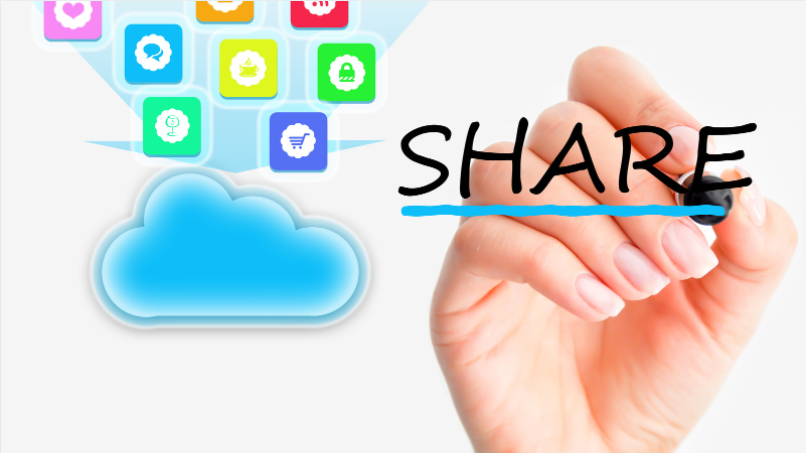 But if you deal with massive amounts of data, here are some other options to consider:

Local Storage: Local storage includes physical hardware to store data. It includes- flash drives, hard disk drives (HDD), solid-state drives (SDD), and CDs. Once data is stored on these devices, you can only access it when a computer or a laptop connects to it. We don't recommend it unless you have minimal data sharing requirements.
Network-Attached Storage: It allows users to store their data on a centralized storage array. These devices are accessible over a network using an ethernet connection and file protocols like NFS or SMB/CIFS. In our opinion, a portable NAS drive is the best solution for video agencies and medium to large businesses, as it offers administrative control, lower resource consumption, and fast processing speeds - within an affordable price tag.
FTP: If you own or rent a server, you can set up a file transfer protocol (FTP) to share all types of files online. The problem is that you'll need to allocate a dedicated computer connected to the internet 24x7.
Use P2P Networks: Peer-to-peer file sharing is slightly different from all of the processes we have mentioned so far. It uses a dedicated software program to locate other computers (peers) and sends out requests for files that users want to download. To discover the requested file, the software tracks other active computers connected to the internet and runs the same P2P software.
Conclusion
Cloud file sharing is undoubtedly one of the best ways to share large video files online. All you need to do is upload the file using the central dashboard. Once the file is successfully uploaded, you can either copy the unique URL for the file and share it with the intended recipients or add recipient emails directly from the sharing menu.

Are you confused with so many options?

In that case, you can use a dedicated storage solution like ProMAX Systems. It offers robust storage and sharing features, multi-layered security, and integration with the best video editing tools to help simplify the process of post-production.
Get in touch with a ProMAX Expert to learn more about cloud-based shared storage solutions for video editing.
Nathaniel Cooper
As Chief Operating Officer of ProMAX Systems, Nathaniel Cooper, runs ProMAX Systems day to day operations. Cooper has been working with Storage, Backup and Media Management for video and creative professionals since 2001. Cooper has lead the design and deployment of some of the largest media systems in the world including a range of customers from NFL, MLB & NBA teams, US Military operations, and many of the worlds largest PR agencies and consumer brands. Cooper has spent the last 9 years as part of the ProMAX team and specializes in translating complex technical issues and options into easily understandable concepts.