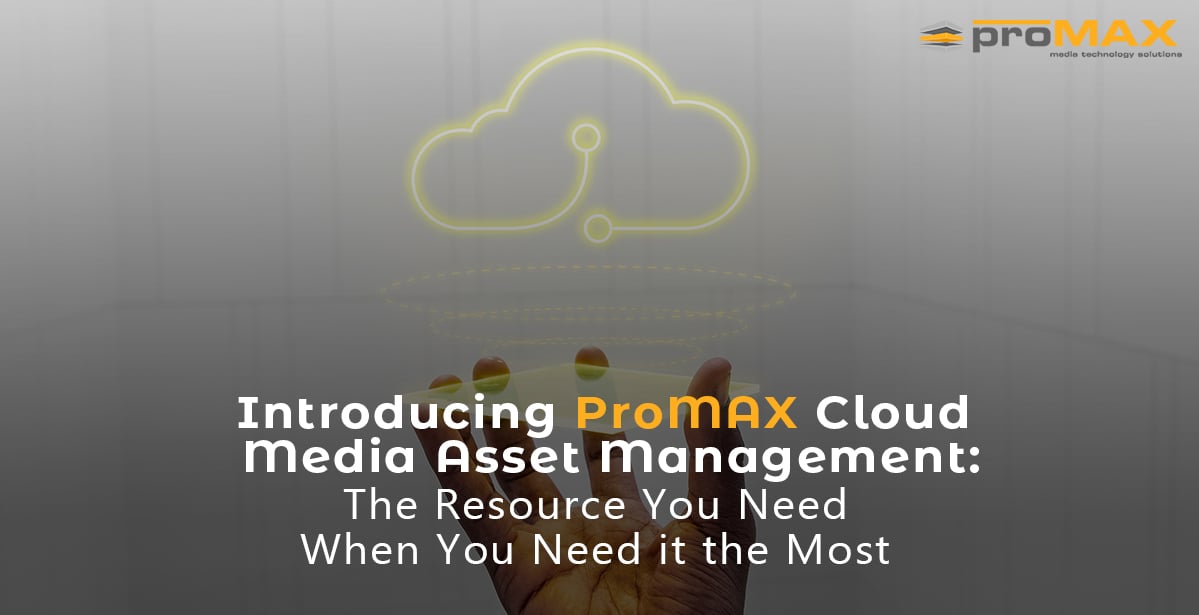 According to one recent study, by the end of 2021, a massive 83% of all company workloads will be stored in the cloud. This is true regardless of the type of business you're talking about, or even the industry that it's operating in. If you needed a single statistic to outline the major advantages that cloud computing has to offer, let it be that one.
But at the same time, the cloud is nothing if not malleable - meaning that it can be a lot of different things to a lot of different people. The same is true of ProMAX Cloud Media Asset Management (otherwise referred to as MAM for short). By offering video editing solutions, storage options, access to SAN experts, workflow servers, digital asset management software, and more, it enables the cloud to be a true one-stop-shop for all of your business productivity needs.
Utilizing the Ability of the Cloud to Your Edge
Also commonly referred to as DAM for short, cloud-based digital asset management refers to a type of solution that allows businesses to not only store but also organize and manage all of their assets in a cloud-hosted infrastructure. The major advantage of this is that it makes data available anywhere, anytime, and on any device - including smartphones and tablets with an active Internet connection. Under this type of deployment, employees can be just as productive at home as they can be in the office - something that has become critically important given everything going on in the world right now with the COVID-19 pandemic.
In terms of media asset management, in particular, you're talking about the processes and software that are necessary to manage very large volumes of both video and other multimedia files in the cloud - all in a format that is supported by the film and television industry. These solutions allow organizations to maintain a centralized, "single point of truth" library for all of their media - allowing them to extract the maximum amount of value from it moving forward.
Shared storage servers, for example, offer hardware-accelerated assets that allow for superior collaboration among video teams. Media management solutions offer everything you need to both manage and collaborate with multimedia assets, all from one simple and easy-to-use interface. When you combine these ideas into an option like the ProMAX platform, you have absolutely everything that you need to extract maximum value from these assets - which in and of itself is the most important benefit of all.
Why Cloud MAM Matters
ProMAX Cloud MAM is a solution that leverages metadata indexing to help people identify, locate and retrieve rich media files from various storage locations - all within one incredibly simple tool and user interface. But more than that, it also helps to automate a lot of the important yet time-consuming processes that go hand-in-hand with large volumes of video and multimedia files - thus freeing up your valuable attention to focus on those matters that truly need you.
Once implemented, the benefits of ProMAX are as immediate as they are powerful. Not only can it go a long way towards eliminating those manual processes and reducing errors, but it also helps secure critical assets with access controls and other features. What you're left with is a perfect storm in the best possible way - an opportunity to embrace creativity, increase efficiency and save money, all at the exact same time.
Optimize Your Workflows, Optimize Your Brand
Overall, it's important to acknowledge the fact that the video production landscape is changing in a way that would have been seen as unthinkable even as recently as a decade ago. As modern technology continues to advance, teams need to be prepared to evolve right along with it - and that's what the ProMAX Cloud is designed to support.
How can we help your creative team?
Learn how to improve your media management practices, Click below to speak with an expert today
Talk to an Expert Now!
Especially given everything going on in the world right now with the COVID-19 pandemic, creative teams need to be able to access their media anywhere, at any time, on their own terms. The ProMAX Cloud solution gives them the chance to do precisely that without limitations - allowing them to be as innovative as possible without restriction.
Truly, it's one of the few platforms that allows for real-time collaboration between multiple editors, regardless of where they may be in the world. It creates a true, seamless workflow in ways that "off-the-shelf" solutions like Dropbox simply cannot match. ProMAX allows people to collaborate in real-time in all the same ways they would if they were in the same physical space, even in situations where actually getting to that point would be impossible.
Thanks to the fact that ProMAX Cloud is a cloud-based solution, it's also built to guarantee industry-leading video performance - no matter what. Thanks to a special low latency protocol, high quality, and consistent streaming performance are always available. Not only that, but it's also inherently scalable. Your system can evolve from a few terabytes in size to multiple petabytes that bring hundreds of different users together.
ProMAX also offers an exceptional user experience thanks to its cloud-based capabilities. Remote workers can search, access, and work through content right from the web interface. All the while, administrators can monitor performance, control system function, and more, all on their own terms.
In the end, modern-day employees need to be able to be productive from anywhere - whether they're in the office, at home, or halfway around the world on vacation doesn't actually matter. Cloud-based media asset management goes a long way towards guaranteeing precisely that, and it couldn't have come along at a more important time.
If you'd like to find out more information about the cloud MAM services and benefits, or if you just have any additional questions that you'd like to go over with someone in a bit more detail, please don't hesitate to contact ProMAX Cloud Media Asset Management today.