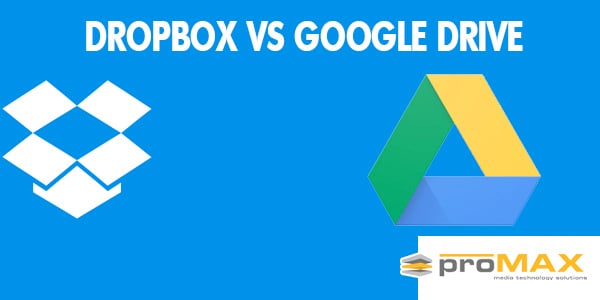 Google Drive and Dropbox, two of the most widely used cloud storage services, provide you with all you need to safely save your files, including photographs, movies, and other digital media. Both have their benefits, and either one may do the job if you know what you want out of your storage space and how to organize it.
Dropbox is the solution for you if you want a service that is both quick and simple to use. Meanwhile, Google Drive offers you more capabilities and file storage space at no additional cost, and is one of several Dropbox alternatives. If you wish to find out the best file syncing and file storage service among the two, you need an excellent google drive vs dropbox, and you're at the right place. In this post, we came up with everything you should know about Dropbox vs Google Drive. Let's get going!
Google Drive vs Dropbox: Comparison of Features
Although there are common features in Google Drive and Dropbox, several distinctions complicate the choice between Google Drive and Dropbox. If you're unsure which is better, look at how they sync, backup, and share your files and their varied security precautions. Here is a comparison of how they differ in important areas.
Performance
While Google Drive is not sluggish, Dropbox has a little speed advantage. Dropbox consistently provided quicker upload rates when I attempted to upload huge volumes of big and small files. That's an important issue if you want to hit your storage hard and regularly.
Dropbox also includes a function called LAN sync that makes transmitting files throughout your local network quicker. Files added to your Dropbox account may begin copying across local Ethernet or Wi-Fi networks even before they are completely uploaded to the cloud with this application.
In practice, if both devices are linked to the local network, file and folders uploaded on your phone appear instantly in the shared folder of Dropbox on your Windows or MacOS computer. It's a significant benefit if you truly want a bucket of file syncing storage that's fast and simple to reach.
Security Features
Because of the frequent hacking of big corporations, many cloud storage users are worried about the security of their distant data and privacy.
Dropbox, for its part, encrypts your data using a 128-bit AES level while files are in transit and a 256-bit AES standard while documents are at rest. It also provides two-factor verification for decrypting dropbox files to prevent unauthorized users from accessing them. Customers who pay may also remotely erase sync data if they lose a crucial device. Version rollback allows you to overwrite updated files for varying lengths of time-based on your package, providing some ransomware security.
Google Drive has identical security features. However, it employs 256-bit AES encryption while the drive file is in transit and 128-bit AES protection while resting. For companies, it also offers two-factor verification and Cloud Identity capabilities.
On the other hand, Dropbox passes various security and privacy criteria, but it is a little more on top of EU/US certifications and data storage in Europe. Google Drive has a tiny advantage here because of its transparency and clarity on the number of certifications it satisfies, both locally and globally.
File Syncing
Both Google Drive and Dropbox sync uniquely, which may slow down or speed up the process. Even though both save files automatically, Google syncs the complete document by downloading it and then uploading it again. If you attempt to view the most recent version of the document from a different device, you could experience some delays as a consequence. In addition, if you lose your connection to the internet while Google is synchronizing your files, you risk having the work you've already done deleted along with it.
On the other hand, Dropbox's file syncing features changes to a file in chunks rather than individually. It is much quicker, and if you use any collaborative capabilities in Dropbox sync, the changes will show up for everyone much quicker. If you want to access the most recent file version on your other devices, you won't wait for that long.
Version History
The only file formats for which Google Drive provides a robust version of history are Google Docs, Google Sheets, and Google Slides. Users must consistently activate version history tracking for each file, one at a time. This applies to everything else as well. Regardless of the format of the file, Dropbox makes it possible for teams to see the whole history of any modifications made to a file.
Moreover, with Extended Version History, you can easily retrieve previous versions of content, allowing you to consistently maintain your brand's look across all of your projects. You may recover deleted folders or projects and store, access, and update previous versions of files for up to ten years with the assistance of file recovery and backup that only requires one click.
File Sharing
Dropbox and Google Drive provide sophisticated tools for controlling who on your team has access to your data. Both applications allow you to send an email or share a link to share individual files or whole folders. Also, both cloud storage automatically save the files uploaded to them. The files can also be dragged and dropped; you can edit files uploaded to these storage providers.
Google Drive and Dropbox are equal in this regard. However, Dropbox offers a handful of benefits. When you create a sharing link on Dropbox, you can add a password so that only individuals with the password can access the files. You may also provide an expiry date, after which the link to your documents will no longer function. The expiry date may only be set to a certain day—you can't, for example, establish a link that expires in an hour—but it's more than Google provides.
What happens if someone quits your team? Dropbox manages this much better than Google. In both services, the owner of a file or folder may elevate anybody to owner status, enabling anyone to assume control. The new owner may completely remove the old owner of the file. Conversely, Google cannot elevate someone from outside your firm to an ownership position. Furthermore, unlike Dropbox, Google Drive does not allow you to transfer control of all files in your account to someone else.
Pricing
Both services provide complimentary plans. Google Drive provides 15GB of free storage. However, Dropbox only provides 2GB. If you solely handle word documents, 15GB may be plenty for a time before you need to expand, particularly if you have a small workforce. 2GB will not last long, and customers should upgrade to a premium subscription and keep updating their Google Drive, and Dropbox accounts after expiration dates.
Google Workspace provides reasonable value for organizations. All fees are levied per user per month. For $6, you receive 30GB of premium storage space, $12 gets 2TB, and $18 gets 5TB. Dropbox prices are somewhat less expensive. Users must pay $15 monthly for 5TB of premium storage capacity in Dropbox Plus. Unlimited storage capacity is available for $25 per user in the Dropbox business plan, making it ideal for big enterprises and people who manage massive data in Dropbox accounts.
Dropbox vs Google Drive: Which One Is Better?
When it comes to Google Drive vs Dropbox, both are fierce competitors, with each platform attempting to attract more customers by providing superior free service alternatives or the most advanced new premium upgrades. Even though there is competition in the cloud storage market, we think that Dropbox is a better solution than Google Drive in almost every way.
Having said that, there are situations where Google Drive could better fit your requirements. Google Drive is the finest alternative to check out for those new to storage systems and has limited expertise, low budgets, and minimal file content. This is because Google Drive offers a free edition with many more features than Dropbox.
Users in the business world will find Dropbox particularly useful because it offers extra features such as limitless storage space and a new and better password system management for shared links inside the workplace.
[BONUS] Best Alternative for Dropbox and Google Drive: ProMAX Platform
Looking for the best alternative to Dropbox and Google Drive for uploading files? You'll find an excellent alternative in this section. Google Drive and Dropbox are among the top-rated file storage platforms that are difficult to replace. But that's where the ProMAX Platform comes in.
As they say, video editing can never be completed without shared storage; the Platform is designed as an all-in-one solution for video archives, file sharing, file uploading, file syncing, and others. The platform is the backbone of your video team's shared folder storage. It consists of everything you need to connect and communicate in a sharing storage environment, such as Adobe Panels, Dropbox integration for remote collaboration, and much more.
ProMAX MAM is included in this package for indexing, custom metadata, search, and preview. It includes ProMAX Proxy, which ensures that all online and offline videos may be seen at all times. A ProMAX Transcode function also lets you employ pre-built or custom encoders to offload transcoding to your Platform Server.
This comprehensive workflow package enhances the media management suite by including ProMAX Cloud Connect, which enables you to transmit and recover backups and archives to your cloud storage provider. The ProMAX LTO program manages backups and archives to LTO drives, supporting Cache-a TAR and open LTFS formats.
The platform provides proxies for anything from ProRes to AVC files, allowing you to sample each file before spending an hour getting it from the cloud. However, with this desktop-sized server, users can modify and collaborate from home just like they would in the workplace. Storage capacities range from 0TB to 2TB, 4TB, and 8TB of storage. Platform users may quickly and smoothly merge their remote users with their present storage.
Final Words
Dropbox and Google Drive are two of the most widely used cloud file storage providers people use for backing up their files. However, when selecting between the two, people get confused. But we hope that you've found the best cloud storage service for file sharing after reading this Dropbox vs Google Drive comparison. Moreover, we recommend using ProMAX Platform software if you wish to look for an excellent alternative.