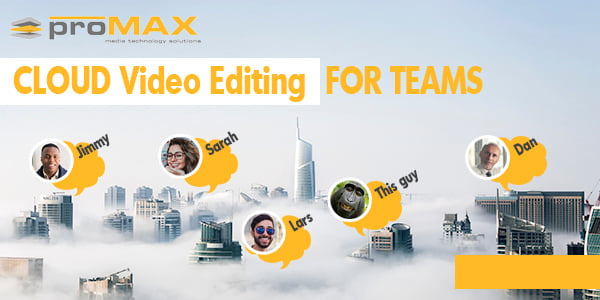 I once believed that the best collaboration happens in person. But that changed with today's globally connected world, certain circumstances compel post-production teams to work in physically diverse locations. A few years back, this would mean shipping hard drives, passing footages back and forth or via platforms that don't have any media intelligence. That has changed in recent years and now with ProMAX offering a powerhouse for remote media collaboration, things are much easier for editors. Editing what you want and where you want!
The Challenge an Online Video Editor Must Tackle
Today multiple stakeholders are involved in the editing of any video and filming project and most often work remotely, the review and approval process becomes more challenging and collaboration more complex due to physical distance and time differences. Not being in the same room makes it difficult to talk about the visuals and images being thrown in.
Working with multiple team members in post-production has been simplified with the ProMAX Dropbox integration making video editing a breeze for online editors. ProMAX with the Dropbox integration takes collaboration to the next level, working seamlessly together, enabling editors and directors to share media assets not just between single users but around the globe with extensive teams, without bargaining data security. While ProMAX provides efficient video editing and archiving features, the Dropbox integration adds compelling and striking features to improve and simplify communication within a virtual private cloud.
The Cloud Editing Solution
The ProMAX platform is a professional media asset management tool now with remote access to resources shared via third party integration making it much easier for editors to keep up with the changing environments. With an intuitive and user-friendly portal, you can share media assets in real-time just by dragging and dropping regardless of the video editing software being used from Adobe Premier Pro in the Creative Cloud to Final Cut.
With ProMAX Systems, a global leader in integrated workflow technology for creative media organizations, sharing files with remote editors is now much easier and quicker. With a Dropbox equipped Platform Space, sharing files from a remote setting on the company's ProMAX Platform server make the files available for the whole team.
With the remote collaboration facility, you can edit in the field, assemble, collaborate and robustly submit the packages. Even in limited internet connectivity with a low-bandwidth connection, download high-resolution media to finalize locally. With extensive production needs such as news, TV, professional videos and sports, accelerated content sharing and availability on a central hub are vital for success.
With the advances in cloud computing, editing videos in the cloud, just as with many other fields of work are shifting from on-site work to leveraging talent globally, facilitated by collaboration tools available for video and film post-production workflows, editors can work together efficiently. With the media available on a secure central location connecting your team of producers, editors, and other content creators without security problems and latency roadblocks, the production limits are handled prudently.
Dropbox provides a central workspace that helps teams stay organized and connected keeping their work flowing. It's extraordinary file sync, collaboration, and administrative feasibility with the most important security features that help scale teams up and grow work efficiently.
What Is A Shared Storage System?
Shared storage provides a central medium accessible by all the subscribers in a network, it is intended for file storage and offering simultaneous access to various users without the need to duplicate files to their systems. The system streamlines the backup and archiving processes and the risks are eliminated. Shared Storage allows multiple users to organize and access their files simultaneously over a network with the help of SAN or NAS technologies. Thus, accessing and editing a video with the group of other remote editors increases creativity, efficiency, and production workflow within a cloud storage environment.
Shared Storage Server platforms allow users to work collaboratively with each other giving access to the remote files shared by other team members. Remote editors need to spend more time on video projects instead of facing technical and networking issues.
Why We Choose Dropbox for Cloud Based Video Editing
Dropbox is the place where all your team's content comes together. It brings all types of files together. It is famous for file management and file handling practices.
Dropbox makes it easy to synchronize files between your devices. When you synchronized your computer folder with Dropbox, that folder's data will be available to an online video editor and offline editing. Which means you can download files even when all of your other devices are offline or turned off.
Thus, the integration of Dropbox will allow our remote video team members to handle, upload and retrieve their video files easily and quickly.
Dropbox Integration with ProMAX Platform for Remote Video Editing

There are plenty of "mix and match" attempts at cloud editing video content, such as using Google Drive or other bolt-ons to cloud video editing tools. However, ProMAX Platform with Dropbox enables you to create a shareable Platform Space that gives access and quick sharing of project files to team members outside the local network.
Now, learn how to configure a special platform space that syncs with a Team Dropbox account to enable sharing and accessing data remotely from their work environment with drag and drop feasibility.
With the minimum requirement of Platform v5.5 and a Dropbox team account, you can get started. The integration process will only take a few minutes and is pretty straightforward.
While being logged in to the ProMAX Platform Server perform the following simple steps.
How to edit video in the cloud:
Step 1: Create or if already have one, log in to your Dropbox Team account.
Step 2: Invite your Platform server email to the team. Then log in to the Platform server and accept the team invitation, that will direct you to download Dropbox Client installer. Set file sync to "Local" and set the location to the root of one of your Storage Groups.
Step 3: Log in to the Platform server. On the Platform Spaces window, select the "Add Existing Platform Space". And then from the drop-down menu of Platform Space select "Promax Platform Dropbox".
Step 4: On the client side, download Dropbox Team client on all user workstations participating in the team. And access the Dropbox Platform space by turning on selective sync for "Platform" folder.
I've tried to simplify the steps involved in the integration process. If you'd like to go through step by step guide follow this post. The main purpose of Dropbox integration is to enable remote video editors to edit and work remotely with each other. This will enhance creativity, productivity, and workflow.
How to Work Locally & Remotely With Promax – Dropbox?
_____________________________
Related:
Mac vs PC for Professional Video Editing



_____________________________
After configuring the Dropbox Platform Space, you have your and your teams' workstations connected and synced. Now you can easily access Platform shared folders through your Platform server browser. The sharing is straightforward with drag and drop functions, if you drag a file into the folder it will automatically be uploaded to the Platform where it will be indexed for searching and available to all the team members with access to Platform Dropbox Space.
Similarly, any data placed into the Platform Dropbox Space will be available for download on any client workstations that are part of the Dropbox team. The clients are only set for online smart sync and will download files for active editing onto the Platform system, so their workstations don't fill up space. This creates a functional grouping, where local users can mount data for remote users to access via the Dropbox folder either directly onto their workstation or directly into the Platform system where they can access it without filling up a lot of their workstation space.
Remember the Platform Dropbox space will only take the name of Dropbox Team. And don't try to use the space for active working, use it for staging and receiving files from other users. Once the data is received move it to the working folder on the local system or Platform Space for editing because editing from the Dropbox space can result in choking the bandwidth by the system attempting to upload hundreds of preview and temporary files. To avoid capping the Dropbox storage limits you can set a size limit on the space even to your desired Dropbox storage limit.
"Editing can make or break a project."
So! Are you ready to give your cloud video editing workflow the respect it deserves? Contact us and we'll get you moving!
Call 800-977-6629 or drop your info here
🔥
Nathaniel Cooper
As Chief Operating Officer of ProMAX Systems, Nathaniel Cooper, runs ProMAX Systems day to day operations. Cooper has been working with Storage, Backup and Media Management for video and creative professionals since 2001. Cooper has lead the design and deployment of some of the largest media systems in the world including a range of customers from NFL, MLB & NBA teams, US Military operations, and many of the worlds largest PR agencies and consumer brands. Cooper has spent the last 9 years as part of the ProMAX team and specializes in translating complex technical issues and options into easily understandable concepts.