In the global market, video production is expanding at a rapid rate. Many creative teams use videos to advertise their products and establish consumer relationships. With so many people involved, it can be tough to coordinate during video production. That's where Video Review Software comes in.
You can utilize video review tools when poor communication is a problem. Also, you can provide speed-up feedback on professional videos in real time with the help of feedback tools. However, if you're unaware of the best video review tool, don't worry. In this article, you'll discover some of the finest video review tools in 2022. Let's get started!
What Is Video Review Software?
Video review tools are a kind of proofreading and editing software used to collaborate on, evaluate, and ultimately approve a video. This kind of video commenting software has revolutionized both the art of communication and the craft of video editing.
Video review tools are helpful for remote businesses since they allow you to upload your video, share it with clients and colleagues, and get feedback and approve them in real-time. It speeds up the review and approval process, lowers expenses, prevents missed deadlines, and lets you provide a higher-quality service. Because information can be shared and reviewed instantly, it is a great tool for teams and agencies.
Why Should You Use Video Review Software?
Now that you know what video software is, you must be wondering why you should use it, which is exactly what you'll get in this section. The reasons why you should go for video review tools include the following:
Helps Improving Your Marketing Strategy: An effective video marketing plan is the product of close cooperation, which is where video feedback tools come in. With the help of video project editing and proofreading tools, you may better communicate and develop an effective video marketing plan.
Great for Teamwork: Teamwork is a major reason you should use a video feedback tool. Every video-based constructive feedback system must depend on its fundamental ability of increasing communication among creative teams. Your productivity will reduce if you don't have a reliable teamwork method. Avoid this pitfall and ensure your creative team is compatible with video feedback systems.
Helps in Comparing Versions: The capability to compare updates is another fantastic feature of video feedback systems. Modifications can be piled for easy tracking and comparison across different video versions. With this function, evaluating a video is a breeze.
Real-time feedbacks: Two things that are deeply linked are time and conversation. Aware of the passing of time can help you communicate more effectively with your team. You can instantly provide comments and changes to your team using feedback software. Most video-proofing solutions provide timestamped feedback, making it easy for everyone to keep current.
Best Video Review Tools in 2022
Want the best video review and approval software? The following tools are your best bet: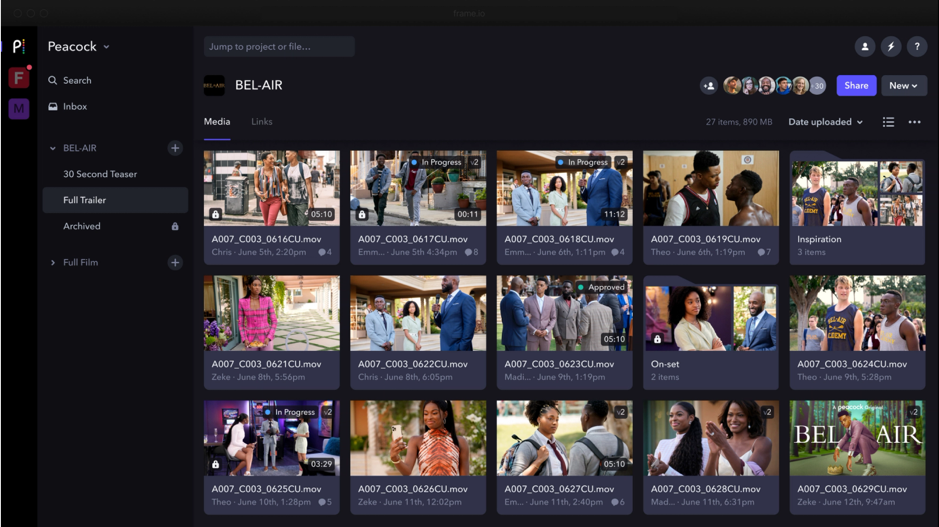 Provided by Adobe, Frame.io is a video review app. With features like real-time (frame-accurate) comments, highlights, and version control, this platform is great for keeping a team together even when members are spread around the globe. Frame.io is one of the most comprehensive video review tools since it is built to Adobe's requirements.
It's a business- and enterprise-level video review system with all the features you want. However, it's not suitable for the tiny agency or solo video maker that only produces one or two monthly videos. Since many users pay $15/month for an extra 250 GB of storage and still find it insufficient, the tool also offers another premium plan with 500GB of storage.
When a user provides feedback, you may be notified through email. Moreover, this software is compatible with video editing software, such as Apple Final Cut Pro, DaVinci Resolve, DaVinci Studio, and Adobe Premiere Pro as a video editor. Slack, Adobe Creative Cloud, Salesforce, and Zapier are also some of the apps that can be integrated with Fame.io.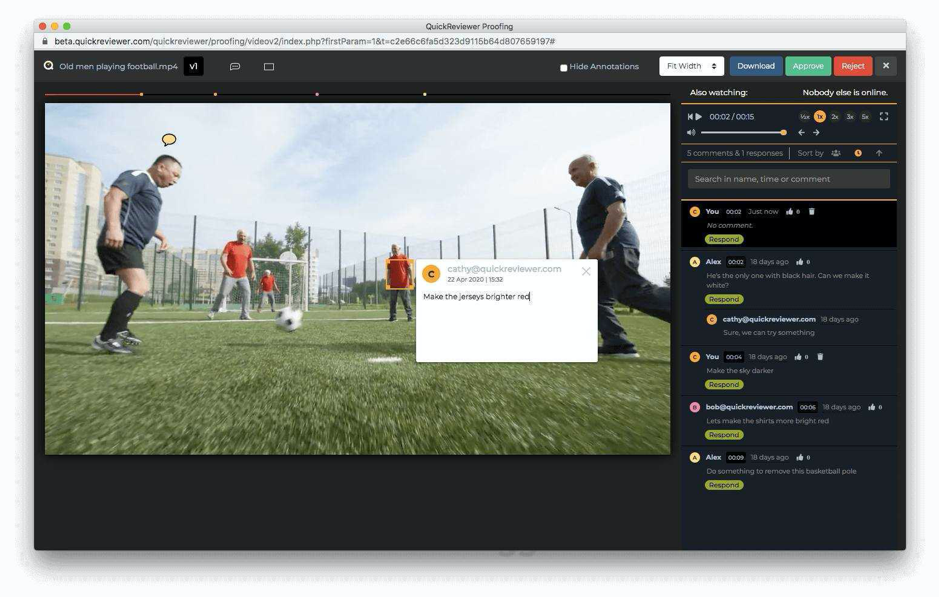 When your team needs to get design approvals out of the way quickly, QuickReviewer, an online proofing software, is your best option. This is a great tool for analyzing multimedia files such as videos, HTML, PDFs, and photos. It's not only a feedback tool; it eliminates the possibility of misunderstandings and unnecessary revisions of your project.
It streamlines the process of gathering and organizing input and feedback on creative projects, saving time and effort over sending many emails or sharing various files. Files may be uploaded and shared with several reviewers with a simple drag and drop. QuickReviewer makes it simple to markup text with comments and highlights them.
Reviewers are differentiated by colour and may respond to and upvote each other's remarks using this tool. In addition, QuickReviewer can be accessed from any mobile device, allowing for convenient file review and approval.
Wipister.io is a video editing software that attempts to simplify the video editing process and media management. This software is designed to simplify your workflow while also enhancing the effectiveness of collaborative efforts across creative teams. Team members can make comments that may be acted upon by providing input on certain areas of photos, videos, and PDFs.
Wipster.io enables teams to share accounts, so you do not need to register separate accounts for each team member. This function makes Wipster.io more efficient financially and improves the quality of conversation. Integration between Wipster.io and Premiere Pro allows for significantly accelerated editing speeds.
It allows you to provide collaborators with a private or public URL so that they may contribute their input to the project. The feedback is then turned into actionable items that may be checked off and finished. Tracking the progression of reviews is simple through feedback cycles, approvals, and delivery using this tool.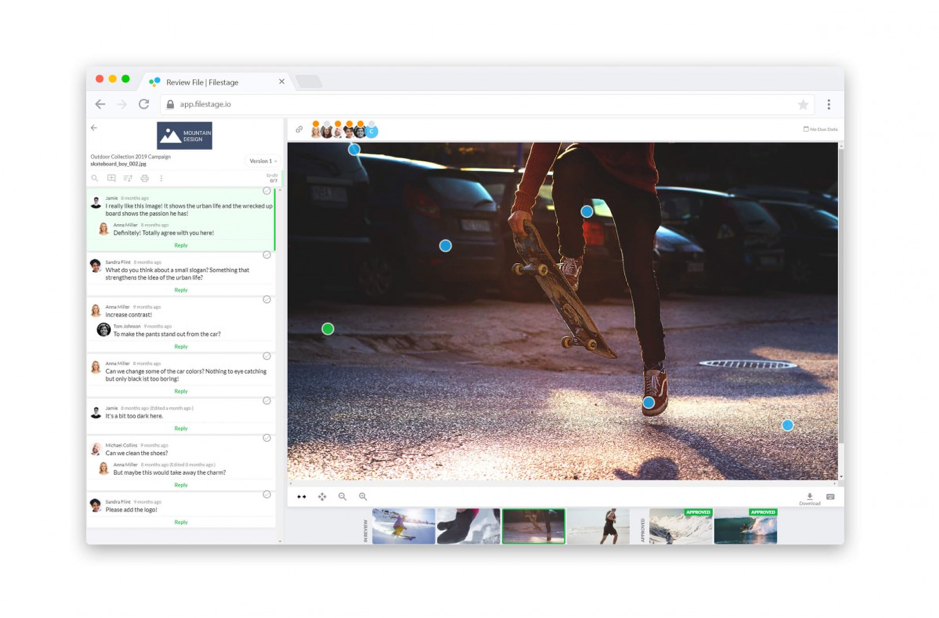 Filestage.io is another well-known video feedback tool that is used by a variety of leading video production firms. You can discuss, modify, and share your projects with the help of Filestage.io. It is versatile software that can provide feedback on audio, video, and still images. Its comprehensive video interface allows you to watch the video and enable users to add timestamped remarks and annotations to videos, which may be edited in real-time. There are many kinds of projects that may be edited in Filestage.io.
You can also add a due date option to your projects, which will allow you to send reminders of the deadline to your team members. All these elements guarantee that the video review process will go well and will be based on efficient communication.
You can contact Filestage's speedy customer care at any time if you have any problems or grievances about the features of the program, and the support staff will work quickly to find a solution to your problems. Because Filestage.io is a more expensive video feedback solution, you will need to carefully examine your finances before using this program.
Comparison Table
| | | | | |
| --- | --- | --- | --- | --- |
| Features | Frame.io | QuickReviewer | Wipister.io | Filestage.io |
| Pricing | Starts at $15 | Starts at $29 | Starts at $19.95 | Starts at $19 |
| Supported Platforms | Mac, Windows, and Linux | Mac, Windows, Android, and iOS | Mac, Windows, and Linux | Mac and Windows |
| Integrated Cloud Backup | Yes | Yes | Yes | Yes |
| Maximum Storage | 500GB | 250GB | 500GB | 250GB |
| Guarantee | No | No | No | No |
Conclusion
Video reviewing is essential for collaboration and getting the best out of your videos. However, with the traditional methods, it can take time and a lot of effort to improve the creative assets of your company. However, if you're looking for video review software, we hope you've found one after reading this article. Moreover, if you wish to buy video feedback tool for your large-scale business, we recommend getting the ProMAX Platform. Let's setup a chat!
What Is Video Review Software? Best Tools for Video Reviewing 2022