Videotape was the king of the hill when Shannon Shearer landed her first job in the high tech world of tomorrow. Now those bulky VCRs—often scratchy and muddled—have faded to become yesterday's low-tech solution.
The present video landscape is all about upgrading resolution, flawless software, reliable equipment, and total immersion of the viewer. Are we closing in on images so perfect that their depth will give reality a run for its money? It certainly seems so.
For Shannon, providing tools for the tasks ahead is the name of the game. Her company, Peak Media, has been equipping Denver creatives for 20 years. They buy cameras, lighting, audio equipment, production systems, and other pieces that fuel the digital work puzzle. These markets include broadcasters, media producers, local government, corporate video, and education.
What Are The Benefits Of Peak Media To ProMAX Products?
About a year ago, a long-term Peak Media customer recommended ProMAX to Shannon. She contacted the company. Shannon had some hesitations, of course. Getting up to speed with a new product line is no small task and, frankly, most manufacturers do a terrible job of training and communicating. Shortly after contacting ProMAX, Shannon dove into the company's partner training programs.
For Peak Media, there's a need for a trustworthy manufacturer that supports their products as well as their resellers. For customers, there's a need for reliable, feature-rich systems at reasonable costs."I learned about their systems by watching some of their 101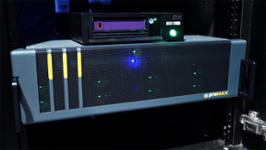 "It didn't take long for them to give me confidence," she says. "The biggest thing was that I got zero calls about problems from my customers. No news was definitely good news for us! And we've haven't had any problems arise yet.", 102 and 103 video tutorials. As I gained understanding about the products, I saw that ProMAX fit a need for us," Shannon says.
Since Shannon learned so much about ProMAX systems through videos, she figured her clients would benefit by watching them too. She was right.
"I set up customers to watch the same videos that I had seen. I've discovered my clients usually buy once they see how the systems work, what they can do, and understand the price points." Shannon says.
Today's customers shop for ever-higher performance, an expanding list of capabilities, and help to understand the advantages of the systems they are considering. End users can get overwhelmed quickly. The mission at ProMAX is to support its selling partners while helping creatives unleash their talents.