In today's fast-paced digital world, the demand for high-quality video content has skyrocketed, making video production process an essential part of any successful marketing strategy. However, producing and delivering a professional-looking video is not an easy task, and it involves various technical and creative skills. From the pre-production phase, where the video strategy is developed and planned, to the final delivery phase, where the video is exported and distributed, many steps and tools are involved in the film and video production process. That's where a Pre-Production Video Through Final Delivery Suite comes in.
A final delivery suite is a comprehensive software package that includes everything a video producer needs to create stunning videos from start to finish and deliver it effectively. However, if you're unaware of the best final delivery site in the market, we've got you covered. In this article, you'll discover the best final delivery sites you can get along with the benefits of using them. Let's get started!
What Is a Final Delivery Suite?
A video pre-production final delivery suite is a collection of tools incorporated to provide video creators with everything they need to make high-quality movies from 0 to 1 product development. Video editing, color correction, audio mixing, and visual effects creation are just some of the many jobs that can be accomplished with its features.
A final delivery suite provides video creators with the tools to generate and organize concepts, so they can stream their workflow, make the most of the pre-production process, and deliver the engagement videos effectively to the client. The suite typically includes various tools such as scriptwriting, storyboarding, budgeting, location scouting, casting, and scheduling.
To ensure they have all they need for their k-video productions, video producers can use these tools to plan and manage the production and delivery process properly. Streamlining processes, saving time, and producing high-quality movies tailored to one's specifications make it an invaluable tool for anybody to meet the video production deliverables.
Top Video Pre-Production Final Delivery Suites in 2023
Looking for the best video pre-production final delivery suites? This section has the answers! A final delivery suite is essential for video marketers to plan the delivery and everything in advance, so nothing goes wrong with their 0 to 1 product launch. To help you in finding the final delivery suites for video pre-production, we came up with the list, which includes: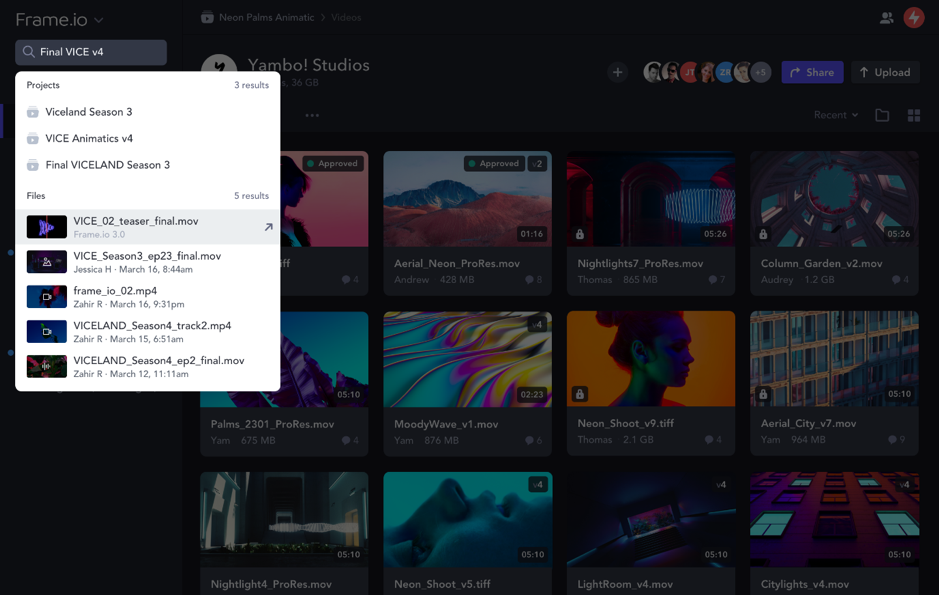 Frame.io is a final delivery suite for production teams to collaborate on projects. By using time-stamped comments, annotations, and hashtags, creative teams can speed up the sharing and approval process with the help of Frame.io. In addition, they may improve their editing and cooperation by using integrations with widely-used editing tools.
It's a handy tool for keeping in touch with colleagues and consumers throughout your production operations. This final delivery suite allows a more pleasurable time while working together on a explainer video project. Frame.io facilitates the rapid exchange of professional video files and formats by allowing faster uploads.
Frame.io's main goal is to facilitate the streamlined production of user-created videos. Frame.io's native iOS app further allows users the freedom to communicate regardless of their location. Users can create branded presentations and sales reels with the help of Frame.io's creative tools.
Video production teams have relied on a jumble of software for years to facilitate communication, daily delivery, WIP reviews, file transfers, and approvals. With Frame.io, everyone and everything is in the same spot. Frame.io provides a timeline annotation system that editors may use to see correct remarks to the frame. Without leaving their desk, they may now export and submit cuts for approval and share and manage assets.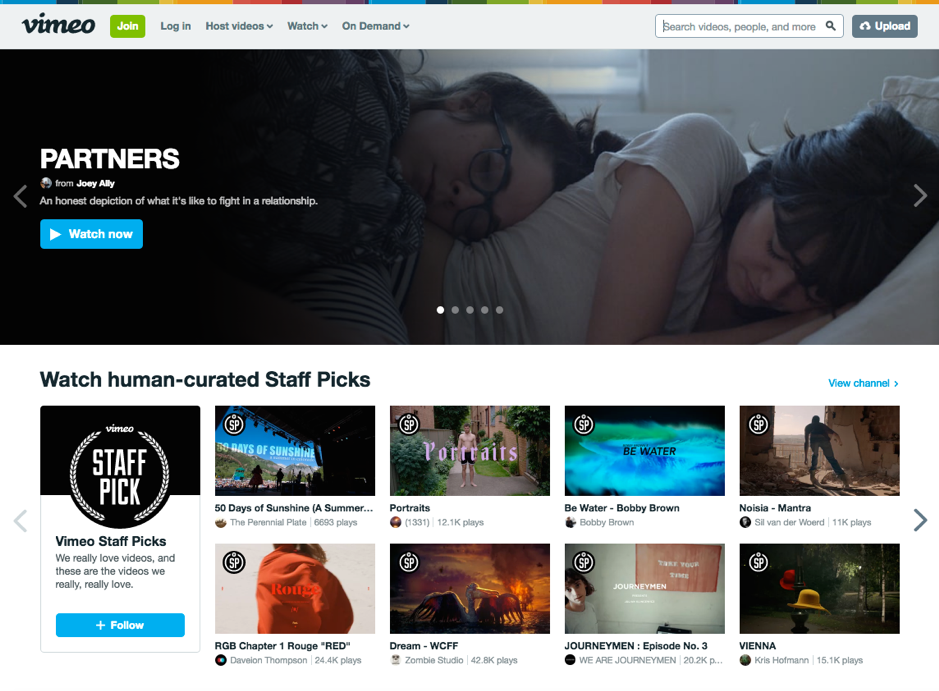 Vimeo is a video-sharing website allowing users to upload, share, and modify their videos. Storage, administration, post-production, collaboration, marketing, and monetization options are all available on the video platform. Video can be password protected, embed settings and license may be modified in bulk, users can trade time-coded remarks, end screens can be customized, domain and geo-restriction can be configured, and much more using this final delivery suite.
Video producers can swiftly collect feedback from customers and co-workers using Vimeo's video review feature. The application facilitates a more organized and rapid review process by allowing the producer to distribute the film and solicit input from a wider audience.
Moreover, it has a scriptwriting tool that facilitates real-time collaboration between team members and video producers when writing screenplays. Features like comments and text formatting are also included in the program.
Also, you can plan and organize your shots efficiently using its shot list feature. It lets you create a list of shots, add notes, and share it with team members, making it easy to plan and execute the production phase.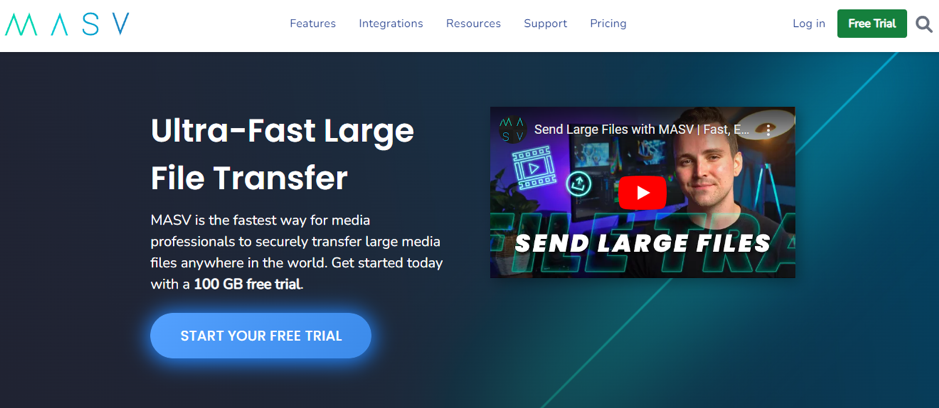 Massive (MASV) is specifically designed for professionals in the media and entertainment industry who frequently need to transfer large files, such as high-resolution images, videos, and other media files. Massive is a cloud-based file transfer tool that allows users to send and receive large files quickly and securely. It was developed by the Canadian software company MASV.io.
MASV can be an excellent tool to use as part of the final delivery suite for YouTube pre production videos. MASV uses a cloud-based infrastructure to transfer files quickly without additional hardware or software. This can help speed up pre-production workflows, allowing team members to work on projects more efficiently.
It provides real-time transfer tracking, allowing users to monitor the progress of file transfers, which ensures that files are delivered on time and can reduce the need for follow-up emails or phone calls. Moreover, it offers pay-as-you-go pricing, allowing users to only pay for the data they transfer.
One of the unique features of Massive is that it does not require the recipient to have a MASV account or any special software to download the files. This makes it easy for users to quickly share large files with anyone, anywhere in the world.
Wipster.io is a digital asset publication and collaboration management tool built in the cloud for small agencies, production companies, and freelancers to streamline the evaluation and approval of digital media projects. With Wipster.io, companies can form project teams with unlimited members and restrict who may comment.
To make sure that everyone is working on the same version of the movie, Wipster.io has version control tools. Team members and customers may use Wipster.io to give time-stamped comments on videos, which is very helpful in pre-production when pinpoint edits are required. This function may also save time by facilitating fewer rounds of email negotiation.
Integration with Adobe, Slack, Brightcove, and other third-party communication and employee engagement technologies is easier with Wipster.io. The platform's open application programming interface (API) lets programmers adapt it to specific needs.
Moreover, it has native Azure connectivity, allowing organizations to safely operate and transmit sensitive data by monitoring network security and automating application screening procedures.
Benefits of Using a Final Delivery Suite for Video Pre-Production
Using a final delivery suite for video pre-production process can provide numerous benefits to video producers. Some of the benefits of using a final delivery suite are:
Streamline Workflow

: It helps to streamline the video production workflow by providing tools and features that help to organize and plan the delivery of the project, from scriptwriting to scheduling.

Time-saving

: These suites are designed to save time by automating many tasks that would otherwise require manual effort. This frees up time for the video producer to focus on the creative aspects of the project.

Improved Collaboration

: Final delivery suites make collaboration between team members more accessible by providing a centralized platform for sharing files and collaborating on projects.

Higher Quality Output

: It ensures that the delivery of the project is thoroughly planned and organized, resulting in a higher quality output that meets the specific needs and requirements of the project.

Cost-effectiveness

: By planning and organizing every aspect of the project in advance, final delivery suites can help minimize expenses and reduce the risk of costly mistakes during the production phase.
Conclusion
In today's world of video production, delivering the final product to clients or audiences has become a critical part of the overall process. With the rise of video platforms and the increasing demand for high-quality video content, it is essential to have the right tools to deliver and plan the pre-production of videos effectively. And we hope you've found the best options for delivering Pre-Production Video Through Final Delivery Suite after reading this article. So start planning and delivering the pre-production video using these suites for better collaboration today!