There isn't an iota of doubt that video is the most effective form of content. Over the years, the popularity and demand of videos have surged hand-in-hand with the rise of behemoth social media platforms like Facebook, Twitter, and Instagram.

The demand to produce videos quickly and easily has forced businesses to opt for more effective editing tools. As a result, powerful desktop-based video editing software has become a thing of the past. Innovative mobile video editing software solutions have changed the industry by incorporating licensed assets into cloud-based editing platforms that anyone can use.

If you are thinking about getting the right resources for video marketing, you are in the right place. Keep reading this blog to learn about some of the significant risks of mobile video editing apps and how Nextframe by ProMax can help mitigate these risks.

How Can a Mobile Video Editing Go Bad?
Mobile video editing method is an ideal way for small companies to try out a video marketing campaign and for larger businesses to save money by making quick videos that don't need a large production crew. It's a methodology and a tool that can help you develop your overall marketing plan.

Videos are so popular among customers that more than 88% of marketers say that integrating video marketing into their overall marketing strategy has positively impacted their ROI. To keep up with this ever-increasing demand, businesses are publishing an average of 18 videos every month.

The need to produce high-quality videos quickly, easily, and within budget has led to the rise of mobile video editing software applications, some free and some paid.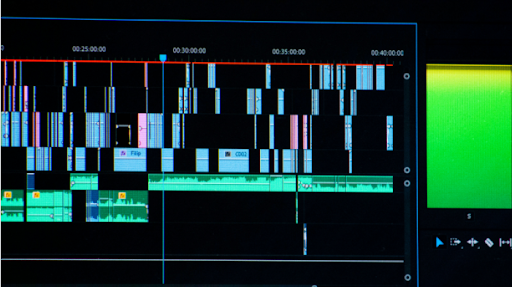 To keep customers engaged, businesses often use different video content types, such as explainer videos, vlogs, interviews, presentations, tutorials, video testimonials, product demos, and more. Creating such content means dealing with huge files, copying them, editing them, creating backups, and a long list of post-production work.

However, not all mobile video editing apps are built to handle so many functionalities. Even if they do, the prices usually end up on the higher end of the spectrum. Besides, a lot of things can go wrong when editing videos on a mobile device. What if your mobile phone doesn't have enough memory to support the app? Then there are other problems like running out of storage space, additional costs for each user you add, video output quality issues, etc.
The 7 Risky Part of Mobile Video Editing Software
Although mobile video editing programs can help you create videos on the go, there are many risks involved. Listed below are seven significant areas of concern related to mobile video editing software that you must be aware of:
Hardware-demanding - Most video editing programs require an enormous amount of computing power. You'll need a mobile phone with blazing fast processing speed, a high amount of RAM, and storage capabilities. If not, then the chances are that your mobile phone will start heating, slow down, or crash. All of this can lead to hampered productivity and loss of valuable data.
Application suites are costly - If you're looking for a feature-laden mobile video editing app, you must be ready to shell out a lot of money. All-in-one video editing application suites are expensive. Most free mobile video editing software doesn't even include a media library, meaning you'll have to pay to use images, audio, and other assets. All of these costs will take a hit on your marketing budget and impact the ROI.
Requires a great deal of expertise - Editing and fine-tuning videos is not an easy task. You'll need a great deal of expertise and advanced knowledge to produce videos, irrespective of the editing software you're using. Each application will offer a plethora of features, and you can't possibly learn everything in real-time while managing your business on the side.
Storage Cost -

Next comes the concern of storing your video files. From original and unedited copies to finalized videos, you'll run out of storage space sooner than you expect. The problem becomes even more prominent when you'll be using a mobile phone to edit videos. As a result, you'll need to buy external storage units or opt for cloud storage, which translates to more expenses.

Cloud power deficiency -

Video files are huge, and you'll only be willing to pay for a specific bandwidth. If you opt for an app that doesn't offer dedicated cloud storage, you'll have to store these files on a third-party cloud. Depending on your resources, downloading and uploading these large files can be painfully slow. In addition, hogging all that bandwidth will also hamper productivity in other areas.

Large Video File -

Do you think your mobile phone's storage is enough to handle 4k and 8k video files? Even if you include your phone's internal and external storage, you'll keep running out of space. The more copies you create (which is evident because you'll be editing), the higher the space consumed. Hence, think about how large video files you'll handle and choose an app that addresses this concern.

Degraded quality issues -

Marketing videos need to be rendered in high-quality. Mobile video editing apps may not allow you to generate videos as per your requirements. For instance, most free video editing apps allow a maximum quality of 720p. On the other hand, many cloud-based editing software address speed and responsive issues by creating proxy files. While this is great for speed, it's entirely wrong for your video files' overall quality.
How Can We Avoid Mobile Video Editing Disadvantages With Nextframe?
With so many risks involved, you might be wondering which is the best video editor for mobile? In that case, allow me to introduce a revolutionary mobile video editing software that does all the heavy lifting for you.
Promax Nextframe app is designed keeping your video marketing needs in mind. With this cloud-based mobile video editing app, you'll be able to take your content to the next level. It has all the features you need to produce amazing videos without even leaving your room. It is an all-in-one mobile video editing software for iOS and Android phones. It even includes a dedicated desktop app that allows you to leverage additional features to streamline your video content workflow.
You'll be able to create engaging and educational content for your customers, ranging from video testimonials to video ads with this cloud-based application. With this app, you don't even need to spend anything extra on equipment.
Nextframe Video Editing software also allows you to capture high-resolution footage right from your phone. You can even integrate it with ProMax to get the most out of cloud storage and collaborative editing workflows that will make video production for your business simple, efficient, and cost-effective.
A decent video editing app will aptly fill the shoes of a professional video editor while still being very cost effective. There are several useful alternatives on the internet, with Nextframe being one of the best. If you're still unsure, the benefits mentioned below will assist you in making your decision:
Assign projects and set deadlines

Add topics and questions

Respond to open projects

Record videos using your mobile phone

Submit captured videos directly from your mobile device

No need for any additional equipment

Ability to process high-resolution videos despite file size

It works seamlessly with ProMax Systems
To top it all off, Nextframe is a free mobile video editing software. You don't have to pay a penny to use it. Join the beta program and explore the array of features at your disposal.
Conclusion
The demand for video content has opened countless new avenues for businesses to connect and engage with their potential customers. You must start gathering (and investing) in video marketing resources at the earliest.
As more and more mobile video editing apps flood the market, the competition will only get more challenging. Although these apps make it extremely easy to produce videos on the go, you'll need a decent amount of experience and spend a handsome amount to avail of all features. Download Nextframe today and take your video marketing efforts to the next level - that too at no cost.
And if you're worried about running out of storage space for your video files, make sure to get in touch with our dedicated team of professionals at ProMax Systems to learn more about our affordable and state-of-the-art fast shared storage video editing workflows.
Nathaniel Cooper
As Chief Operating Officer of ProMAX Systems, Nathaniel Cooper, runs ProMAX Systems day to day operations. Cooper has been working with Storage, Backup and Media Management for video and creative professionals since 2001. Cooper has lead the design and deployment of some of the largest media systems in the world including a range of customers from NFL, MLB & NBA teams, US Military operations, and many of the worlds largest PR agencies and consumer brands. Cooper has spent the last 9 years as part of the ProMAX team and specializes in translating complex technical issues and options into easily understandable concepts.