A few years ago, the video production team at Ochsner Health System (OHS) in New Orleans faced a dilemma: they couldn't reach tomorrow's audience with yesterday's hardware/software production system.
Freshly shot video presented relatively few problems for OHS. But photographs, film clips, and TV interviews going back to the 1940s or even the late 1970s could be a challenge. For every foot of film from of the past that's been located, there are always better images eluding discovery. Jackson Ellisor, OHS Director of Creative Media, went in search of a solution.
As it happened, ProMAX was rocking the market with introduction of the first all-in-one, High-Performance Workflow Server. The system's unmatched flexibility, reliability, and efficiency has raised the bar significantly for OHS productions.
"Because of the ProMAX system's efficiency and the ability it gives us to easily share files within our team, the quality of our work has increased," says John Weaver, Senior Video Producer at OHS. "What we produce is much more professional now. It gets noticed."
The new ProMAX system was a grand convergence of one system from one maker in one cabinet. Instead of cobbling together three boxes of technology, perhaps from different manufacturers, the ProMAX way represented a unified field of performance. Benefits include: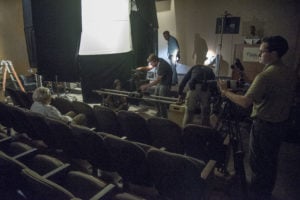 • Massive storage. This gives OHS's seven video creatives the ability to work seamlessly, one task after another. An editor may work on a rough cut, pass a video onto a sound specialist to add music, and then a colorist may play with various effects to achieve the right feel. The end result is perfect visual storytelling.
• Historic footage + 4K Performance. For the OHS video, the narrative followed 90-year-old Dr. John Ochsner as he wrote a letter to his late father, Dr. Alton Ochsner, one of five OHS founders. The elder Ochsner was shown in videos from the 1950s and later. In a ProMAX platform, decades-old clips are in the same creative flow as the latest videos.
• Organizing the past, prepping for the future. Instead of scrambling to find aging film, users can dip into a high-capacity archive, where digitized photos and films are stored. This is where film of Dr. Alton Ochsner now safely in resides.
The OHS creative team found what they needed in a ProMAX system. It was a problem solver. The well-organized archive cured some headaches. Moreover, the team found the platform exceedingly well suited to OHS's expanding video output.
John says, "We just took on a couple of guys right of college who aren't used to a networked system. Fortunately, the system we have now is pretty intuitive. A little explanation and they were right on it!"
To see the Ochsner Health System video "Dr. John Ochsner's Letter to Dad," go to: https://youtu.be/4T74qcJ-kLY