Today's Best in Professional Video Editing Software
Getting the best video editing software is not an easy feat with a myriad of options available in the market, all boasting excellent features and advanced add-ons. An impressive editing tool makes everyday tasks like trimming, cutting, filters, and combining clips way easier. Video editing is not just for studios or Hollywood filmmakers today. In fact, many studios like Netflix and Amazon are using digital photography and filmography and editing on high powered machines because they don't need movie-screen sized resolution. Once it was considered to be a professional undertaking, now editing raw footage is just a matter of simple drag and drop with lots of professional features available with every software option in the market.
You can create a blockbuster video with professional software, but it's best to consider which features you'll be needing before you select a particular software. Like a business owner or designer with stakes on professional outreach depends on the video output, has very different needs than a consumer editing their home videos. So be realistic about what you'll use so you don't end up paying for something that you won't use.
Performance results are vital but not critical for editing software evaluation because the underlying hardware setup might define your mileage. In contrast, the interface, usability, and features bear more weight than the export clock speed. Although among many measures, speed does provide crucial comparative insight. The features available in the premium video editors can't be matched – not even with the leading free options. The resources of a professional editing tool refine the work environment with an improved interface, fast rendering engine, and more configurable effects.
In the video-centric consumer and business environment creating engaging and commercial video content to promote your brand or product requires special professional tools to achieve the goal. The good news is you don't have to worry about finding the solution that fits the bill for you, as we've got you covered here with a lineup of best professional video editing software options available on the market.
What are the best professional video editing software options?
The Best Professional Video Editing Software List:
These are the most widely accepted and used professional video editing software suites. Depending on expertise and functionality needs, most will use one of the following:
1. Adobe Premiere Pro CC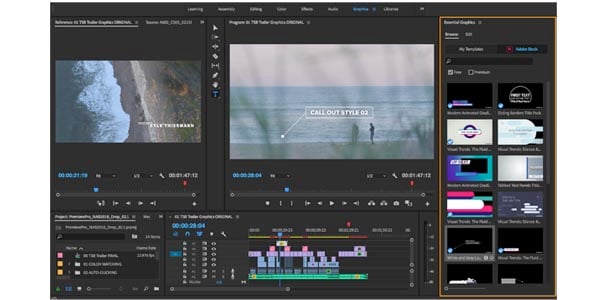 image source: adobe.com
Adobe Premiere Pro is an industry-standard editing suite. One can start editing even before the videos are finished importing. This amazing tool comes with support for 360-degree and Virtual Reality (VR) video, a vast collection of video and audio filters, a large number of raw file format support, and the potential of working together with other tools. This kind of prowess doesn't come cheap, and the software has monthly or annual subscription charges. The good thing is that Premiere Pro doesn't have a significant initial outlay, which makes it readily accessible. It's an exceptionally versatile tool with a cloud-based model, which means you don't have to worry about the updates.
Adobe has a vibrant ecosystem of video production apps, which makes it an ideal tool when it comes to collaboration. The app is filled with organizational tools, a pretty flexible interface, precise and responsive throughput, excellent stabilization, and unconstrained multi-cam angles support – an ultimate powerhouse video editing software.
Pros
Supports VR and 360-degree video

Massive Collection of filters

Customizable interface
Cons
Subscription model not suitable for everyone
2. Final Cut Pro X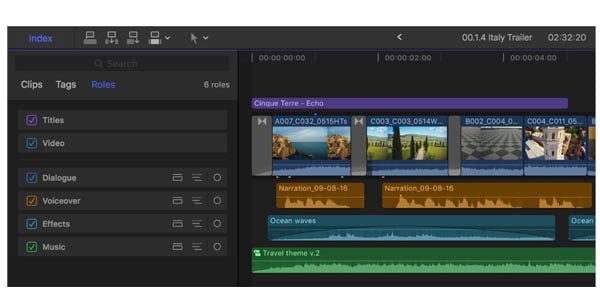 image source: apple.com
Final Cut Pro targets the professional end of the market; the tool is filled with pro features and offers smooth performance. The interface is different but least complicated, built around a trackless timeline that urges you to arrange elements into particular roles, like music, voiceover, and titles.
Apple's Final Cut Pro has support for all the major raw video formats from all makes and models, with regular updates to its supported profile. It has HDR with state-of-the-art color grading and 360-degree video editing support. It's quite expensive with a one-time flat fee, but the suite covers all the significant updates and will be a cheaper option in the long run compared to the Premiere Pro subscription model. For Apple users, both the two top picks are optimized to work efficiently, but for your satisfaction, I'd recommend taking a free trial before making the decision.
The powerhouse app has a simple interface for pros and weekend warriors alike. With high-class organization tools such as ratings, libraries, tagging, scenes, auto analysis for faces, it also has support for HDR and 360-degree footage, multi-cam, MacBook Touch Bar, and iPad Sidecar – an ultimate professional-level app.
Pros
Extremely powerful

Trackless timeline

Exceptional file format support

Updates included in price
Cons
High initial cost

Only works on native Mac machines
3. InVideo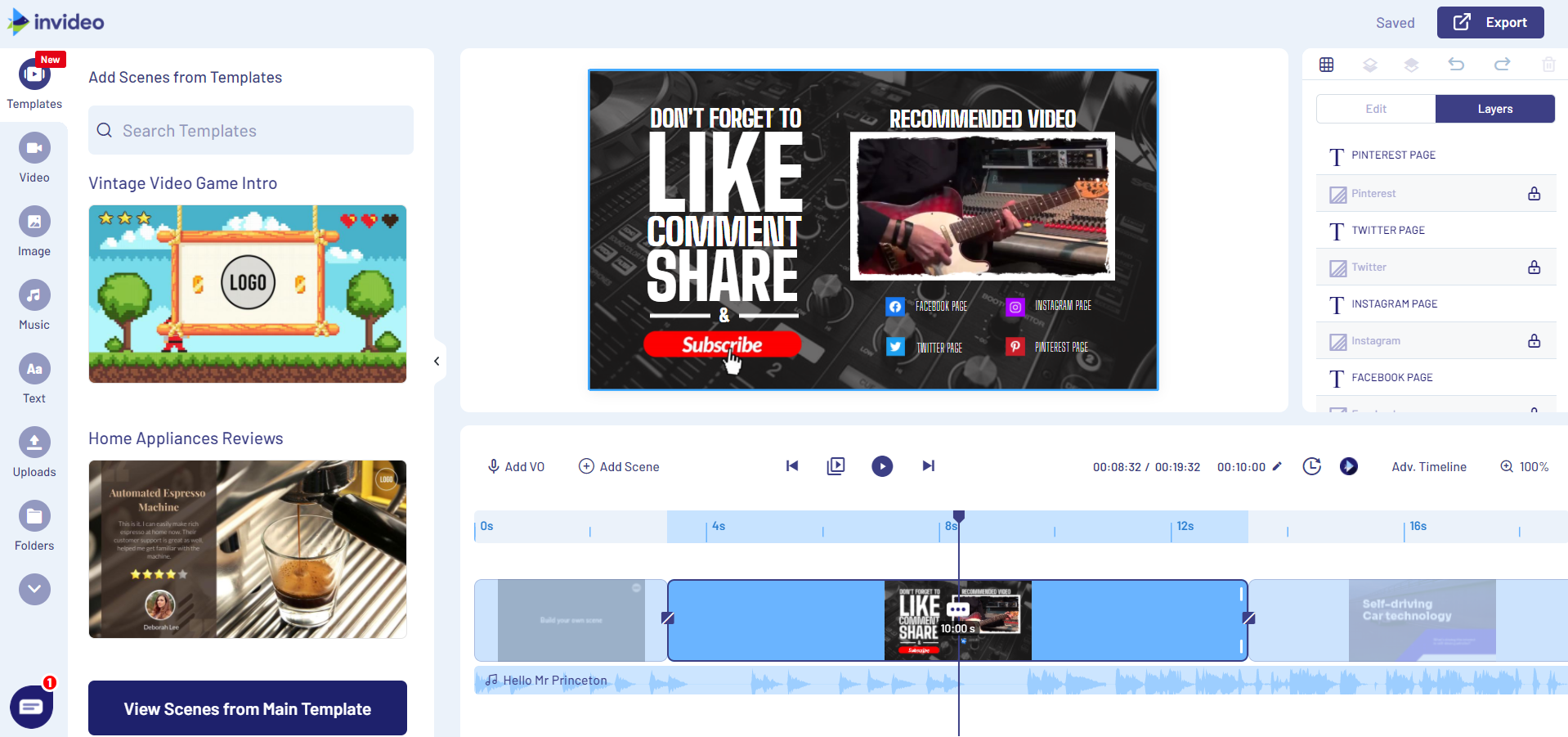 InVideo.io is the world's easiest video creation platform that will enable you to turn your ideas into gold-standard videos in mins, even if you've never edited a video before for less than $10/month.

Here's how:
Gold-standard videos: InVideo.io has 4000+ fully customizable templates covering every major use-case or industry + pre-built elements in our asset library such as CTAs, stickers, and overlays + an in-built library of 3M+ stock images, video clips, and music to make sure your videos look out of this world.

In a matter of minutes even if you've never edited a video before: InVideo.io has a super-powerful yet easy online video editor that will allow you to change and customize every template from the ground up. Add to that the fact that InVideo.io is the only product of its kind that gives 24*7 LIVE chat support with a response time of under a min and what you get is the easiest most frictionless way to create videos for your brand. Not just that, but InVideo.io has taken the idea of support one step further by building the world's most helpful video community where:

You can share your video and get feedback from 18K+ other marketers, entrepreneurs, and video creators

Learn from some of the best marketers like Mari Smith, Molly Mahoney, Kelly Noble Mirabella, and Jeff Sieh via weekly masterclasses

Openly ask for help and reach out to the InVideo team

You can get started with an InVideo plan for just $10/month (if billed annually)
Pros:
4000+ fully customizable templates covering every major use-case or industry

Pre-built elements such as CTAs, stickers, and overlays

An in-built library of 8M+ stock images, video clips, and music from premium sources like Shutterstock and iStock

A super intuitive yet powerful editor with the world's first intelligent video assistant (IVA)

Auto text-to-speech + ability to add your own voice overs

24*7 live chat support + community of more than 20K creators and marketers

Get started for free - no watermark
Cons:
Cannot use green-screen footages

No auto-subtitling
4. Wondershare Filmora9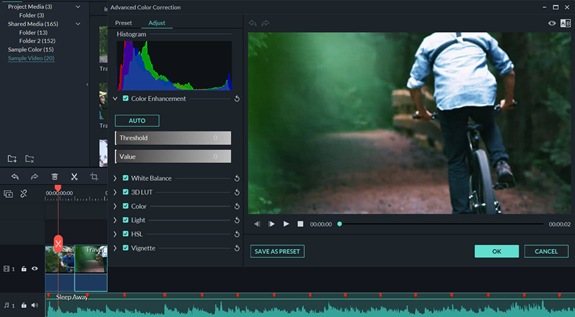 image source: wondershare.com
Wondershare Filmora9 is a great video editing application that can be used by both a beginner and professionals alike. It has an intuitive interface, and the users can easily create slideshows, trim, merge, cut, rotate and crop the video, add background music and their own voiceover to the video.
When you need advanced editing, you can also try the professional chroma key to remove video or image background, enable the auto color tuning to polish your video and empower the flexible audio keyframing to fade in and out your audio. Furthermore, no matter Windows and Mac users, the advanced video stabilization and fast video rendering will give you an incredible editing experience!
We live in an era where photos and videos are is very common and almost all people in the world are a part of online social media. Wondershare Filmora9 also makes it possible to upload and share your video to YouTube and Vimeo directly!
Pros:
Support 4K video editing

Large collection of video effects and royalty-free music

Powerful video stabilization and lens correction

Adding of layers – up to 100 layers

Easy online sharing with a direct connection to Vimeo and YouTube
Cons:
The free version has a watermark
5. CyberLink PowerDirector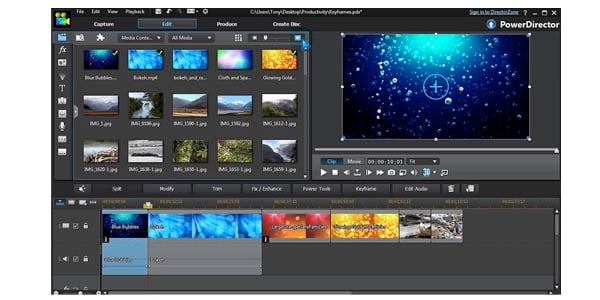 image source: CyberLink.com
Affordable premium feature-packed editor without an intimidating post-production editing environment that won't perplex the beginners, and instead makes video editing fun – integrating and optimizing videos with a few clicks is made easy, for example, with the Magic Movie Wizard. Better timeline editor to achieve quality results or assemble pieces to publish on the web. The standard post-production interface has control panels and a timeline with excellent controls, filters, and flexible options once you get familiar with them.
PowerDirector has a distinct interface with lots of effects and fast rendering speeds. Other features include multi-cam editing, 3D and 4K support, screen recording, motion tracking, and the most 360-degree video proficiency that no other video editor software has – making it the fastest and one of the most filled with features editing program.
Pros
Video optimization in seconds

Both beginner and advanced interfaces

Flexible and adaptable

Premium effects and plugins
Cons
6. DaVinci Resolve Studio

image source: blackmagicdesign.com
DaVinci Resolve Studio is a powerhouse professional level application with cross-platform support to get the most out of this remarkable editor. It incorporated Fusion, which brings high-end video post-production modules for video editing, audio production, color correction, motion graphics, and video effects. The app is purely pro-level with a bit of a learning curve but with an astounding set of tools at your disposal.
One of the standout features of DaVinci Resolve is color correction, either you want to adjust a selected part or the whole video. It has support for HDR, audio mastering, and exporting, and working with raw video files is intuitive. For more significant projects, DaVinci Resolve Studio is hard to beat with its stack of premium filters, 2D and 3D workspace with hundreds of tools for compositing, creating particle effects, painting, keying, adding text animation, rotoscoping, tracking and performing stabilization, and much more.
Pros
Remarkable color correction

Vivid audio post-production

Amazing collaboration capabilities

Cross-platform for Mac, Windows, and Linux
Cons
No direct import from a camera
7. Clipchamp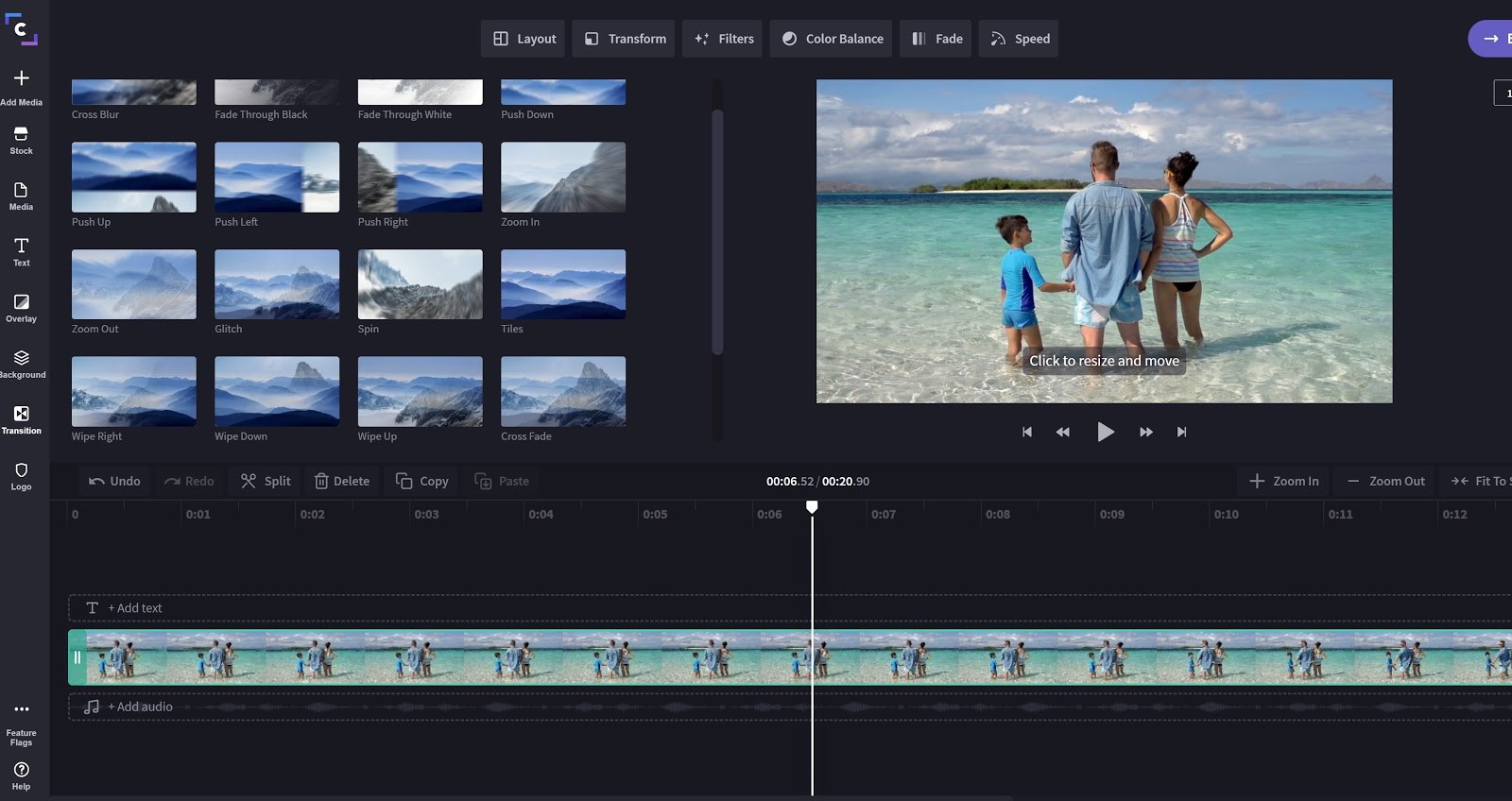 Clipchamp is on a mission to help everyone to become a creator of awesome video content! If you have no experience and limited time to learn video editing, Clipchamp is your best bet to create professional videos for free and it's trusted by 13+ million users worldwide.
This in-browser video editor is especially handy for content creators, marketers, small or big agencies as well as sales and customer service professionals.
Along with all the essential editing options of trimming, cutting, speed control, titles, filters, webcam and screen recording, Clipchamp's library of stock video, imagery, soundtracks and GIFs has over 800k+ assets to choose from.
They've also got hundreds of customizable templates for Youtube, Facebook, TikTok, and more. Just edit, add effects and export in minutes. If you need to repurpose your content on social media, you can do so with their video resizer for all aspect ratios. Take your video production to the next level using their green screen feature as well as AI generated voicers.
Pros:
In-browser, no downloads necessary

No watermark video editor

Easy timeline editor

Access to 800k+ library of stock videos, soundtracks and GIPHY library

Quick editing tools

–

convert, rotate, trim with ease

In-browser webcam recorder and screen recorder

Awesome features like green screen, AI voiceover, Audio Visualiser

Compress Tool to upload videos faster

Easy import from Google Drive, Dropbox, Box

Upto 1080p high resolution exports

Works on Chromebooks
Cons:
Desktop only

Google Chrome web-browser only

Clipchamp offers a free basic plan that allows unlimited video exports in 480p. Subscriptions start from USD 9/month upto 39/month. [Tip: You can save 30% with an annual subscription.]
8. HitFilm Pro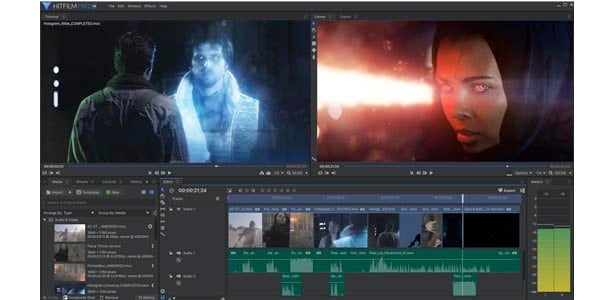 image source: fxhome.com
HitFilm Pro is a professional video editor, an emphatic choice of fan film creators – for the right reasons. A potent editor with add-ons to suit every need, the program is jam-packed with tools for special effects with easy access. A fantastic plus of the editor is its potential for handling virtually every facet of video post-production inside the editor. From animations to audio, titles, color grading, and editing, all are just a couple of clicks away with unified interface naturally designed.
Unlike the above-mentioned professional video editing software, HitFilm also supports importing and animation of custom 3D models, with custom shadows, simulated 3D cameras, vibrant lighting, chroma-keying, and also particle effects to augment the videos.
Pros
Intuitive interface

Excellent special effects
Cons
Keeping up with the times through Video Editing

Nothing catches the eye like moving pictures with sound. That's why digital video continues to attract more and more fandom, and is a boon for advertising corporations. Coupled with the ever-growing number of digital devices designed for high-resolution video recording like GoPros, smartphones, DSLRs – the need for sturdy video editing software grows further. The perfect professional video editing software in 2020 should be the one that has got an ace up its sleeve while keeping abreast with cutting-edge technology like 360-degree VR video, the latest formats like HEVC (High-Efficiency Video Coding), the efficiency with 4K and 8K editing, and much more. In the end, the video editing application you choose entirely depends on the budget, the equipment you're using, and what features you think can get your work done.
Of course, you'll be needing a significant amount of storage and speed from that storage, which is where ProMAX Platform comes along to save the day. Get a virtually unlimited amount of storage and lightning fast speed that will support you no matter what software you're using for editing. Give it a try and you will NOT be sorry. Get in touch here or give us a ring today at 800-944-6629 🔥🔥🔥
Nathaniel Cooper
As Chief Operating Officer of ProMAX Systems, Nathaniel Cooper, runs ProMAX Systems day to day operations. Cooper has been working with Storage, Backup and Media Management for video and creative professionals since 2001. Cooper has lead the design and deployment of some of the largest media systems in the world including a range of customers from NFL, MLB & NBA teams, US Military operations, and many of the worlds largest PR agencies and consumer brands. Cooper has spent the last 9 years as part of the ProMAX team and specializes in translating complex technical issues and options into easily understandable concepts.