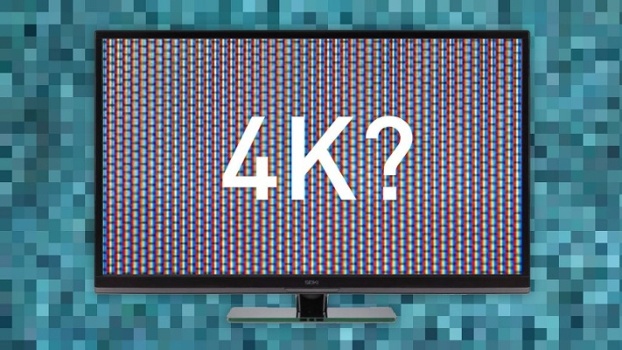 We have heard the 4K buzz chant for some time now, "You've got to get ready for 4K!" This is immediately followed by another chant from storage manufacturers and other vendors wanting to take advantage of the growing need for 4K by pushing media professionals into purchasing more products.We have heard the 4K buzz chant for some time now, "You've got to get ready for 4K!" This is immediately followed by another chant from storage manufacturers and other vendors wanting to take advantage of the growing need for 4K by pushing media professionals into purchasing more products.
The need for 4K often comes from clients or distribution policies, but it can also come from the desire for better shot framing in post, or content flexibility for future use. Whatever the reason, the "Be ready or else" message is everywhere, and it's only getting louder.
So do you really need to upgrade EVERYTHING to work in 4K? The truth is, probably not.
The Significant Difference Between Working IN 4K And working WITH 4K.
Let's do the math--4K is 4 times the size of HD, right?
For example:
Like any other piece of media 4K is mostly defined by a frame size (3840 X 2160), a frame rate (24 fps), and most critically, the CODEC which defines the Size Compression vs. Overall Quality of the Footage. Though difficult (and expensive), the decision to invest in new "4K Ready" hardware depends greatly on how you choose to manipulate these three components in your workflow.So it stands to reason that 4K is going to require up to 4X the amount of storage space, bandwidth, processing power, and capabilities than your existing HD workflow. However, this assumes you treat 4K like you treat HD.
What if we told you that 4K can require less demand on your infrastructure than editing in HD? To illustrate this seemingly contradictory statement let us look at some example data rates of a single stream of HD and 4K:
Obviously the example above is extreme and most people are not editing HD in Uncompressed anymore, but you can see how in this example HD is about three times the data rate as 4K.
Here's another example:



Less Data Means Less Information
In our last example, HD and 4K are virtually the same data rate. While the 4k resolution is 4x that of the HD, we've evened things up by working with a slower framerate and most importantly, less color information in the 4K stream than the HD. While framerates are generally non-negotiable, changing the CODEC is often a real possibility when going into post production. The big takeaway? The color information lost to edit with real time 4K on our existing HD editing system is often not necessary to successfully complete the job, depending on the task at hand.
Here are some answers to subsequent critical questions for editors:
Can you see the difference?
Of course this depends on whether you have a 4K monitor, how close you are sitting to said monitor, and other factors including the type of footage. If you have a monitor with 1920x1080 resolution so you probably will not see it the difference. However, let's say you have a 4K iMac, then you probably can.
When do you need to see the difference?
This is a more appropriate question which will have the most profound impact on your 4K budget. The answer depends on what creative function you are performing. We may not want to admit it, but for standard cuts and transitions there is no need to see the 4K image. However, for finishing, color work and a potential conforming process you do. More about this later.
Will Your Deliverable be impacted by the difference?
Whether now or in the future some deliverables need more color adjustment than others. CODECs with more information directly impact your ability to make those adjustments. As you scale up from ProRes 422LT to ProRes 422HQ to ProRes 4444 you have more color depth to create.
Data Rate vs. CPU Load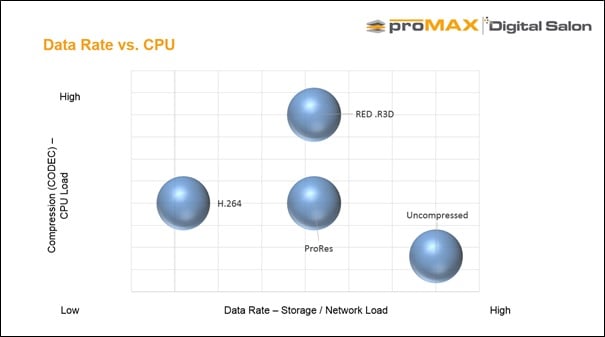 Another often overlooked problem when designing a 4K infrastructure is the inverse relationship between data rate and CPU requirements (load). Simply put, the less compressed the CODEC, the less strain on your workstation CPU. The more compression, the higher strain on your CPU.
A real example that we see too often is when a team is trying to edit R3D on an under-powered workstation. Regardless of the storage and network speeds available, if the workstation does not have the CPU/GPU power to uncompress and debayer the footage, real-time playback is impossible.
Workflow Decisions
When designing a 4K workflow the most crucial question is; What CODEC do we need to cut in? Shooting high bandwidth 4K material doesn't mean you need to edit at that same data rate. Consider transcoding to an intermediate or even a proxy format for the basic editing process. This will allow the intensive work and collaborative process of putting the story together to be done on lower end workstations that you already own. When it is time to color and finish your project, you can re-link back to the original high resolution footage.
Using this method does require a good quality finishing system, but purchasing/upgrading one workstation to handle a true high quality 4k workflow becomes a much easier business decision when the alternative is to upgrade every editing machine you own. In the end, intelligent use of a proxy CODEC and an honest look at your workflow requirements can save a great deal of money without compromising your ability to deliver 4K content.
As you get bombarded with daily messages about real-time 4K workflows, consider this; Nobody is going to be editing in full camera raw 6K (or especially 8K) without making these decisions in the near future, and for all the same reasons.
Nathaniel Cooper
As Chief Operating Officer of ProMAX Systems, Nathaniel Cooper, runs ProMAX Systems day to day operations. Cooper has been working with Storage, Backup and Media Management for video and creative professionals since 2001. Cooper has lead the design and deployment of some of the largest media systems in the world including a range of customers from NFL, MLB & NBA teams, US Military operations, and many of the worlds largest PR agencies and consumer brands. Cooper has spent the last 9 years as part of the ProMAX team and specializes in translating complex technical issues and options into easily understandable concepts.