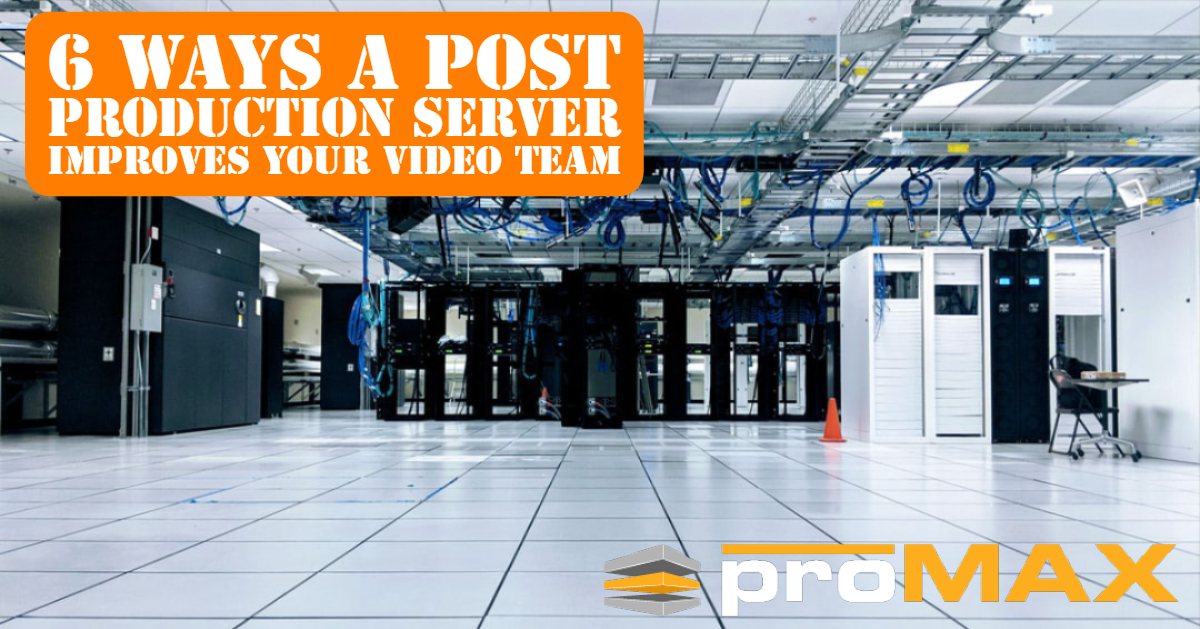 Post-production is part of the process of filmmaking, video production, and photography that includes all stages of production which occur after shooting or recording individual program segments. It is hard work because the need for high throughput and reliable content storage is non-negotiable, whether it's video or film, editing, audio, effects, or motion graphics.
Post-production in today's world puts a lot of pressure on your storage solution because content must be handled correctly, files must be easy to find, access, and use. More importantly, dropped frames impact the technical quality of the content and so they are not acceptable. Some of the questions you might be concerned about include, "where will the backup be stored? How do the files get protected against all the possible hazards? It is important that you find answers to these questions so as to keep things running smoothly and essentially make life a lot easier for your video team.
The above scenario is the reason why traditional (analogue) post-production has been largely replaced by post-production servers. The essentials of a post-production workflow are storage, network, disaster recovery systems, and archiving. Post-production servers are built to simplify the management of digital media files with the following core functions; to centralize the organization and storage of your media; file protection, file backup, data storage virtualization; media app integration; secure media sharing; facilitate easy file search; and provide you with the tools to edit, publish, optimize your files. This array of capabilities make post-production servers the best data management solution for media professionals.
Six ways a post-production server improves your video team
Here are five ways that a post-production server improves your video team.
Centralized Backup:

Protecting your video files is critical and the first step in doing that starts with a proper backup of your project. Centralizing your video backups on a post-production server gives your professional video team access to your files and the ability to schedule recurring backups of your projects. If you have multiple editors, centralizing your backup is near impossible using strictly local storage on external hard drives.

Increased Storage Capacity: The contemporary post-production process requires your video team to be able to work with a system that ingests and stores progressively larger files in diverse resolutions and formats. This is why your team needs to be on a post-production solution that caters to these needs for data storage. Post-production servers connect to your computer, office, and the internet, and supports loading and retrieving data from multiple computers in both local and remote locations.



They enable shared storage, which is currently the most efficient way to store your media assets. This is because the files will not need to be copied in order for your video team to have access to them. This improvement in workflow leads to you saving more resources and enhanced storage space since there are no duplicates of your media files created. This way, your projects and media files will be available to view and work with across all computers on the network, thus eliminating the need for edit suites to be blocked by long exports or transcode processes.





Data is typically stored on post-production servers using some form of error checking and virtual storage system, which protects the data from accidental loss or hardware failure. Your post-production servers can either be used for primary or secondary local data storage. For instance, production servers can back up your primary data files on an editing workstation so as to keep them safe from loss or other forms of damage. Sometimes these files are stored on the post-production server, and smaller proxies with lower-resolutions are used for offline editing on the workstation. Once edits are completed, the changes then are written back to the post-production server.





The increased storage capacity of post-production servers facilitates the efficiency of your video team. Take, for example, when a studio switches from 2K 30fps to 4K 60fps, there will be pressure on the storage framework used by your post-production crew. With post-production servers, your video team will be able to cope with this demand (in this case, the need to store and stream eight times as much data). Increased storage capacity has the domino effect of saving more time for your video team. How? It eliminates the time wasted waiting for a file to copy from one editor to the other. It also saves the time spent on backing up media, relinking, and transcoding.



Video Performance Boosts: The media and entertainment industry is one of the fastest evolving industries with the constant goal of offering viewers impressive and more realistic viewing experiences. This is evident in the video quality progression over the years( HD, 3D, 2K, 4K, HFR, and UHDTV, among others). This ever-increasing need for improvement in video quality can be tasking on post-production teams who finish and deliver these videos. That is why you need to bring your video team up to par with the demand for better videos. This is where post-production servers come in. Post-production Servers are essential to the success of the post-production phase as it enables your video team to evaluate the recorded video and audio footage effectively. It is one thing to record videos, and it is another thing to have it come out as planned. Most times, there are errors and aspects of the video that are not needed. Post-production servers allow your video team to finish the video by putting the required finishing touches on visual effects, color, sound effects, sound designs, and audio enhancements. It allows your video team to get the ideal flow by providing the shared storage and collaborative capacity that allows them to arrange scenes and segments in compact and chronological order. This way, your video team will be able to put out premium quality videos. Post-production servers accelerate the process of putting together quality videos. Tasks like implementing visual effects, enhancing sound, color grading, the flow of the video, and sundry video enhancements that would have taken hours or days can now be done in much less time. The videos are also better made and polished to a high grade. With post-production servers, your video team will be able to put out well made, premium high-resolution videos in much less time and resources than it would take by enabling multi-stream workflows with high-resolution media. No dropped frames or productivity-killing lag.


Improved Integration and Collaboration: Post-production requires the highest levels of efficiency, and the best way to achieve this level of efficiency is via collaboration at the phases of post-production. This is because collaboration ensures that you've got different hands working together towards a goal. What's a post-production video team without collaboration? To stay ahead of the game, your team needs to create and produce cheaper and better content at the fastest rates possible. This why collaboration is king in video production. Networking expertise, file sizes, technical limitations, and bandwidth requirements were some of the challenges that video teams faced in the past. The downside of internal collaboration is that it adds layers of workflow and, ultimately, complexity. But that's the past. That was before post-production servers, which provided solutions to these challenges and ensured that collaboration could continue throughout the post-production process. Post-production servers allow your video team to have fast, shared access to media files so they can collaborate effectively. This seamless integration with media asset management systems helps maintain existing workflows and facilitates the efficiency of your video team. Post-production servers allow the sharing of data that can be accessed via the internet regardless of location. This makes it easy for your video team to share work in progress anywhere they are. Access can be configured by file, directory/folder, group, or by settings in the particular application you are using. Post-production servers also allow you to set up with a different user and permission structure than your computer(s), thus making it easy to grant access to particular folders while keeping the security separate from whichever way the local computers are set up.



With post-production servers, you can effectively eliminate endless file copying and hard drive juggling, while increasing the productivity of your video team through heightened collaboration. How? Each user with the appropriate access permissions will be able to access shared projects and media files on the storage. This allows for seamless and flawless workflows within the same environment.




Flexibility: Post-production servers offer your team a lot of flexibility with applications. Your post-production server can become any of the following a file server, web server, or media server depending on your team's needs at the moment. In addition to the possibility of backups, this flexibility gives your video team the ability to scale up or down depending on the project at hand. The ability to work with a wide range of operating systems and apps also allows your video team to be able to finish those very important projects without having to spend more on infrastructure since members of your team (freelancers especially)can connect to your servers at no additional costs. Post-production servers provide the kind of flexibility that enables video editors to focus on editing video projects(even in real-time) while taking advantage of shared workflows rather than spending time and resources managing computing infrastructure. This improves the way your video team works best. Seamless integration with leading media asset management (MAM) systems lets you enhance efficiency and maintain your existing workflows. When your video team uses a post-production server for their tasks, they are afforded flexibility that enables them to reconfigure for the different tasks involved in the post-production process.


Scalability: There are immense demands on video production workflows such that it is extremely difficult or virtually impossible to use a single hard drive. This is especially true with high-resolution workflows. Post-production servers scale considerably better than local storage. This is because the number of drives available for data storage is determined by how many bays the post-production server has. Indeed with larger and faster disk drives now available, your post-production server can be upgraded with larger drives to increase storage capacity and allow the storage and access to an entire library of files in one central location. This way, your video team will be able to access and utilize and edit media files simultaneously. With post-production servers, scaling the system to your current needs doesn't require any changes in your workflow. So your video team can expand its storage capacity to accommodate growing volumes of large, high-resolution files, cost-effectively.
Takeaways
Finally, the rapid developments in media technology and the entertainment industry has occasioned a growing desire for a more immersive experience among consumers. At the moment the Internet runs 4K as standard while film production has gradually begun shifting towards 6K and 8K productions, the industry is experiencing seismic changes that produce both positive and negative results. While these developments are great, keeping track of external hard drives, backing up files, and making sure that video and media files are not compromised are tasks that increasingly become impossible with the increase in the number of drives. A typical example is a scenario where super sharp picture quality often results in high data rates that can consume all the space in a drive within a short time, depending on the primary codec used. Thankfully, the intelligent application of the latest technology and techniques lead to the creation of post-production servers. These servers address specific workflow, production, facilitate data and user management tasks and to provide a clear overview at any time, while meeting post-production requirements, have helped video teams to increase their productivity and quality. In essence, post-production servers improve the productivity of your video team by making the transfer, editing, and distributing content throughout the workflow more efficient, scalable, and reliable. They allow your video team to collaboratively execute their post-production duties without having to worry about technical issues and whatnot.
If you are new to the industry or you have been thinking of ways to optimize your video team, we hope that this article provides enough insights to help get the most from your video team. The best part is that there are tons of options out there to pick from. Although these options are subject to your pocket and the size and capacity of your video team, you can never go wrong with a post-production server.
Nathaniel Cooper
As Chief Operating Officer of ProMAX Systems, Nathaniel Cooper, runs ProMAX Systems day to day operations. Cooper has been working with Storage, Backup and Media Management for video and creative professionals since 2001. Cooper has lead the design and deployment of some of the largest media systems in the world including a range of customers from NFL, MLB & NBA teams, US Military operations, and many of the worlds largest PR agencies and consumer brands. Cooper has spent the last 9 years as part of the ProMAX team and specializes in translating complex technical issues and options into easily understandable concepts.