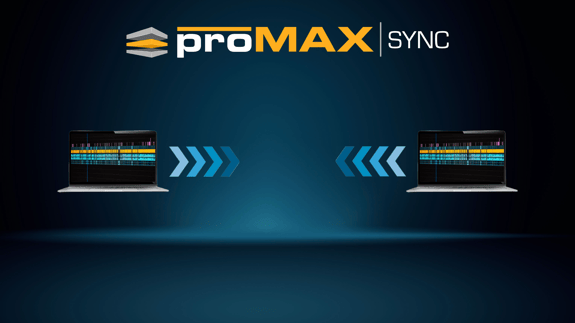 Introducing ProMAX Sync
Connect Remote Video Editors Seamlessly
Unlock the power of collaboration with ProMAX Sync, the groundbreaking software that transforms any computer or external hard drive into a syncable destination for remote video editors. Say goodbye to limitations and embrace a new era of seamless teamwork.
ONLY $25 PER LICENSE PER MONTH*
*Paid Annually
Effortlessly Sync Your Projects
ProMAX Sync revolutionizes the way video editing teams work together. Our cutting-edge technology lets you synchronize your projects, media files, and edits across multiple devices and locations. Collaborate in real-time and eliminate the frustration of manual transfers and version control headaches.
Works with all ProMAX devices or as a standalone product with other ProMAX SYNC users. We'll work with your IT and security teams to integrate into your existing environment.
Unleash Team Productivity
Imagine the possibilities when your team can connect and collaborate from anywhere worldwide. ProMAX Sync empowers remote video editors to work efficiently, sharing the workload and completing projects faster. Stay synchronized, organized, and focused on what truly matters—creating exceptional content.
Flexible Compatibility, Limitless Connectivity
ProMAX Sync seamlessly integrates with your existing setup, whether you use Mac or PC, and supports all major video editing software. It works flawlessly with your favorite tools, including Adobe Premiere Pro, Davinci Resolve, and Avid Media Composer. ProMAX Sync adapts to your needs regardless of workflow or software preferences.
Secure and Reliable
Your work is valuable, and we understand the importance of keeping it safe. ProMAX Sync utilizes advanced encryption protocols, ensuring the security and integrity of your files during transfers. Rest easy knowing your creative assets are protected, even when working across different networks.
Intuitive and User-Friendly
Software should be intuitive and easy to use. ProMAX Sync boasts a sleek and user-friendly interface designed with video editors in mind. Our intuitive controls and streamlined workflows enable you to focus on your creativity, not technical complexities. Say hello to a fluid and enjoyable editing experience.
Unleash the Power of ProMAX Sync
Experience the future of collaborative video editing today. Streamline your team's communication, enhance productivity, and bring your vision to life like never before.
MediaHub or ProMAX SYNC? You have options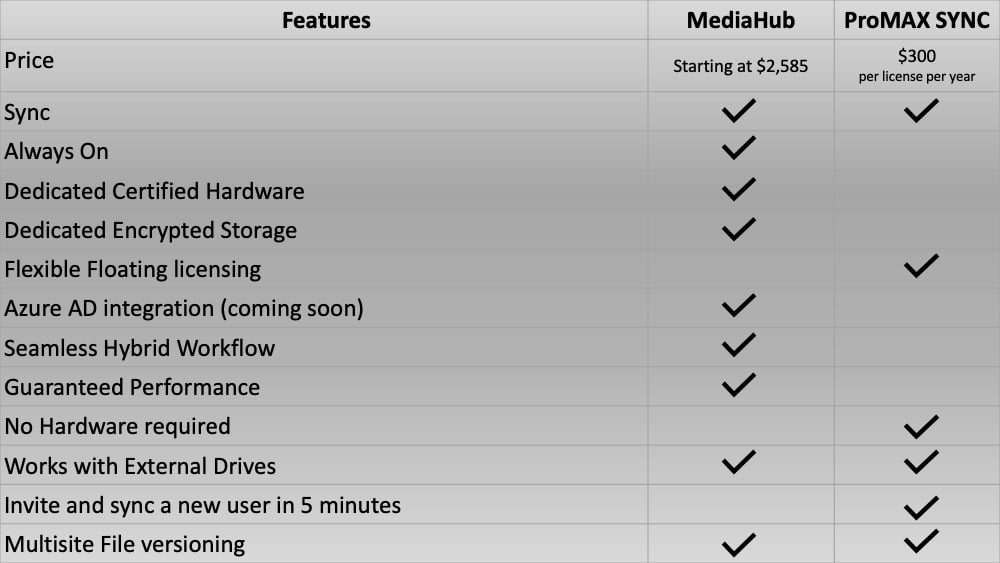 We do more than just Sync!
Looking for more on-premises storage and media asset management? We have you covered.
TOUCH
Solutions and Services
We are here to solve your video file management challenges and get your creative team back to creating.
Solutions and Services
TOUCH
Pricing
We have nothing to hide. Check out our pricing calculator here.
Build your system