When working as a professional video editor, one of the most difficult challenges you may come across is collecting and comprehending feedback from your team or customer. The first thing you need to do to ensure a seamless post-production process is to ensure that you have a timecode and a short set of edit notes. But with the rapid technological advancements, your creative teams will be able to work more effectively and examine your film in real-time, thanks to the abundance of video review and collaboration solutions now available on the market.
However, the problem is that many people are unaware of a reliable video review platform, which is exactly why you're at this post. But don't worry because you'll get the finest video review platforms for providing real-time feedback here. Let's get into the details!
Benefits of Video Review Platform
Since video reviews can be provided through emails and other traditional methods, many people wonder about the benefits of video collaboration and review tools. To help them, we've crafted some of the things that differentiate the popular video review platforms from the traditional methods, which include:
Real-time Approval and Feedback
With a video collaboration tool, you can examine the current progress of all your work at once. With only one click, your reviewers may approve your content or make suggestions for changes. As soon as feedback is given, you'll be notified on the project dashboard immediately, so you always know what to prioritize next.
Easy to Provide Feedback
Feedback requests for videos through email are a hectic process. To provide useful feedback, reviewers need to take screenshots and provide detailed descriptions. But thanks to video review software, you can simultaneously examine and review many file formats in real time. If you spend less time switching between chat, email, documents, and design tools, you have more time to focus on producing high-quality work.
Version Comparisons
Video review software lets you see a chronological list of all your versions. You, your coworkers, and other interested parties can always review the video's history and compare different versions for accuracy. This ensures that your reviewers will be responsible for their comments and provides quick access to the final stages of each video's creation.
How to Choose the Best Video Review Platforms
Don't know how to choose the best video feedback tool? This is the section for you! Just like every software, you cannot go on and pick the first video review tool you find on the internet. To pick the right software, there are several factors you should consider, including:
Engagement and Interaction: A viewer's conversion rate and time spent on a website increase with interactive video. Several video review platforms are available, but the degree of user interaction varies widely. Some just let you embed a video, while others allow you to make the whole video project for your team to review properly.
Storage and Distribution: At no time should you worry about your video storage and distribution. Different video review platform uses different services to host the videos. To avoid interruptions, use a video review platform that relies on a reliable content delivery network (CDN).
User Interface: The video review interface is its dashboard. The dashboard gives you precise control over your video distribution strategy and a wealth of data. The dashboards on the various video review platforms are similar in appearance but differ in features and ease of use. Consider whether or not you find the interface easy to navigate before opting for a video review platform.
Analytics: Most video review tools also include an analytics interface. For instance, Google Analytics reports the proportion of watched videos without revealing where viewers stop. In addition to the standard export options, certain video review systems also allow you to create and share your project for better feedback. Data received in this manner may benefit you and be compatible with your video review and approval process.
Best Final Delivery & Review Platforms in 2022
Looking for the best video review and collaboration tools for your video project? The following tools are your best bet: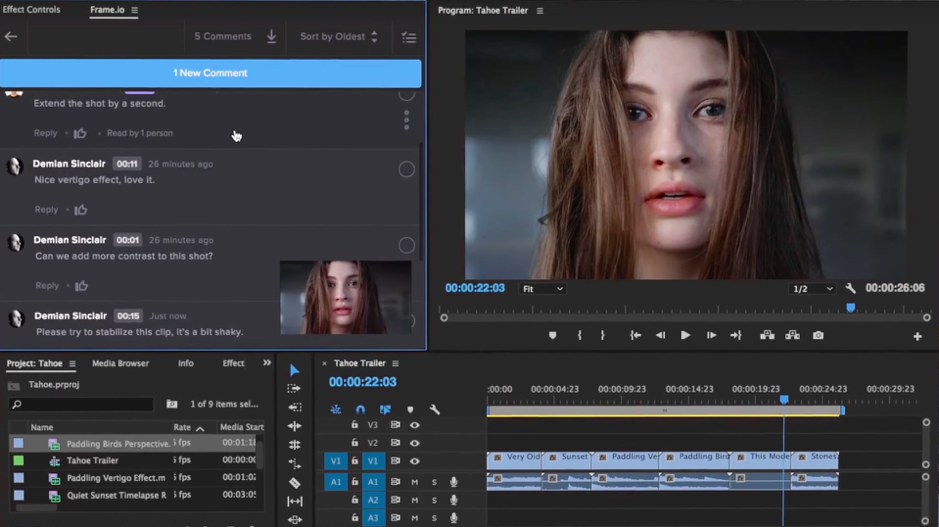 Frame.io is a video editing software focused on streamlining workflow by including communication, cooperation, and creative integration tools. Using Frame.io, you can securely upload your video, evaluate it, and share video footage in the cloud.
Frame.io enables users to easily send professional video files and formats like ProRes and DNxHD since it supports fast uploads. Frame.io also makes it easy to share videos, photos, and PDFs. With Frame.io, users can invite reviewers to give feedback on their video projects.
Frame.io allows users to work together by leaving time-stamped comments, replying to one another in threads, and annotating content. Hashtags allow users to organize and find specific remarks. Users can get clients' and their team's comments through in-app notes and approvals. Users can also share and refine their ideas via side-by-side comparisons and centralized revision history.
Frame.io was built to improve the process of working together on videos, and it can be used in tandem with other creative programs like Adobe Premiere Pro CC, After Effects CC, and Apple Final Cut Pro X. Because of the seamless connectivity between Slack and Adobe Creative Cloud, teams can more easily and effectively communicate and collaborate.
The Quickreviewer tool promises to be the simplest real-time online video proofing software. Annotations, tagging, providing feedback, and attaching files to the feedback are all features that creative teams can utilize to collaborate using this tool. It allows you to do side-by-side comparisons, making it easy to see what's new or different and to read any comments your team has given.
With this tool, email alerts can be generated hourly or daily, and you can also download video frames and annotations with a PDF. The platform's pricing is versatile, allowing users to customize a package to their specific needs.
In addition to the standard video review, this video-feedback tool also includes some unique features, such as audio comments, which allow users to record 15-second audio tracks instead of typing text, and auto-compare, which provides a pixel-by-pixel comparison of two files for spotting differences speedily.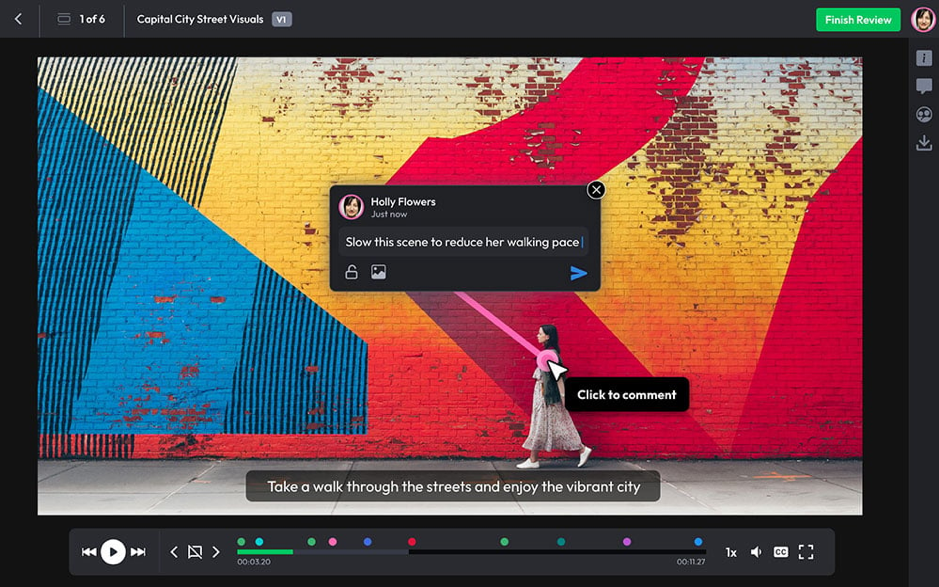 Wipster.io is a cloud-based collaboration and video reviewing tool to facilitate a faster review and approval process of video, audio, and document projects by small businesses. The platform facilitates real-time project creation, collaboration, review, feedback, approval, and analytics by creative teams, product managers, and other stakeholders.
The software helps video editors keep track of a shared repository of creative assets, where anybody involved may offer feedback for changes and see their progress as they are implemented at each step. Furthermore, it allows users to work together on any form of media, whether an image, a PDF with several pages, a video, an audio file, etc.
With Wipister.io, it is easier to collaborate and evaluate work in real time by sending warnings and notifications to users' browsers and email inboxes. It allows integration with Adobe Creative Cloud, Slack, Brightcove, and other third-party technologies for communication and staff engagement.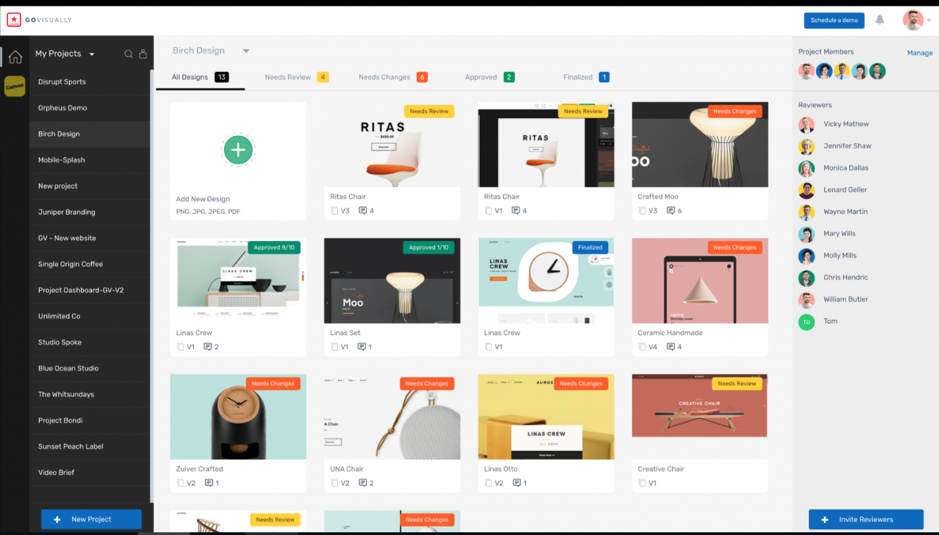 If you're looking for one of the best comprehensive video feedback platforms, go no further than GoVisually. This program was initially designed for dealing with PDFs and images, but it has now been upgraded to work with videos. You can get instant responses, approval, and video projects with GoVisually. When the client wishes to provide feedback on a project, it allows them to use the editing tools without signing up. Clients may be added to projects, and this tool lets you deal with feedback simultaneously.
Because of its user-friendly interface, you can collaborate on videos with no technical expertise using GoVisually. Video quality will not be reduced using this video review tool, and high-definition clips can be uploaded quickly to start the reviewing process. You can also use GoVisually to keep track of different versions of your project in one place.
Conclusion
It Is hard for creative teams to collaborate when it comes to video production. So if you work in a video production team, reviewing a video through a Video Review Platform is much easier than a traditional email system. And we hope that you've found the best video review platform after reading this article. Moreover, if you wish to collaborate on shared storage for a seamless feedback and approval process, we recommend using the ProMAX Platform. Let's discuss your upcoming project needs!
Nathaniel Cooper
As Chief Operating Officer of ProMAX Systems, Nathaniel Cooper, runs ProMAX Systems day to day operations. Cooper has been working with Storage, Backup and Media Management for video and creative professionals since 2001. Cooper has lead the design and deployment of some of the largest media systems in the world including a range of customers from NFL, MLB & NBA teams, US Military operations, and many of the worlds largest PR agencies and consumer brands. Cooper has spent the last 9 years as part of the ProMAX team and specializes in translating complex technical issues and options into easily understandable concepts.