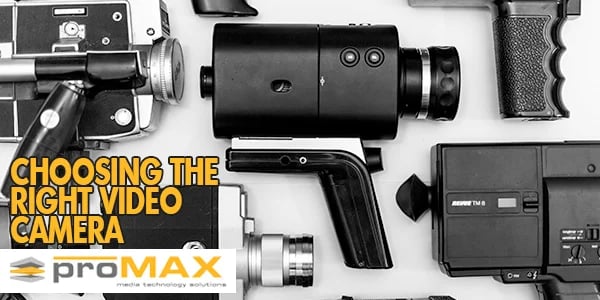 These days everyone has a camera on all the gadgets; from mobile phones to smartwatches. But shooting a professional video still needs the best camera for video content.
There's no straightforward way to find the best video camera in this fiercely competitive market when you have so many options to suit your needs, experience, and one of the most important factors is - the price tag.
Picking the best professional video camera requires looking at the whole system and not just the camera itself. Because it is not just the camera device that makes the video shooting perfect, there are the lens systems you need to consider, and now the mirrorless cameras in the market are competing with the DSLRs.
Videographers and filmmakers have very unique requirements compared to regular photographers and vloggers. They likely don't need the ability to shoot stills along with video but require whole video-centric features and controls – a camera that is equipped with or compatible with a wide ecosystem of cinema lenses, sound equipment, rigs, and other movie accessories.
Below, we'll dive into the different components of video cameras you should consider as well as list some of the top choices available in 2021. For this post, we are focusing on some other options that you may not have considered when choosing a camera.
Things To Consider Before Choosing The Best Video Camera
When buying the right video camera, you'll need to make sure that you pick the one which meets all your requirements and purposes.
If you are migrating from an existing camera system you might want to pick equipment that is compatible with lenses, camera bodies, and other accessories you already have. This can be an easy transition and much cheaper than starting over again.
4K UHD vs Cinema 4K Video Quality
What people refer to as 4K is, in fact, UHD, or 3840x2160 pixels, which is not exactly 4,000 pixels wide and has a 16:9 aspect ratio as Full HD. While the Cinema 4K called DCI 4K has a resolution of 4096x2160 pixels and a lightly wider 17:9 aspect ratio.
Fixed or Interchangeable Lens
This feature can serve a long way for a professional video shoot. An interchangeable camera offers the flexibility of employing a diverse set of lenses for superior quality and better aspect ratio. While on the other hand, a fixed lens might be a good option for a specific use – with a single lens attached which can be an inexpensive option.
Camera bodies are changing every day, but the lenses have a longer life and are very significant for specialized professional video production.
Cine lenses
Normal lenses are fine for video, but they lag behind the cine lenses which have special adaptations that can boost video making. They utilize T-stops rather than F-stops, with 'de-clicked' iris/aperture rings for silent and smooth exposure adjustment. Others feature toothed rings capable of professional pull-focus mechanisms.

DSLR, Mirrorless or Camcorder
The most important choice videographers will have to make is either to go with the time-tested DSLR camera options or the mirrorless. Though still, the top-notch DSLR cameras have their advantages but the fact that the SLR (Single Lens Reflex) design was invented long before digital sensors.
The mirrorless utilizes the 'live view' captured by the camera sensor to produce an electronic viewfinder image. The dispensation for the need for a mirror and the optical viewfinder, however, in my opinion, may sound very compelling still hasn't reached the pinnacle stage to replace the older DSLR camera system. Who knows how soon we'll get an advanced and improved version of the mirrorless camera, beginning the end of the DSLR era.
The camcorder can produce exceptional video quality with ultra-high-definition, equipped with specially calibrated zoom lenses and focus capabilities, have strong built-in microphones and strong audio inputs not seen in traditional cameras. Though low-light video recording is where they lack as most of them have smaller sensors.
Video quality/control
Control over the settings and quality of the video can be a key feature in professional work environments. The latest cameras of 2021, which can shoot 8K and up have many features and options available at hand for the videographer to control the frame rate, customize tone curves, and many other options. All this refining can make any video look professional.
Zoom
A good zoom ratio can allow your video to zoom in and out with the least bit of image distortion. A camera with excellent zooming quality can refine the video shoot with an appropriate level of zoom to get the job at hand done.
Autofocus
Nowadays you will find fast hybrid phase and contrast-detection autofocus systems. Though some manufacturers still use the contrast-detect autofocus in live view and while video recording. Depth from Defocus (DFD) contrast-detect autofocus, from Panasonic, is fast, still, most of the videographers favor manual focus.
Bit depth
Most cameras out there capture an 8-bit video, which has its limitations and can break up and show posterization effects with heavy editing. Some high-end cameras can capture 10-bit video with high scope for editing later.
Bitrate
It's the level of compression applied to the video footage. As a rule of thumb, higher compression produces smaller files but with lower quality, while lower compression creates larger file sizes but better quality.
Camera sensor
When selecting the finest video camera, you need to make sure you get the gist of camera sensors and how they affect the video quality and the camera size. Generally, the larger the sensor is the better it will be its performance, capturing more details even in low light conditions – this gives more quality and consistency to the video. 4K crossover cameras come with a variety of sensor sizes, like full-frame, Micro Four Thirds, APS-C. Super 35mm sensor size is used in cinematography and some professional video cameras.
There are two standards in terms of image sensors for video cameras – CMOS and CCD. CMOS tends to be the most used as they are much cheaper and consume drastically less power than the CCD variant. While CCD sensors are more sensitive to light and produce clearer, crisper footage even in low light conditions.
Color sampling
Video is recorded as a luminance channel and two chroma channels. Compressing the color data is rather less harmful to the image quality quoted as a ratio. Ideally, the cameras would record 4:4:4 video but generally, the chroma (color) channels are compressed, for instance to 4:2:0 or 4:2:2.
Microphone
Most cameras have an internal microphone, but the stereo will not have a good quality sound or directional sensitivity for video. This makes an external mic an essential accessory like directional 'shotgun' mics or wireless lapel mics.
LED lights
Generally, flash is no good for video, so you'll need to employ artificial continuous lighting. LED panels are the topmost choice for video as they run for a longer period while offering high levels of lighting and low heat. Some lighting offers a variable color temperature for matching the different light sources.
Live view
Mirrorless cameras are better as they offer a full-time live view both on the rear screen as well as in the viewfinder. DSLRs on the other hand only offer rear screen viewing.
Memory
For video, you'll need a memory card with minimum sustained speed and not the maximum transfer speed which is useful for gauging the performance. The bare minimum for a 4K video is 10MB/s, 30MB/s is better (UHS Class3, V30), and 60MB/s is perfect (V60). Though with camcorders the video is recorded directly onto the internal storage of the camera which serves better for a longer duration of the recording.
Top Cameras for Video in 2021
1. Blackmagic Pocket Cinema Camera 6K
With how fast the industry evolves after the release of Blackmagic Pocket Cinema 6K, this video camera becomes a staple in the digital video community because of the specs packed into it at an insanely affordable price. BMPCC6K is an outstanding and specialized video camera with astonishing specifications, design, and value for money.
Designed like a firm rangefinder camera, but it's designed solely for video. This model is an upgrade to the older Pocket Cinema Camera 4K which used a Micro Four Thirds sensor and lens mount – featuring a larger Super 35mm HDR sensor format and Canon EF lens mount. The camera is a powerhouse and can capture 6K raw footage at up to 50fps.
Though the camera model is a bit old and has some small limitations, including no continuous autofocus and a fixed non-tilting screen, technically it is an extraordinary device.
Pros
Fantastic video quality from pre and post-production

High-quality 6K footage

Prevalent Canon EF lens mount

Built-in ND filter

Robust CODEC that can be played on different platforms--Mac computers, Xbox, etc.

Tight metadata handling

Incredible UI and intuitive menu system

Awesome value given its excellent features
Cons
No continuous autofocus

No ND articulating screen

Resolution/format limitations

The compact with 4-inch deep and 7-inch wide

Lack of offline-to-online workflow

Lack of built-in EVF, the rear screen of the 6K is not the best substitute

Lack of sensor stabilization
2. Panasonic Lumix GH5S
Panasonic's Lumix GH5S is an upgrade of the mirrorless Micro Four Thirds GH5 release from Panasonic. The upgraded model share the same 20.3Mp sensor as with GH5 but it has an Anti-Reflective coating that reduces flares. Though there are no dramatic upgrades from the GH5 camera, the Panasonic Lumix GH5 II still ticks a lot of boxes to be the best video camera of 2021.
This camera is very capable of video footage with a maximum video resolution of C4K (4096×2160), which makes it one of the staples for modern content creators who can work with at least 20.3 Mp Live MOS Sensor. The combination of still image quality, video quality, stabilization, and all-round handling makes the Panasonic Lumix GH5 II a great camera that can compete with video content creation.
Pros
Extensive array of features

4k maximum video resolution

Excellent 6.5 stabilisation system

Wireless connection to smartphones

Upgraded live streaming capability
Cons
Cannot shoot raw video

Too large for a Micro Four Thirds camera

Micro Four Thirds sensor smaller than APS-C rivals
3. Canon EOS-1D X Mark II
The moment Canon EOS R5 on March 2020, the camera stated the new age of 8K. The camera is packed with a lot of features in a small and affordable bundle. Canon EOS R5 has 8K RAW recording capabilities at up to 30fps. Canon R5 has got its major kick in terms of pixel count. As expected from Canon, their color science and video-focused features make their cameras a top choice to some of the video content creators.

The R5 is a perfect combination of the EOS R's form, EOS 5D's functions, and it also got the autofocus feature of the EOS-1D X. With all these features, Canon EOS R5 has become Canon's finest camera ever release as yet. Given its fps rate and video capabilities, R5 is a game-changer camera.
Pros
Superb image quality from Canon's 45-megapixel full-frame sensor

Excellent focus tracking

8K 4K 120p video

Fast and accurate autofocus

Best-in-class image stabilization
Cons
8K video isn't practical

Mismatched memory card slots

Large file sizes add up on long shoots

Video overheating issues

Micro-HDMI port
4. Fujifilm X-T4
Fujifilm released a follow-up of their last X-T3 release with the Fujifilm X-T4. The new camera release kept all the amazing features built in the X-T3, with its 26.1-megapixel sensor, 4K video resolution at up to 60fps, and F-Log recording.
One of the newly added and improved features of the Fujifilm X-T4 is its In-Body Image Stabilization (IBIS) that helps videographers get faster shutter speed during the moments where there is not enough light. Other additional features include High Frame Rate (HFR) recording, better audio quality, and 2x longer battery life.
Fujifilm X-T4 comprises robust image and video features at a highly competitive price. This mirrorless camera is getting a lot of buzz from the digital filmmaking industry, making it a great option for newbies who want to pursue the start of their career in filmmaking.

Pros
Excellent EVF

15fps mechanical shutter

Improved battery life

Excellent in-camera film looks and RAW processing

Impressive autofocus

Latest IBIS for faster shutter speed

4K at 60fps
Cons
Omits standard headphone jack

No battery charger with the camera

Smallest tracking focus area is not that small
5.Canon C300 Mark III
The Canon C300 Mark II had long been considered the "gold standard" for high-quality documentary filmmaking. However, with the introduction of the Canon C300 MK II, Canon appears to have outdone itself with an even more powerful, versatile, and reliable option of one of its flagship cinema cameras.
Just as you thought Canon C300 Mark II is the standard for high-quality filmmaking, Canon might have outdone itself with its new release of Canon C300 Mark III. The newly introduced camera is a more versatile, more powerful, and more reliable version of the C300 Mark II and its other flagship cinema cameras.
C300 Mark III has a powerful video resolution of 4K video up to 120fps with 16 stops of dynamic range, all thanks to its Super 3533 DGO sensor along with its 4K DCI/UHD up to 120fps. However, the real catch of this C300 Mark III is its amazing add-ons, accessories, and overall versatility and performance of the camera. The Mark III has become the best option for documentary and corporate videos because of its versatility to perform well even for long periods of time in any situation.

Pros
Image Quality, Sensor, and Color

Improved Cinema Raw Light

Intuitive Menus

User Changeable Mount

Improved Form Factor
Cons
Removed Timelapse Function

Limited Outputs

Lack of In-camera stabilization
6. Nikon Z6 II
The Nikon Z6 II is the recent follow-up to the Z6 series from Nikon. It is a high-quality and highly capable camera that bags a lot of specs like the video resolution of 4K at up to 30fps with 10-bit HBMI output.
The Z6 II camera and lenses have been the biggest fuzz for Nikon enthusiasts because of its N-Log and HLG (HDR) support, pleasing aesthetics, and balanced ergonomics. For cameras around this sub-$3,000 threshold, Z6 II is really a great deal.
Nikon Z6 II is a refreshing upgrade of the original Z6. One of its cool features is its second memory card and processor
The Nikon Z6 II is a light refresh of the original Z6, with a second memory card and processor bringing a bump to burst shooting, now up to 14fps, and the promise of 4K 60p video via an update. However, 60p video will be cropped (and not here until February 2021) and the camera still lacks an articulating screen, limiting its appeal for video and vlogging. Existing Z6 owners won't see a need to upgrade, but new buyers will get a very capable camera at a pretty good price. The dual card slots are a definite plus point, Nikon's in-body stabilization is very good, and the list of Nikkor Z lenses is growing steadily.
Pros
UHD 4K video

Sensor-based VR system

Plays well with third party lenses
Cons
AWB can be neutral in daylight

No DCI 4K support
7. Sony a7S III
It's taken Sony five years to upgrade the video-centric A7S II to a Mark III, but the wait has been worth it for the keen enthusiasts and professional moviemakers. It might not boast the 6K or 8K video resolution of some of its rivals, and with only 12.1MP it's not a powerhouse super-stills machine either. But apart from a big and expensive cinema camera, it's the only camera that can shoot 4K at 60p full frame with no crop, recorded internally, in 10-bit 4:2:2 with no limitations on recording time and with all the advanced AF functions still working. The 12MP resolution means the A7S III is pretty poor as a stills camera, but an absolute natural at 4K, so it is tilted more towards video than stills. However, sports fans should note it can shoot stills at 10fps and has an incredible 1,000-shot raw buffer (using new CFexpress Type A cards).
Pros
Incredible low light performance

Stunning AF, even for video

12MP full-frame sensor

4K recording at 10-bit quality

120fps slow-motion at 4K

Subject tracking at 10fps

5-axis IBIS
Cons
No 6K or 8K video

Only 12MP still images

CFExpress cards required for best quality slow-motion video

Video autofocus doesn't work SLR lens adapters
8. The Panasonic HC-WXF991
The Panasonic HC-WXF991 features a 20x optical zoom Leica Dicomar lens with an accessory shoe mount for an external microphone. Producing a crisp 4K resolution 2160p/30p recording at 72MBps capturing minute details and color gamut. It also has a Sub Camera that can capture video at the same time as the main camera in the form of a picture-in-picture preview. The optical image stabilization on the camera supported by the Hybrid OIS functions well and can also capture 16:9 photos at 25.9-megapixels.
Pros
Leica DIMOCAR lenses

Multi-scene feature

Viewfinder EVF
Cons
9. Sony Alpha A9
Powered with a 24.2-megapixel full-frame stacked CMOS sensor with a Sony FE lens mount and a high-speed processing circuit with a BIONZ X image processing engine. The Alpha A9 is furnished with an innovative 5-axis image stabilization system. This flagship camera offers high capabilities for video with 4K recording across the full width of the full-frame image sensor. The camera uses pixel readout to collect 6K information, oversampling it to produce stunningly high-quality 4K footage. The camera can record Full HD at 120fps at up to 100Mbps and the recording is also available in Super 35mm size. The Sony Alpha A9 is a phenomenal camera up to the mark to deliver the best video performance.
Pros
Super-fast AF

Oversampled 4K footage
Cons
Low battery life

No XQD card slot
10. Yi 4K Plus
The Yi 4K Plus is a portable video camera and can record in 4K at 60fps at a maximum bitrate of 120Mbps with details and smoothness that are needed to capture every adventure. It does have the capability to shoot stills at 12-megapixels, which are also sharp and colorful. The camera is capable of shooting in raw though not in native HDR, it has built-in image stabilization and shoots 1080p video at up to 120fps. The camera houses a Sony IMX377 CMOS sensor with Exmor R with a Quad-core ARM Cortex A53 processor. The camera at 60fps produces an impressively sharp and saturated color video.
Pros
Sharp 4K video at 60fps

Colorful RAW and JPEG photos

Swift interface
Cons
As you've probably surmised, 2021 is an exciting time for video cameras and the professionals who use them on a regular basis to capture images that help tell the story in the best visually stunning way possible.
And of course, with all the emerging technology creating higher and higher definition videos comes an increased need for video storage. That's where ProMAX Platform comes in as the best video storage for 2021. With the ProMAX Platform, you can shoot and shoot, and never have to worry about storage again with our virtually unlimited storage options.
So get in touch with our team or give us a ring today at (949)-346-1231 and stay ahead of the times!