6 Steps To Connect Your NAS For A Video File Share
by Nathaniel Cooper, on Jun 2, 2021 12:50:26 AM
For years, physical storage was left unattended, and it was a nightmare for professionals working with huge complex files, especially when it came to video file sharing. It was for sure convenient at its best, but convenience doesn't guarantee versatility. And this is where NAS storage comes to the rescue.

The compromise of compatibility and the need to upgrade storage space by physically adding into your list of devices yet another hard box, which, not to say, adds inconvenience. This article will walk you through storage and eventually enable us to understand what NAS storage is and how it can help solve every issue that comes with old-school storage.
Network Attached Storage To Network For Video File Sharing
NAS stands for Network Attached Storage, a device in sync with a network, enabling storage and data access from a centralized point. Because of its flexibility and capacity to scale out, it thus offers all the perks of public cloud on-site. It gives the user complete control as compared to other forms of storage devices.

NAS devices allow users to seamlessly work on multiple computers, additionally giving you the benefit of maximum storage. As NAS devices are designed in a way that offers users ultimate control, allowing them to access data directly through the network, without leaving your computer turned on, as like remote storage.

Most of the NAS devices come with open ports for HDD and SSD devices. In its simplest form, NAS devices act like your privately owned cloud storage for collectives, like offices. For editors working on multiple projects' archiving, it is high time they make the shift to NAS storage devices.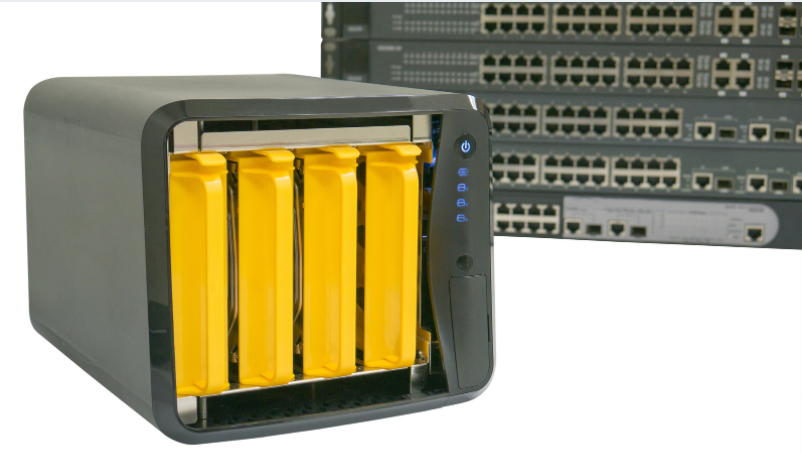 Computers are designed to read and write data from DAS (disc-attached storage) devices much faster than network devices. NAS devices allow users to attach multiple drives to expand on shared storage. It results in more space, repetition, and faster rates while transferring files. The ports on NAS devices are meant to make transferring and backing up data convenient and faster for the users.

Consider a situation where limitations on storage can cause major setbacks, such as not accessing data resulting in delayed completion. Raw video files are complex and large in sizes and often require multiple hard disk drives on a single individual. NAS makes it possible for you to access data through a shared network without even turning your complete computer setup ever on.

Data deduplication has been troubling users for the longest, as most of the storage devices aren't equipped to offer the feature. Data Deduplication is the method in which computers' servers delete the collection of repeating duplicate data. NAS devices allow professionals to work and control data access from a centralized managed system, from anywhere.

NAS allows the most convenient way for data backup and the recovery of it with Disaster Recovery Management tools. In comparison, the most reasonably priced data-storage devices concerning storage of vast amounts of data for an extensive period. Depending upon requirements, the storage capacities in NAS devices can range from anywhere between a couple of TBs to Petabytes.

Like everything in the world to be analyzed in detail, it is essential that we also understand the disadvantages and the advantages, for fitting our needs better.

Advantages:
NAS, as discussed, offers users complete control over data and is the easiest to operate.

Unlike other limited space storage devices, NAS storages are comparatively cheaper and allow for storage space expansion.

Data recovery and Backup becomes more convenient with its universal control from a centralized location, acting like your personally owned cloud storage.

It allows multiple users and devices approved by the network to access and control data even from remote locations.

The storage can be expanded, serving your needs, taking the stress over limited storage completely off the mind.

NAS devices are generally designed keeping in mind the requirement of the users and are entirely customizable.
Disadvantages:
The Data recovery feature in NAS devices requires the user to have dedicated professional software.

You must install a suitable Operating System to create data backup physically.

Data transfer speeds are dependent on the provided bandwidth. Thus, it is highly advised to have a high-speed internet connection to use NAS devices at their best.

It is advised to have high-end computing devices not to hamper computer performance, as NAS devices rely upon the usage of vast amounts of the system's memory.
Steps In Connecting NAS To Network Using Video File Sharing
NAS devices are attached through ethernet cables or directly through Wi-Fi. Though many of the NAS devices come with USB ports, it isn't compatible for the NAS devices to be connected to your computer through them.

For users who are unaware that computers dedicate Operating Systems to manage storage devices, NAS devices essentially require an OS to divert computing devices from working for DAS.

Step 1: Enabling File Transfer Protocol (FTP)
Before connecting NAS to a network, the primary step is to ensure that all methods for remote access are turned on. FTP is one such method other than having a website that can be likewise used to upload files on the network. Navigate through NAS's online interface to find FTP, enable and note down the port number. You can additionally change the default port number, i.e., 21, but it is not recommended without a valid reason.
Step 2: Turning on WebDAV
Moving ahead, navigate the web interface for WebDAV option, enable it and note the port number. WebDAV is an alternative for remote accessing that stands for Web-Based Distributed Authoring and Versioning. WebDAV is an extension to the standard HTTPS, and allows users to access data, copy and edit remotely.
Step 3: Updating all User Permissions
Make sure to check and enable every user permission once you're done following the steps above. Do not guest login, as the system won't access NAS remotely and projects significant risks.
Step 4: Allowing Router to Connect to NAS
Once all the steps have been performed, and NAS configured, it is time to set your router. Go to the router's web management tool, and search for Virtual Servers; click on add button.
Step 5: Using Dynamic DNS
It is required now to assign a web address to the home network, which will allow NAS to get connected to your device from even outside your place. Visit the router's management or settings page, search for Dynamic DNS and pick the most suitable option from the drop-down menu.
Step 6: Set Up Your Remote Connection
We are now moving to the end of the process, where at this stage, one is ready to connect to the NAS device remotely. Now, for instance, you want to connect to FTP; in this case, click on Windows-E. Windows Explorer will pop up, to which you will be required to choose the map network drive.

Click next, and then again. Enter the desired FTP address, press on next again, and uncheck the box that says, 'Log on anonymously'. Enter the credentials asked, press next, and finally click on Finish.

Despite wired or remote arrangements, the NAS framework is associated through an organization or the Ethernet port of your Wifi, rather than utilizing USB links. This permits different PCs and cell phones to get to and remotely share records, transfer sound and video, and reestablish data in one incorporated gadget.

Devices For NAS To Network For Video File Sharing
NAS devices offer more power to the capacity of the computing system to enhance power, and thus uses a lot of the system's processing power. Thus, the system has considerable prerequisites before you set up NAS. Follow the list underneath to understand the minimum requirements:
Single or multiple Intel 64-bit multicore processors, depending upon the intensity and workload.

Operating System Drive, 32 GB or beyond. It is recommended that you employ an SSD to ensure enhanced performance.

A minimum of 32 Gigabytes of RAM.

A minimum of at least two physical network ports.

Uninterrupted Power Supply, with high-speed internet connection.
How can you remotely access files on NAS?
Enable FTP: First, you need to turn on remote access methods. File Transfer Protocol (FTP) is one common method.
Enable WebDAV: For clients that support it, WebDAV lets you access your NAS device as a local device. It's a useful protocol, so turn it on if your NAS device supports it.
Review user permissions: Once you have enabled FTP and WebDAV, check the user permissions and set them accordingly so they can access files and allow easy video file sharing.
Connect the router to your NAS: Once your NAS device is configured, you must set up your router to connect to it. Connect to your web management tool router and find the port forwarding option (also known as 'virtual servers'). Click Add to add a new rule.
Add Dynamic DNS: If you wish to access the storage outside of your home network, make sure to add a dynamic DNS under your router's settings.
Enable Remote connection: Connect to your NAS device remotely now. The built-in Windows tool lets you create a remote (FTP or WebDAV) permanent icon in Windows Explorer.
In addition to the above, you can also use other tools like FileZilla or BitKinex to connect to a NAS server. Both are open-source products and you can easily download them from the official websites. Install them, add your desired username and passwords, and you're ready to access the files remotely.
Setting up a NAS (Network Attached Storage)
Setting up a NAS device for 4k video editing isn't very difficult. You don't need to be a tech wizard, but you'll surely need some technical skills. However, the easiest way is to purchase one that's pre-built.
Anyway, you'll need a few things to get started on your own. These include:
First, you'll need the primary computer to attach the NAS to your network

Next, you'll need the NAS, be it purchased or self-made

Finally, some data storage devices, preferably hard-disk drives
Other than these, you'll also need a stable internet connection. A minimum bandwidth of 1GB is highly recommended for optimal performance.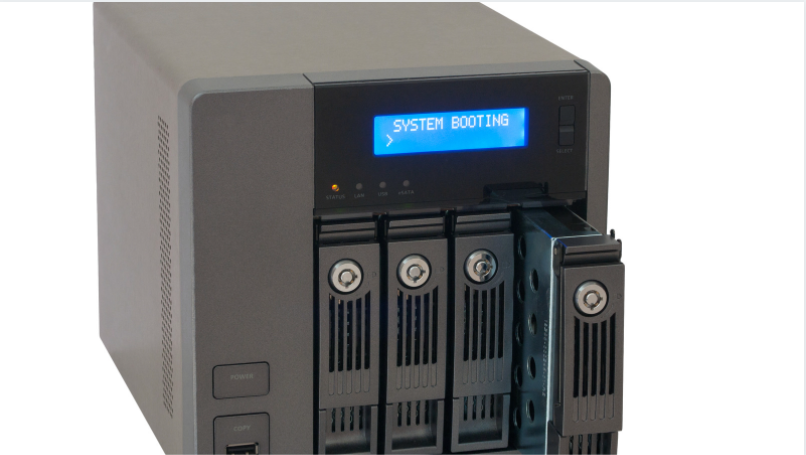 Bear in mind that there are different options to choose from, but if you need a purpose-based solution, always choose a RAID-based NAS. RAID systems provide enhanced flexibility for both Linux and Windows and include multiple pre-configured disk drives in a Redundant Array of Inexpensive Disks (RAID).
Let's assume that you already have all of these prerequisites in place. Now you'll need to start by mapping the files to the NAS. It is quite similar to mapping a network drive on your Windows PC. Here's what you need to do:
Open Control Panel > Programs and Features > Turn Windows feature On/Off(Windows devices)

Scroll down to find SMB 1.0/CIFS Client and select the checkbox

Build a structure within your storage drive (add folders and sub-folders)

Set up user rights and permissions

Configure your NAS device with the computer
That's it. Your NAS device is now set up for storage. As long as all of your other drives are correctly mapped to the primary device, you (and every authorized user) will have access to the stored data.

Conclusion
We hope this comprehensive blog helps you understand how NAS works, and how you can connect NAS to your preferred network for seamless video file sharing.
Learning to build a NAS setup on your own is fun, but you'll need to invest time and effort. However, you can get it all done by subscribing to a pay-as-you-use model such as ProMax Systems that offers fast shared storage for video editing workflows. From installation, workflow training, to continued support - ProMAX takes care of all of your needs, enabling you to create mesmerizing videos without any hassles.
Get in touch with a ProMax expert to learn how your video marketing team can access, edit, and save multiple files simultaneously without the need to be physically present in the office.